DePaul launches student-run Instagram #IAmDePaul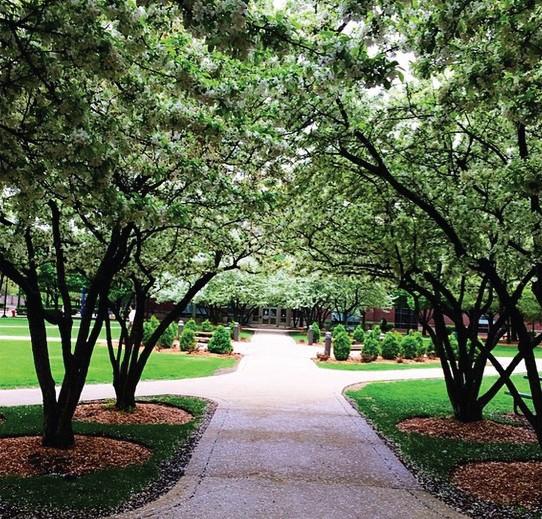 Hang on for a minute...we're trying to find some more stories you might like.
Visiting Uncle Sammy's, reading at North Avenue beach or taking in the view of the Loop Campus skyline are all common occurrences for a DePaul University student. Unfortunately, with a university-run social media account, these events are much more likely to be forgotten and replaced with yet another picture of the Quad or the campus bookstore. This realization called for the recent switch to a student-run Instagram account: @IAmDePaul.
The switch began after Kris Gallagher, an internal consultant in University Marketing Communications, brought up the idea. "The idea of a student-run Instagram account that explains the DePaul experience to people off-campus sounded like a winner when I heard about it on a 'Higher Ed Live' podcast," Gallagher said.
After running the idea past Louisa Fitzgerald, an associate director in University Marketing Communications, the two put together a presentation for Undergraduate Admission. Fitzgerald said Undergraduate Admission "had an inactive Instagram account, so we all agreed that it made sense to convert that account to the student-run account."
The University Marketing Communications department followed the lead of St. Lawrence University who also has some of their social media ran by students rather than the marketing department.
"St. Lawrence University's social media manager took the time to explain their account to us — how they came up with the idea, how they recruit and train students," Fitzgerald said. The switch to a student-run Instagram officially began April 21, and first up to share a week of her life in pictures was junior Anna Hanson.
Hanson is the Office of Admission communication and specialist intern. Due to her close involvement with running the university's social media, she was an easy first pick to run the account.
"I have to admit, I was nervous," Hanson said. "Even though I help run lots of different social media platforms, I am never posting about myself or my experiences. I showed a week in my life. From a day at work to a night out with friends, @IAmDePaul is a true window into life at DePaul."
Every week since Hanson first took the reigns, another student has stepped up to the plate and put his or her life on display for current and prospective students alike to see. Casey Clemmons, senior and president of the SGA; Rachel Chessky, sophomore and FEST promotions assistant; and Teresa Nguyen, public relations director of Demonthon have each given the university a glimpse into their daily lives.
Gallagher says the student takeover has exceeded their expectations. "Our original plan was to pilot the program through the weekend of graduation, June 14-15. We hoped to get 500 followers by then. We're over 400 now, so we're confident that we'll keep it going next fall and possibly over the summer."