DePaul's School of Music to host classical and jazz festival this fall
The School of Music's newly designed Holtschneider Performance Center will be having an 11-day classical and jazz music festival beginning on Nov. 1, not only as a way to celebrate the new three-story, 185,000 square-foot facility, but also to celebrate the School of Music.
There are going to be approximately 40 events at the festival, and the building formally opens on Monday with music classes set to begin in the fall. It will include a 505-seat Mary Patricia Gannon Concert Hall, the 140-seat Murray and Michele Allen Recital Hall, the 80-seat Brennan Family Recital Hall, the 75-seat Mary A. Dempsey and Philip H. Corboy Jazz Hall, and also rehearsal spaces and teaching studios.
Alternative to the main concerts, there are going to be music education workshops, symposia, lecture demos, and master classes.
"With 11 very public days like this, we hope that our message gets through to Chicago and especially beyond Chicago," said Ronald Caltabiano, Dean of the School of Music.
Some of the festival's events will be broadcast live on WFMT, a Chicago-based music radio station. In some cases, students enrolled in the School of Music are going to perform in company with the artists.
The Holtschneider Performance Center will be of three buildings that compose the School of Music. Construction dates back to the groundbreaking ceremony in May 2016. The old music school building located on the corner of Fullerton Ave. and Halsted St. is technically Music North, while the Concert Hall located on Belden Ave. is Music South.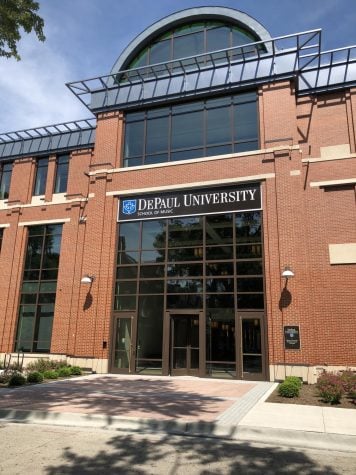 First up on the performance list beginning Nov. 1 will be solo performances from soprano Lauren Snouffer, baritone Andrew Garland, and tenor David Portillo. All three artists are going to make appearances with the DePaul Symphonic Choir, the DePaul Concert Orchestra, and Community Music Division's Community Chorus to put on a performance of "Carmina Burana."
A wide variety of prominent and professional musicians are scheduled to perform at the festival. Some of the highlights will include three Grammy Award winners in Itzhak Perlman, Ana María Martínez, and Nicholas Payton.
Perlman, a violinist who has taken home 16 Grammy Awards and in 2008 was awarded a Grammy Lifetime Achievement Award for excellence in the recording arts, will preform on Nov. 11 with the DePaul Symphony Orchestra. Martínez, a soprano, is going to perform with opera students on Nov. 4. Payton is both a trumpet master and the founder of the Black American Music Movement. He is scheduled to perform with his on Nov. 9 alongside DePaul's Jazz Workshop.
The process of getting the festival set up didn't happen overnight. Caltabiano noted that talks about this began as soon as he took over as the Dean in July 2016. Upon arrival, Caltabiano had discussions with former university president Dennis H. Holtschneider and provost Marten L. denBoer.
"We came up with some parameters about what we thought would be the best way to show off the school," Caltabiano said. "We went through some talk about how much to spend and how we would publicize it and things like that, and from our end here in the School of Music we had many meetings about (…) what we would like to show off- everything, and how we would like to show it off in all sorts of ways."
Additionally, sometimes that process involved meetings with the School of Music's faculty to find ways in which the school could be showed off.
Caltabiano says he believes the festival will play a factor in attracting high school students thinking about one day attending the School of Music.
"I think it will have an impact on recruitment," Caltabiano said. "Just bringing in artists like Ana María Martínez and Itzhak Perlman and have them be associated with the School of Music is enough to raise our profile a great deal and certainly attract students."
Caltabiano says the festival will also be a tool for the School of Music to make a name for itself.
"I think it's just gonna put us kind of in the Chicago music scene," Heidi Hewitt said, concert manager in the School of Music. "Having people of that caliber on our stage makes us a venue like any other classical or live music venue in the city."
Another musician who is planning to hit the stage under the bright lights is solo percussionist Evelyn Glennie, who will be performing on Nov. 10 with DePaul's Wind Ensemble. Glennie was selected as one of of the two laureates for the 2015 Polar Music Prize.
Orpheus Chamber Orchestra, a classical music chamber orchestra based out of New York, will be performing on Nov. 6.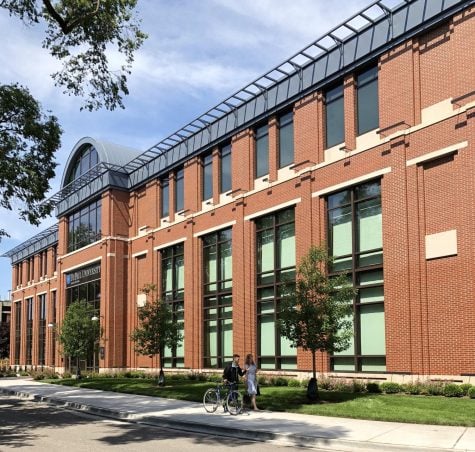 Prices for the event will range from free of charge up to $45. Students enrolled in the School of Music will have free admission to all festivities. Given both the prestige of the artists performing, these prices might turn out to be a steal that separates this music festival from others.
"Even the highest priced ticket is incredibly reasonable to see someone of the caliber as Itzhak Perlman or Nicholas Payton," Brian Barasch, Director of Marketing and Communications in the School of Music, said. "People that you might spend hundreds of dollars to see elsewhere, you're gonna see them here for a fraction of that."
The festival will be advertised in a variety of ways. There are going to be direct mail pieces sent to alumni as well as those who have previously expressed interest in attending performances at the School of Music as a means to generally announce the festival. The School of Music will also be conducting print and online advertising via email communications.
Though the festival will take place in the School of Music, Barasch says students from across the university will find something that sparks their interest.
"I think there's novelty in a new building and people wanting to see this beautiful new space," Barasch said. "And hopefully they'll come here and they'll see it and they'll be drawn in and express a desire to, while here, see a performance and they'll love it and continue to come back."
CORRECTION: A previous version of this article contained a misspelling of Philip H. Corboy's first name near the end of the second paragraph.
View Comments (2)