DePaul Theatre School prepares spin on Tony Award-winning musical 'In the Heights'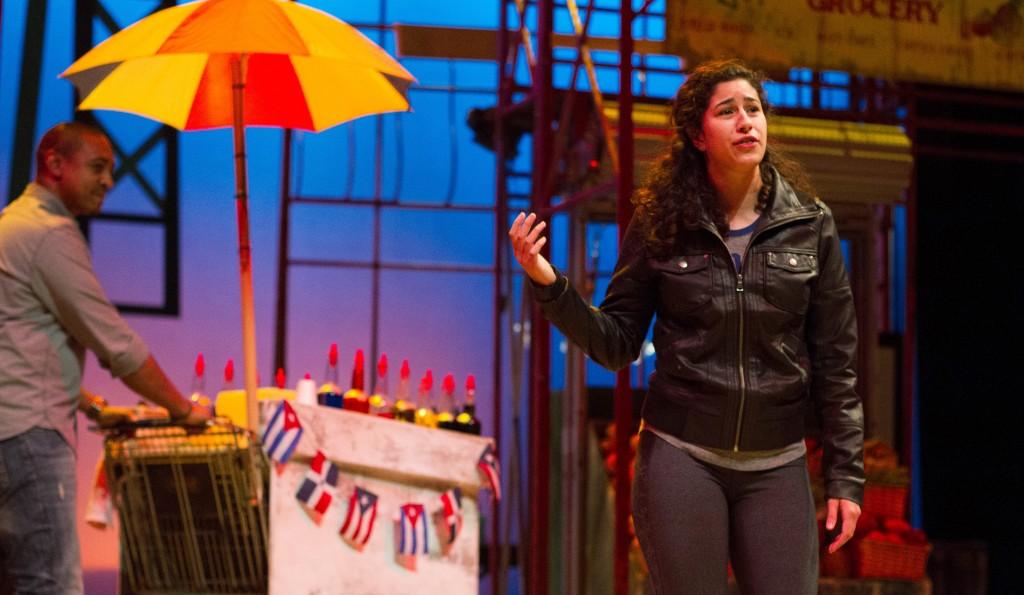 [hr]
[dropcap]S[/dropcap]tanding center stage, Wesley Toledo's focus was all forward as director Lisa Portes gave him notes, while the cast of about 15 buzzed with excitement from behind. As Portes turned to walk back to her seat, his eyes began to wander looking at the set and cast behind him. Turning back around he said to Portes, "It just hit me that we are actually doing this."
What started as a mere joke is now reality for two Theatre School students who brought the idea of doing the musical "In the Heights" as part of the 2014-15 season.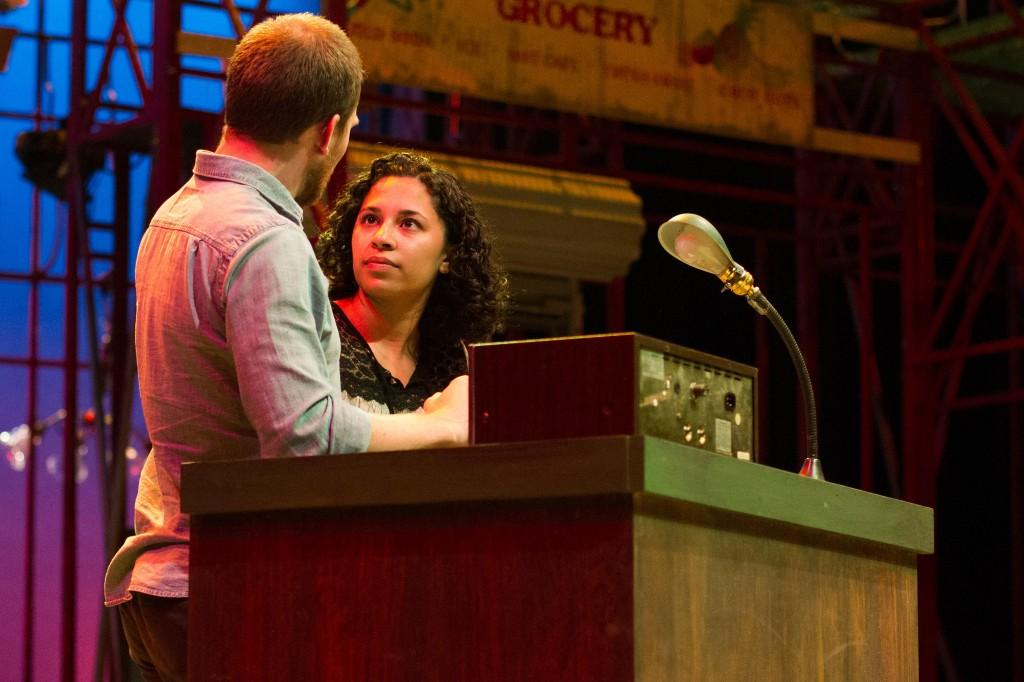 "I have to say Krystal (Ortiz) pushed for it a lot more than I did," said Paola Sanchez, a junior who plays Camila. "I didn't really believe that students had any power in the season."
However, with The Theatre School's policy to put on a musical every two to three years, "In the Heights" was a good pick for today's audiences. The show is a story of a bi-cultural community living in Washington Heights, New York City, seeking to continue claiming their neighborhood as home.
"Each character in the play is caught between a dream of the Caribbean and kind of the American dream," said Portes, director of the show and head of the Master of Fine Arts directing program.
This modern show — which originally debuted on Broadway in March 2008 — is a high-energy piece grounded with flavorful hip-hop and Latin music. Because The Theatre School doesn't have a musical theater program, it's a fair question to ask how they can pull this Tony award-winning show off.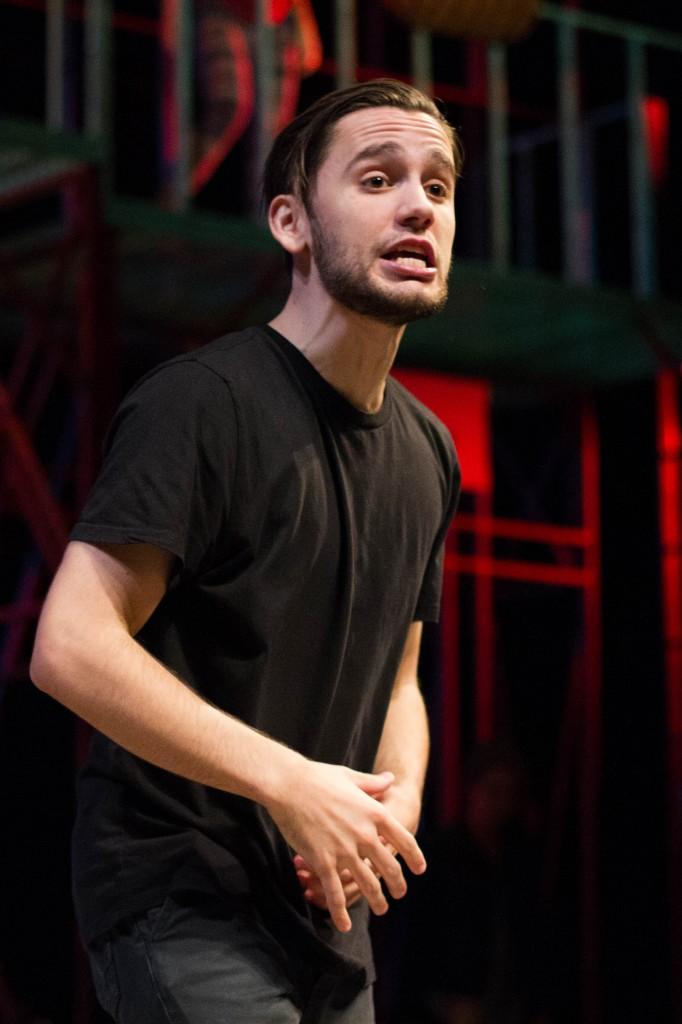 "What we focus on is how you inhabit a character in song," Portes said. "We're not trained in the technique of singing and in the technique of dancing. But we really ground ourselves in the character relationships and story."
Besides Portes, this entirely student-run production won't have the same splash or intense dancing as the Broadway production.
"The great thing about theater is that a piece that was fantastic on Broadway can be relived and relived in different ways and interpreted in different ways for generations to come," she said.
The actors also use their Shakespeare training to figure out how to handle the songs and lyrics.
Toledo, who leads the company as the charismatic narrator Usnavi, said singing is not his strongest suit.
"I can sing, but I'm not a trained singer," he said. "But I don't sing that much in the show, I actually rap a lot, which is awesome. That's definitely been easier than the singing."
Although the rapping wasn't a complete breeze, and it involved numerous days of practice. He said his key to nailing it down was repetition. Toledo would sit with the script and listen to the songs on repeat while repeating it at least 15 to 20 times in one sitting. Then he would take a short break, sit back down and do it again.
Despite some challenging sections, Toledo said Portes is the driving force behind the show, setting the tone for the show and rehearsals.
"She's spunky, she's passionate, she really does light a fire under your ass," he said. "She knows what she wants, and she believes in you a lot and really wants you to be great. She's inspiring."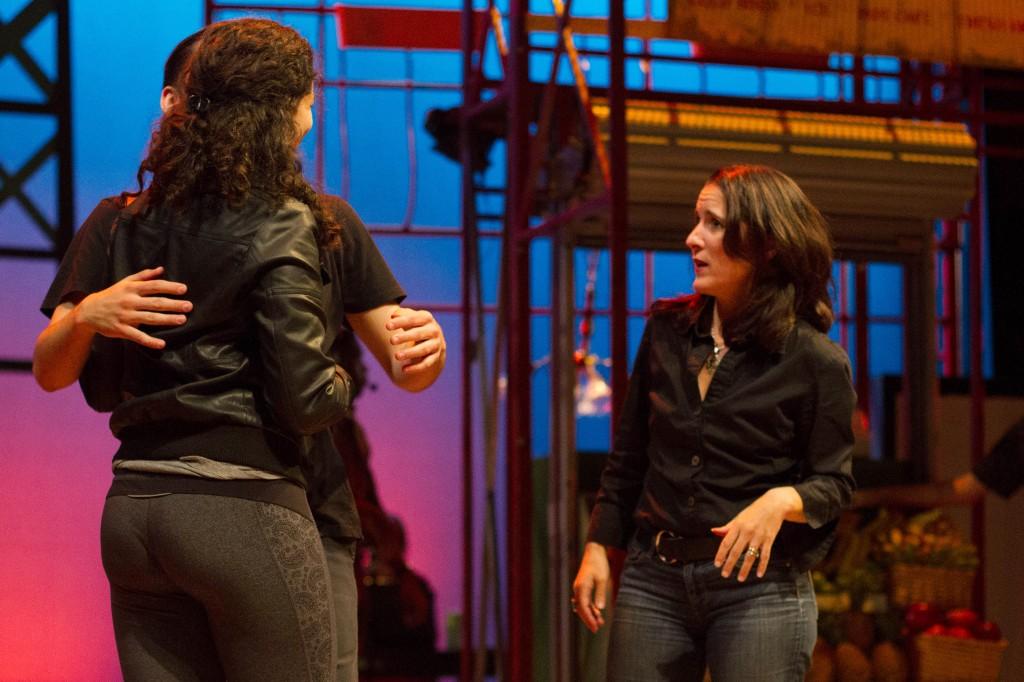 Portes echoed her love for the cast and crew. Looking back at one of their first rehearsals, she remembered their first run through a song that took her breath away.
"I'm a director. I don't have emotions," she joked. "But the fact that the actors entered the moment fully for this first time in the rehearsal room blew my mind. I was crying my eyes out at the end of that moment."
This is the first musical for most of the cast while at DePaul, but musicals aren't a foreign concept to many of them with past musical experience from high school.
Sofia Tew, a junior acting major who plays Daniela, also comes from a musical theater background, and performed about 16 musicals before leaving Houston to attend DePaul.
"I realized I was actually more of an actor who could sing instead of a singer who could act, and I really wanted to work on my acting," Tew said. "So it's great that DePaul has this musical every other year, and that they're giving us this training, so we know what the process is like."
With solid acting training from DePaul's program, she now recognizes that they "have so much more to bring to the table than just our voices," Tew said.
Tackling this musical in just about a month, the rehearsal process has been fast and intense, with many eight-hour rehearsal days jam-packed with learning multiple musical numbers, scenes and dances. The cast is currently in tech rehearsals on the Fullerton Stage now, and the show will begin with a preview performance Oct. 1 and run through Oct. 12.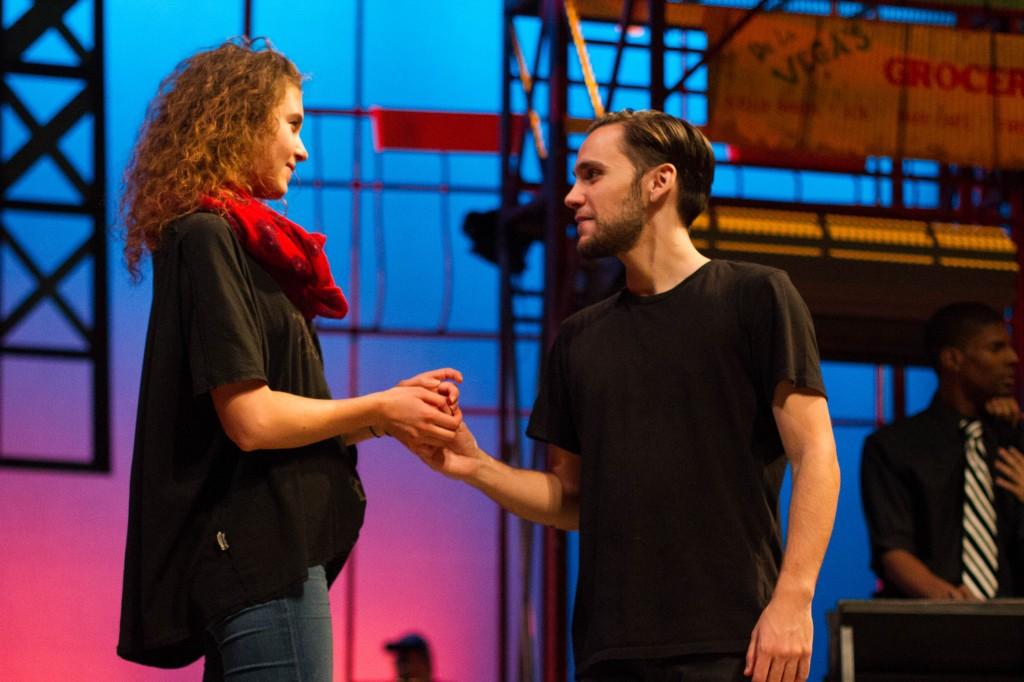 As Sanchez's first quarter in the casting pool and first show at DePaul, her face lit up with passion while talking about "In the Heights."
"This show is my life right now, and I wouldn't ask for it any other way," Sanchez said. "A lot of people when they're doing musicals get sick of the music, but when we leave the rehearsal room we're still singing, and that's amazing."
Looking past the surface, the heartwarming story that drives this show hits home for many involved. Portes, who is Cuban-American, feels a personal connection to the characters. But the show's central concepts of feeling like an outsider and finding your home are relatable to almost anyone.
"My personal mission is to put work on stage that reflects a 21st century audience," Portes said. "I'm trying to make sure that when anyone walks into the theatre they can say, 'I see myself in some way' … because to see yourself tells you that you matter."
DePaul's production of "In the Heights" begins preview performances Wednesday Oct. 1 with opening night Friday Oct. 3. Performances run Wednesdays through Sundays until Oct. 12.