Strus scales 3-point field goal milestone in 104-70 Blue Demon win against Chicago State
In the DePaul Blue Demons (6-2) 104-70 victory against the Chicago State Cougars (3-9) on Wednesday night at Wintrust Arena, Blue Demon senior guard Max Strus became the 21st player in program history to drain 100 3-point field goals in a DePaul uniform
He's been with the program for a year and a half and has played in just 38 career games which is the least amount of games any DePaul player has ever needed to reach that mark. Impressive accomplishment, right?
"Yeah, it's all right," Strus concisely put it postgame.
His coach was more elaborative.
"I would like to think he would drain 1000 more," Blue Demon head coach Dave Leitao said. "If you were in the gym with him everyday he is insatiable about his work ethic, and he's got as easy of a shot from distance as you can have. I think it's just about catching the right rhythm through confidence and continuing to work. So 100 is a mark that's admirable, I commend him for it, but I think there's many more to come."
Strus led the way for the Blue Demons with a season-high 27 points on 8-for-11 from the field and 5-for-8 from the 3-point line. The dominating performance was in stark contrast to what transpired Saturday against Northwestern when Strus put up eight points on 3-for-13 from the field (2-for-11 from 3-point land). It was just the seventh time in his career he's scored less than 10 points in a game and the Blue Demons are 2-5 in games where he has done that. Against Chicago State, he made certain that didn't happen again.
"[Tonight I] just had a lot of wide opens shots and at this level you should make those," Strus said. "My teammates found me in wide open positions and I just had to put the ball in the basket."
A 16-2 run in just over five minutes halfway through the first half ballooned the Blue Demon lead to 33-18 with 5:35 left. Two first half Eli Cain to Paul Reed alley-oops brought the Wintrust Arena crowd to life.  At halftime, the Blue Demons cashed in 15 points off of 10 Chicago State turnovers. Strus led the way with 13 points, but five guys tallied six or more points as the Blue Demons built their lead up to 49-30 at halftime. They had 14 assists on their 16 made field goals in the half.
Strus' 100th career 3-pointer came at the 16:36 mark in the second half and extended the Blue Demon advantage to 61-37 as DePaul outscored the Cougars by 15 points in the second half. They hit the century mark with 1:04 to go on a Flynn Cameron layup off a miss from freshman big man George Maslennikov. It was the first time DePaul has scaled 100 points since they poured in 109 against Chicago State on Dec. 17, 2016.
Cain finished the game with 17 points on 6-for-9 from the field and dished out 11 assists for his third career double-double, while Blue Demon sharpshooter Jalen Coleman-Lands chipped in 13 points, although he shot only 2-for-9 from 3-point land.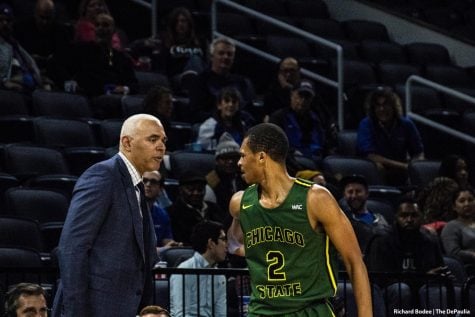 Late in the second half, an exchange of words prior to an inbounds play between Chicago State guard Delshon Strickland and Leitao escalated into a verbal spat that caused the DePaul bench to clear and ended with Leitao and Chicago State head coach Lance Irvin getting ejected from the game. DePaul assistant coach Shane Heirman and Strickland received technical fouls.
"What happened at the end wasn't something that I had planned," Leitao said. "It was a reaction to one of the Chicago State players saying something to me. In retrospect, I should have turned and walked away, but he said something I said something back and that's basically what happened. The referee thought he heard something egregious enough to give double technical fouls and that's the story."
The Blue Demons return to action on Friday when they square off against the University of Illinois at Chicago at 6 p.m. at Wintrust Arena.