DePaul geography class offers students firsthand look at gentrification in Pilsen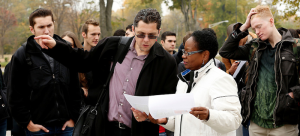 Every spring, Professor Euan Hague leads a group of 25 DePaul students to learn about the phenomenon known as gentrification by delving deep into the Pilsen neighborhood, a neighborhood that has been at the center of this controversial process for more than 10 years.
Gentrification, as defined by Merriam-Webster Dictionary, is "the process of renewal and rebuilding accompanying the influx of middle-class or affluent people into deteriorating areas that often displaces poorer residents". The term gained popularity in 1964 by British sociologist Ruth Glass, as she described the displacement of the middle class in urban neighborhoods.
This phenomenon is the focus for Professor Hague's Geography 133 course. Since 2003, Professor Hague and Professor Winifred Curran have compiled 10 years of data to track the gentrification within Pilsen.
"We collect data that is available from Cook County and the city of Chicago websites on property types, property sales, property taxes and zoning laws and generate maps of income, ethnicity and house sales," Hague said.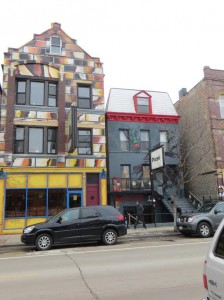 Hague's students are typically assigned an entire block within Pilsen to track and collect data. They draw comparisons between the age of the buildings and the year the buildings were built to determine whether the original building is still standing. If not, students are responsible for finding what type of development has been built.
The students' final papers are a compilation of the data collected, with includes a thorough discussion of the changes in property values, and an analysis of how gentrified their block has become.  Hague is able to build up more data from each previous year.
"The students have a snapshot of what it looks like now, but I have 10 years worth of this," Hague said. "We're able to see how the area has changed, the new properties that have developed and the progression of the gentrification."
The course undoubtedly leaves an impression on its students. The skill sets learned in Hague and Curran's class translates into the type of experience needed to pursue a career in urban geography, the third-fastest growing field in the United States.  Joe Arcus, an alumnus of Professor Curran's class, spoke about his experience in the course.
"When you are talking about urban geography and urbanization, and you put it in the context of gentrification, it really gives you an understanding of our economic system, of exploitation of this dichotomy of groups and interwoven cultures that make up a city," Arcus said. "It adds human value to culture and class that people have to recognize when talking about gentrification. It's more than rich people displacing poor people; it's about what you lose when that happens."
Pilsen's prime location near the Loop is attractive for developers given the huge demand for housing in the city center. The tenure of former Mayor Richard M. Daley was marked by significant redevelopment and gentrification of the West Loop and South Loop. Pilsen, the cultural capital for Mexican Chicago, is just south and west of those respective neighborhoods.
Arcus posed a powerful question regarding the gentrification in Pilsen.
"When these working class people lose their space in the city, they lose their access to jobs. By studying this ongoing gentrification you eventually ask, 'What place do working people have in the city?'"
DePaul offers multiple courses studying gentrification within the city. Professor Siobhan O'Donoghue teaches the Discover Course "Tracing the Steps of St. Vincent de Paul in Chicago". As part of the course, her students trek to Pilsen to witness the displacement of the middle class Mexican-Americans themselves. Cesar Agudo, a freshman in
O'Donoghue's class, commented on what he witnessed.
"Going into the neighborhood, you immediately recognize where the gentrification is and you witness its progression," Agudo said. "You hop off the 18th street Pink Line stop and you see small houses and family owned Hispanic businesses and on the same block you find a Dunkin' Donuts, a condo development and a hipster coffee shop."
"Developers are undermining the Pilsen community by relocating them to further margins," he said. "While the growth of the city is a good thing, it doesn't feel right when the population of Pilsen has to leave because of higher rents."
View Comments (3)