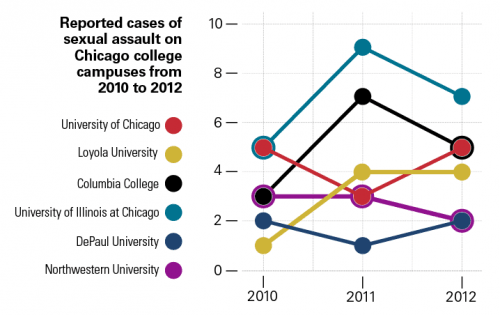 When Ellie Dunbar came to campus for her freshman orientation this summer, she received an introduction to all things college life — including sexual assault.
"We were told about consent," Dunbar said. "But we weren't given any info about how often (sexual assault) happens in Chicago."
Dunbar and her peers were also introduced to the term "bystander intervention," the philosophy and strategy for prevention of sexual assault being enforced by DePaul and recommended by the White House Task Force to Protect Students from Sexual Assault.
"(The Theatre School performers) did a whole performance about the social aspects of college and there was a whole scene about bystander intervention and what you can do in a situation," Dunbar said. "They were better at bringing up the topic, but not at drilling it into our heads … they just talked at us a lot, for some of the people it just went over their heads and it wasn't as in-depth as I thought it should be."
Freshmen should take note —according to the National Institute of Justice's 2007 report "The Campus Sexual Assault Study," freshmen and sophomores are at a higher risk of being sexually assaulted than upperclassman, with one in five women being survivors of sexual assault. Moreover, the time from the beginning of school to Thanksgiving break — DePaul's autumn quarter — is described as the Red Zone, an apparent increased risk for sexual assaults on students, according to a 2008 study by the Journal of American College Health.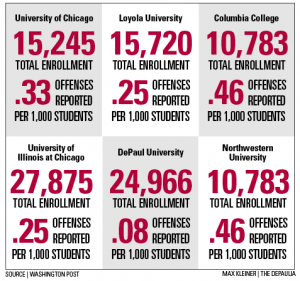 DePaul is making efforts to not have these ideas simply go over students' heads, implementing new training programs and resources for students who are survivors of sexual assault, as well as preventing sexual assault. The changes come at a time when sexual assault on college campuses is becoming an increasing issue, new laws and protocols are set in place by the government and DePaul students are fresh off the protests of last spring.
"We are calling it the 'Take care DePaul' philosophy," said Rima Shah, the sexual assault and violence prevention specialist from the Office of Health Promotion and Wellness. "We tell students that you should take care of yourself, so we want you to be aware of resources available so you can excel academically, professionally, emotionally, everything. But we also want you to understand that you are part of a community, DePaul is a community; it is everyone's responsibility to look out for each other."
Other resources for incoming freshman included a letter to parents at orientation, encouraging them to have a conversation with their child about consent and respect, Shah said.
Transfer students, who represent a greater number of new students, aren't receiving this training however. According to Enrolment, Management and Marketing, DePaul enrolled 2,737 transfer students compared to 2,635 freshmen during the 2012-13 school year.
"We are looking at reworking what transfer student orientation looks like and bringing it more in line with what new student orientation looks like," Shah said. "That will be something that will be reworked by next year."
While DePaul administration is making strides in handling the reporting and prevention of sexual assault on campus, some students are taking matters into their own hands. The end of last school year was marked with the now-famous banner drop in Arts & Letters Hall, calling out the Athletic Department of hiding that a student-athlete was accused of sexual assault.
"DePaul needed to be more transparent," said Nick Cannella, a senior political science major who is the president of DePaul Men Against Sexual Violence. "They were good with quickly handling it … they were not open enough about it to the community. They tried to hide it under the rug to avoid any bad publicity, and you can't do that. In my opinion, you have to be as open and honest as possible if you want it to go away as quickly as possible."
Cannella is working to get the word out about DMASV and getting more men around campus involved, ensuring the group will live on once he graduates.
"The worst thing that could happen would be for me to graduate and then it's done," Cannella said.
A member of the Sigma Alpha Epsilon fraternity, Cannella hopes the Greek life community on campus will get behind the movement as well.
"We received support from guys that you would never really think would support (us)," Cannella said. "So many people from Greek life, fraternities coming out (saying), 'This is really cool, this needs to be done.' "
According to the 2007 CSA study, "Sorority membership itself has been identified as a risk factor for sexual assault, including being a victim of alcohol or drug coercion. This finding is probably due to the pattern of sorority women being more likely to drink and to associate with fraternity men, who have been identified as being more likely to perpetrate sexual assault or sexual aggression than non fraternity men."
"What I understood is that a lot of guys really don't know how far is too far," Cannella said. "I started thinking about in my own life, like, 'When have I ever been taught how far is too far?' No one's ever told me, the only way I learned was from my parents teaching me to always respect everyone especially women, but not everyone is socialized like that."
According to the 2014 Safety and Security Information Report and Fire Safety Report for DePaul, three forcible sex offenses were reported to Public Safety on the Lincoln Park campus, with another three reports of domestic violence, three instances of dating violence and six reports of stalking in 2013. In that same time period, 98 criminal sexual assaults were filed with the Chicago Police Department for criminal sexual assault in police districts 18 and 19, including the Lincoln Park and Lakeview neighborhoods.
DePaul's statistics are much lower than the national average of one in five college women being survivors of sexual assault.
"Fortunately we don't have a ton of reports coming in," Bob Wachowski, director of Public Safety, said. "I would say it is underreported."
"We deal with the off campus too," Wachowski said. "It's not just stuff that's happening in res halls. With these off-campus parties, the more people you get involved the more bystander (intervention). I think it's going to be a good thing."

With the implementation of the Campus Sexual Violence Elimination (SaVE) Act as well as following the best practices from the White House Task Force, DePaul is implementing new programming and resources as well as refining old policies.
"We had a working group and we took a look at the laws … We found we had a lot of things already in place that the university was doing in a proactive way and that some of the stuff just needed to be adjusted," Wachowski said.
Some of the new resources and programs include a survivor information sheet, creating a university-wide policy of sexual offenses (previously a part of the student code of responsibility) and creating a curriculum for bystander intervention, much like the information given to freshmen during orientation.
"We'll be rolling out workshops in the next few months," Shah said. "We're going to start by targeting student leaders, so RAs, captains of athletic teams, leaders of sororities and fraternities."
The training will be a two-hour-long workshop giving students an understanding of bystander intervention and why people tend to not step in. After the program is reviewed and shaped by Megan Greeson, assistant professor of clinical and community psychology, it will be open for all students at some point in the future.
Other training provided by Shah's office includes an expanded sexual assault awareness section of compliance training for staff and faculty on reporting procedure and bystander intervention. Public Safety officers were trained last month, according to Shah and Wachowski.
Student Conduct Board members and athletic teams also underwent training, learning "in depth training about what these forms of violence look like, rape trauma syndrome, victim blaming questions and how to avoid them," Shah said.
While DePaul is working to make its policies and resources more known to students, many universities, such as Loyola University Chicago, are outpacing DePaul.
Last fall, Loyola released the "Here for You" mobile application that puts information such as campus and city services and resources for sexual assault, state-by-state information for students on break, definitions of dating violence and more in the hands of Loyola students.
The app is part of Loyola's Coordinated Community Response Team which, according to its mission statement, "brings together students, staff and faculty to create a campus culture where gender-based violence of any kind, specifically domestic/dating violence, sexual assault and stalking is not tolerated." The group's website houses a variety of information including videos and information on bystander intervention training, programming, publications, information on reporting and more.
For freshman Caroline Jones, the verdict is still out on whether the increased training really will make a difference.
"During common hour in Explore class we did an activity where we were given case studies and we had to talk through the scenarios," Jones said. "People were engaged in conversations for the most part.
"I think it was helpful. A lot of people seemed to remember what they talked about, but some definitely didn't take it seriously."
Grant Myatt contributed to this report.