DePaul students stand against hate
A crowd of students took to the Arts & Letters patio on Wednesday, May 1 in protest of an article written by philosophy professor Jason Hill. The article, published in the right-wing online magazine The Federalist, expressed Hill's view that Israel has "the moral right" to annex the West Bank and take away the right to vote from Arabs living there.
"Today we are here to stand against hate," said event organizer Jinan Chehade, a junior public policy major. "We are here to stand against racism and violence. To stand for Vincentian values of dignity and community that DePaul claims to embody, but the administration refuses to do the same."
The protest sought to stand against racism on campus and demand that DePaul "censure Jason Hill for his heinous statements against marginalized communities immediately," for "Hill to commit to racial sensitivity training and give an immediate public apology from Hill addressing his conduct that made it difficult for Arabs, Palestinians, Muslims and other marginalized groups to feel safe on campus and freely register for classes," according to the protest's Facebook event page.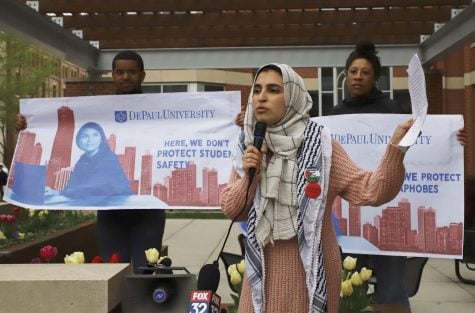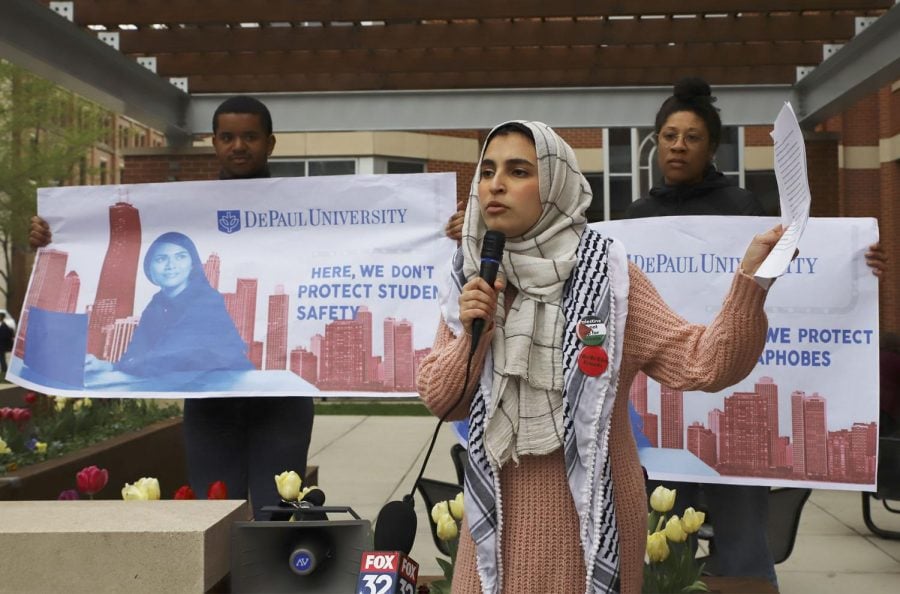 On Wednesday, May 1, the Faculty Council voted to censure the contents of Hill's article, which they call "an abuse of his academic freedom."
"I would like to say that this is a resolution that is primarily about the affirmation of Jason Hill's academic freedom, while at the same time affirming the Faculty Council's position that the tone and content of his article were worthy of condemnation," Council President Scott Paeth said.
The administration has not taken any formal stance on Hill's article — President A. Gabriel Esteban wrote in a university-wide letter that states DePaul "holds academic freedom in the highest regard […] Should faculty be allowed to express a provocative position? The short answer is yes, yet, DePaul aspires to be a community marked by mutual respect, always aware of the potential impact of our words and actions. Both of these outcomes are achievable."
The letter received backlash on campus and solidified some students' criticisms that the administration will choose to accept Hill's comments as "academic freedom."
"I call on the administration to truly commit to the Vincentian values it claims to embody and condemn professor Jason Hill's pattern of racist rhetoric and commit him to racial sensitivity training," Chehade said during the protest. "I remember one of the first things I learned coming to DePaul was these Vincentian values of social justice, community and dignity. And in a way, it made me proud to be from DePaul. However, Jason Hill's comments are in direct conflict with these values."
At the moment, the student and faculty criticisms of Hill, his article and the university's response do not seem like they will go away without more accountability being placed.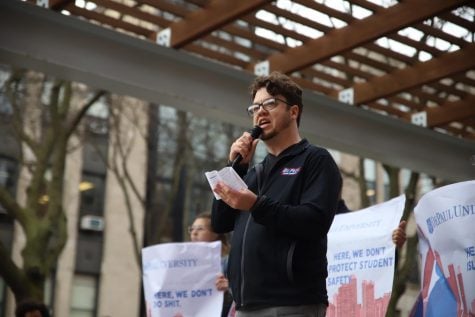 "I hope they listen to our demands, and we get a meeting going where we all get to sit at the table and discuss this moving forward, which is the most important thing," junior Rifqa Falaneh said. "How are we going to move forward from this and recuperate and make DePaul a better and safer campus for people of color?"