Event highlights benefits to bilingualism and hardships speakers experience
'Here in America we speak English'– a statement that is often heard by those who speak another language in public. For a panel of DePaul students and staff at the event, "Bilingualism Unpacked," hosted by the Gamma Alpha Chapter of Sigma Lambda Gamma National Sorority, Inc. and OMSS–this statement touches close to home as they shared experiences of being bilingual in Serbian, Spanish and Italian on Wednesday, Oct. 9.
For Mexican-American Karina Campos, being bilingual in Spanish and English was both a blessing and a curse throughout her life.
Campos said that many times she was tattle-taled on by other students for speaking Spanish at her school.
"I went to a Catholic middle school and it was [during] eighth-grade where the Spanish-speakers at the school were just trying to dive into the language as a whole," said Campos, a junior at DePaul. "One of our classmates told our principal that we were speaking a different language and [that] she felt left-out."
After the incident, Campos said she was prohibited from speaking Spanish by her principal, but hopes that more people can understand the importance of being bilingual.
"We live in a society that's diverse, and it's necessary to speak more than one language," Campos said.
These same thoughts were supported and shared by others at the event.
Stephanie Berryhill, an academic adviser at DePaul, said that most bilingual students tend to exceed monolingual students in school.
"If you look at test scores between someone who is bilingual and monolingual, a lot of the time test scores in their early childhood range show that bilingual students fall behind," Berryhill said. "But, by third grade and up they are surpassing their monolingual peers."
As some DePaul staff and students shared their take on the importance of bilingualism, others shared what bilingualism means to them.
Senior Jaime Gonzalez said that bilingualism is a topic that goes simply beyond being able to speak more than one language.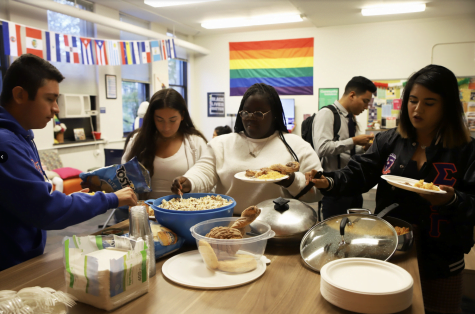 "Bilingualism to me means culture, it means jokes, music and being able to combat barriers," Gonzalez said.
These language barriers are not always as easy to combat.
For junior Yamel Rivera, becoming confident in speaking both languages fluently was said to be a difficult task. 
"I know what it's like to go to another country and not know how to communicate," Rivera said. "I'm [still] practicing and it has helped me to communicate with my family and when I'm traveling to Mexico."
Rivera said that she felt better about the fact that now she can respond and carry a Spanish conversation better with her family and friends.
As students closed off with their final thoughts on bilingualism, a potluck took place with food–Spanish rice, refried beans, and salsa– that demonstrated Latino culture.
During the potluck, Jessica Gibbs, DePaul junior and the director of the event, shared her thoughts on leading a bilingualism panel for the first time.
"I had a great time directing it," Gibbs said. "I [enjoyed] listening to everybody's insight and what they had to share–it stuck with me personally."
Gibbs said that some bilingualism stories were relatable to the experiences that she had to face being Mexican-American.
"You learn some things later in life during the process of becoming a better [bilingual] speaker," Gibbs said. "Like not knowing how to entirely know the proper way of saying things."
For all of these students, everyday is said to be a learning process and a lesson to the importance of being bilingual and how to continue embracing their culture and roots.
"I was impressed by the diversity of answers we got and all of their perspectives," Gibbs said. "Everything added so much richness to the conversation."