DePaul helping light up State Street for holiday season
If you were leaving a night class in the Loop last Thursday, you may have encountered a herd of people surrounding a window outside of the Daley Building. That night, the School of Cinematic Arts displayed their 3-D stop-motion film, Merry Christmas from DePaul, and premiered the movie in front of the faculty, students, and parents of the content creators.
Co-directed by Meghann Artes and Devin Bell, faculty members under the School of Cinematic Arts, and the students part of Project Bluelight, were able to see their project come to life for all of DePaul's campus to see, as well as the entire City of Chicago.
The film first premiered in the lower level theatre of the building, which led to a Q-and-A with the students and directors. Afterward, the movie was shown outside, for the first time, to the general public. The night ended in a celebration of the production, Christmas music, and food and drinks for everyone who attended.
The three-minute film focuses on the celebration of Christmas. The viewer travels through different elements of the holiday.  Divided into three different worlds, the first one focuses on paper-based objects seen throughout Christmas including the unraveling of gift wrapping paper, floating paper snowflakes, and foil-covered ballet dancers dancing in unison. The second world highlights the holiday's baking and popular treats. It's represented through the planting of cookie Christmas trees, moving gingerbread cookies, and even snowfalls portrayed through sugar. The last portion of the film emphasizes the religious aspect of the holiday with a display of a living room filled with stockings, wrapped presents, a fully decorated Christmas tree, and a depiction of the nativity. All worlds are united through the symbol of the traveling star.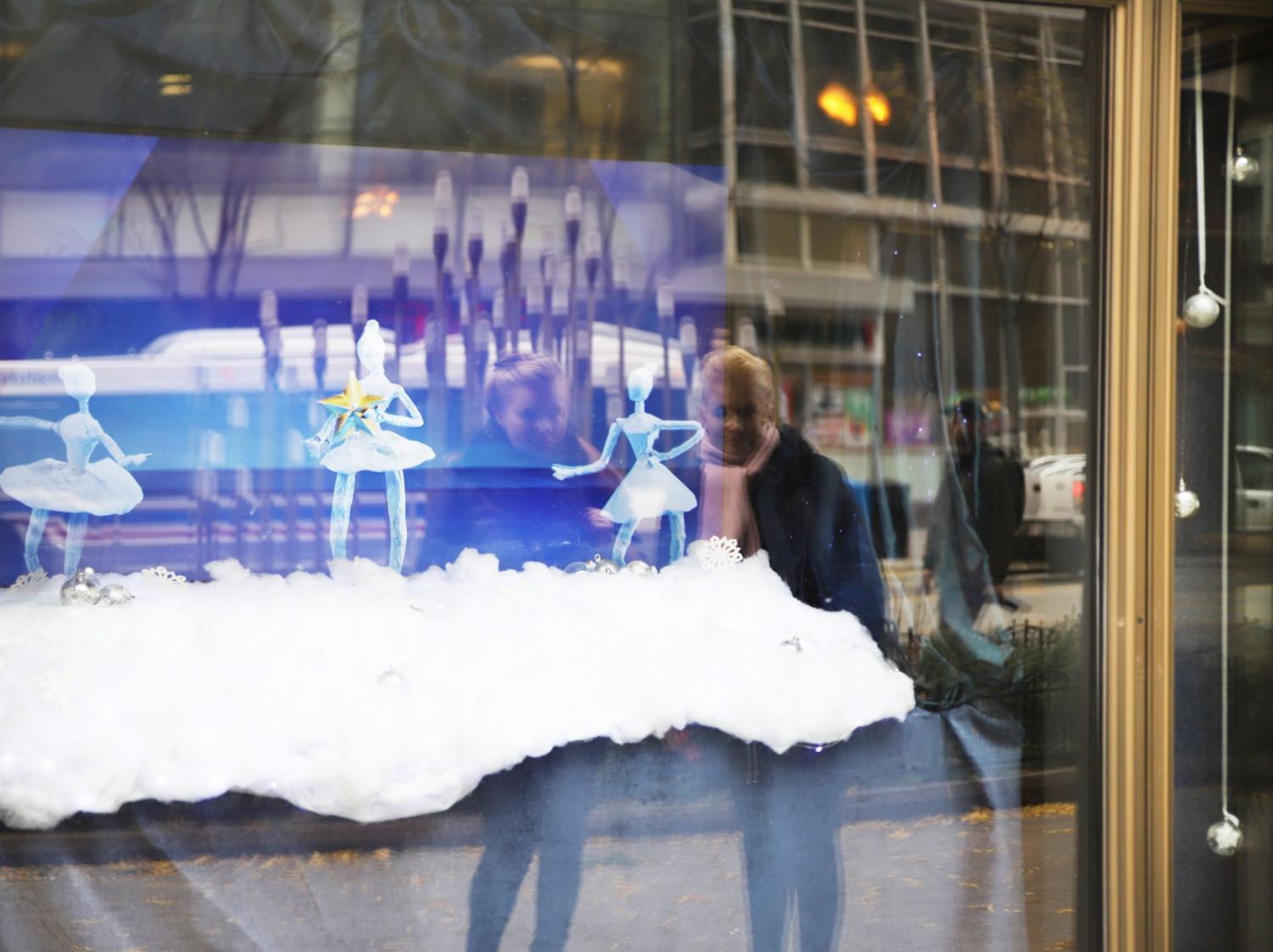 The beginning of this project dates back from over a year ago, according to Bell.
"It was brought up over a year ago now in September," Bell said. "The whole thing started from the Office of Division of Mission and Ministry. [Father Edward Udovic] at the time got this idea, 'Wouldn't it be great to sort of have a DePaul installation that served as a message or greeting from DePaul to the Chicago community?'"
With the reminiscent Marshall Field's Christmas windows in mind, the pitching process ultimately ended with the approach of stop motion animation.
"We decided to use stop motion because when you do stop motion you usually use found objects or real objects or you create these things that look like they could live in our world," Artes said. "So, we were able to manipulate those and really create this magical, whimsical movie."
The goal of the production has grown from just being a spectacle, but to showcase the talent of DePaul students.
"I think the first thing that we're rooting for is that feeling of magic and wonder, and joy," Bell said. "Which I really think the movie at the window will evoke. We want people to feel like kids again and cross by and look and be like, "What is this? This is so crazy. Who knew that cookies could come alive and dance through a cookie forest.' Then want them to think about how it was made and by whom and go, 'Woah, wait a second these are like film students… making this project as a message."
After storyboarding for two months, students applied and submitted their work to be admitted into Project Bluelight. Project Bluelight serves as a credited experiential learning class, within the Cinematic Arts program. Two classes were created, one for the spring quarter and a two-week term during the summer. According to Bell, the production team was divided into different departments including ones who worked on the storyboard, sound, fabrication (creation of props and puppets), set design, Photoshop design, and animators.
Production took place in the Idea Realization Lab, as well as Cinespace.  According to Bell, students were able to gain hands-on experience with set design, lighting, special effects, digital compositing, and other techniques.
DePaul senior Alexis Lee, majoring in animation, describes her contribution during the summer term. Students during this term worked from 8 a.m. to 5 p.m., Monday through Friday for two weeks.
"I was kind of new to stop motion," Lee said. "I've never done it before. So that kind of had me learning a lot of things at the same time. I was doing fabrication. So, the star that was floating throughout the scenes I fabricated that so I made it and scanned it with a golden foil. I also animated some part of the Christmas tree. I helped dress the entire living room set. Me and my other partners helped decorate the entire Christmas tree and then I helped paint…and then I did the presents and the decorations on the mantel and stuff like that."
Kate Keblusek, a senior majoring in animation, worked on the most time-consuming part of the production. Her and three others worked on the dancing ballet scene. Their group spent 10 weeks working with the same puppets, and finding the best shots and then executing.  Keblusek pointed out the different variables they had to overcome.
"It's tedious work," said Keblusek. "You have to move it frame by frame…For the dancers too, one of the most difficult parts is that you're working with all these parts. It's not just the hand. You have to move the head and you have to know the arc of like, 'Oh the head's moving this way,' … if you move everything else but the head turns back a little bit, and then it goes back forward in the next one it's [flawed.]"
Even during those times of struggle, Keblusek said it was of value.
"In that way, it was fun because then you get to hang out with these people the whole time. You get to see how they animate…You're only moving a little bit but to see it unfold over time is so worth it."
After about 12 months of rigorous work, members of the production were able to see the finished product together. Lee admitted that it was quite the moment.
"I got kind of emotional, not gonna lie," Lee said. "I usually don't but it was fun and we worked so hard for two weeks…It was funny because we actually all got sick, like halfway through production, so it was kind of funny to reminisce and be like, 'Oh yeah that star. I made that when I was sick'…It was really cool to see everything come together, it was really beautiful."
While Christmas might be the most common, there are many more holidays during this season. Students may celebrate Hanukkah, Kwanza, Las Posadas, and others.
"We're not exactly spokespeople for [the Office of Division of Mission and Ministry] but I think that one side of it was that we are the largest Catholic University in the country. That doesn't mean, you know, everybody here, of course, has to follow the same belief. It was just kind of like a greeting from a certain viewpoint."
"We're really excited to see where this tradition goes," Artes added.
The movie will be screen on loop every day, from 8 a.m. to 9:30 p.m. until Jan.15, 2020.