Harry Styles experiments with new album, with uneven success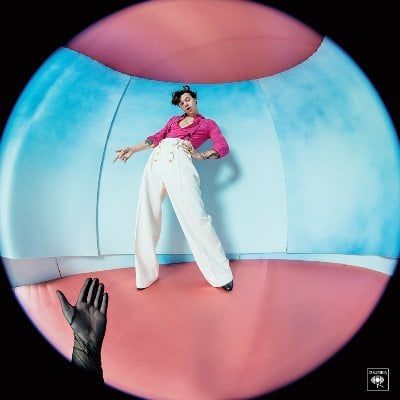 When speaking to Rolling Stone earlier this year, Harry Styles told journalist Rob Sheffield that his upcoming sophomore album was "all about having sex and feeling sad."
Given that description and Styles' impressive—if not slightly derivative—first album, my expectations for "Fine Line," released Friday, were very high. 
The album is by and large far more experimental than Styles' self-titled solo debut, which played heavily on the classic rock of the 1960s and 1970s, namely the Rolling Stones. 
While the foray into previously uncharted musical territory works in Styles' favor for about half the album, the project as a whole is a bit uneven in terms of quality. 
"Fine Line" starts out very strong, beginning with "Golden." The track has great energy and strong harmonies reminiscent of Crosby Stills Nash and Young's "Suite: Judy Blue Eyes." The opener is followed by the album's three singles, "Lights Up," "Watermelon Sugar" and "Adore You."
The three singles are rock-solid, with Styles trying on a different mood with each number: introspective and liberated on "Light's Up," sultry and smooth on "Watermelon Sugar" and earnest and slightly desperate on "Adore You."
The album's high point is "Cherry," a folk-inspired number that expertly portrays the awkwardness and jealousy that comes with seeing an ex move on. 
The lyrics feel honest and understated, with Styles playing the role of the guy who is jealous that you seem happy without him; the real "fine line" is here, where Styles expertly showcases his less flattering qualities, while not seeming to want to excuse them.
The album's best line is found in the track, with Styles stating, "Don't you call him what you used to call me." 
The lyric's simplicity renders it into a universal experience and the album could benefit from more of these moments of understated honesty.
The album begins to fall off course in the mid-section, with conceptually good tracks like "Falling"—in which Styles examines his aforementioned toxic jealousy in lyrics like, "What if I'm someone I don't want around?"—is weighed down by an uninspired production, rendering it just another piano ballad. 
Throughout the album, Styles portrays himself as the jealous type and at one point refers to himself as "an arrogant son of a bitch who can't say when he's sorry." This candid examination of his behavior juxtaposes Styles' cool-guy public image.
Styles gets more musically instrumental on tracks like "Sunflower, Vol. 6," which features ELO-inspired layered harmonies and interesting synth riffs. On "Canyon Moon," Styles dips his toes into 70s jam-band territory, with a piano intro that vaguely reminds me of The Grateful Dead's "I Know Your Rider."
The musical experimentation shows an eagerness to grow as an artist and for Styles to emerge as a musician outside of his teen heartthrob fame. The aforementioned are enjoyable and interesting, with catchy melodies and a lot of energy from Styles.
The album's penultimate track, "Treat People With Kindness"—a mantra Styles adopted on his 2018 world tour— dives headfirst into 1970s camp, with a production and backing chorus straight out of "Jesus Christ Superstar."
It feels mean-spirited to critique a song whose ultimate message is, "be nice," but despite an enthusiastic vocal delivery from Styles, this number is too syrupy-sweet for my taste, with the camp levels leaning toward being cheesy.
The album's title track makes for a triumphant closer, closely matching the vibe Styles pitched to Sheffield back in August. 
The repeated affirmation of "We'll be a fine line," finds Styles trying to balance the extreme highs and lows referenced throughout the album. 
Perhaps the real "Fine Line" is Styles trying to find his way as a solo artist. While his last album was more consistent in terms of quality, it felt like Styles was trying on Mick Jagger's sound and style. 
"Fine Line" is far more uneven and ambitious to a fault than "Harry Styles," but it's beginning to feel like we're getting to know the real Harry Styles: self-critical, eclectic and willing to grow.