Rashaun Stimage of DePaul men's basketball aims to fill the void at power forward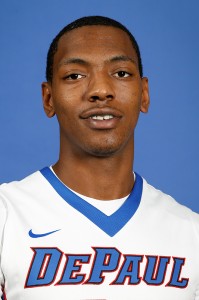 Rashaun Stimage came out of one of the first practices of the season with ice on his knee, slowly walked over to a chair where he sat down and let out his breath.
"It's been great for me these first two days," Stimage said. "But it's been kind of hard. That's the most I've ever run."
Stimage committed to DePaul in August 2013 before playing his second season of junior college ball at Daytona State College. He officially signed in November. Nearly a year later, he's practicing with the team and he's working on adjusting to the level of Big East basketball.
"Division I basketball is a lot harder and a lot faster," he said. "The pace is a lot faster from junior college, where I came from."
Stimage, a Chicago native, attended Farragut in the Chicago Public League and The Hoops Report ranked him second amongst Illinois prospects for the Class of 2012.  After high school, he sepnt a year at  Blinn College before moving to Daytona State College his sophomore year, where he won All-Mid-Florida conference honors and averaged 13.9 points per game with 7.2 rebounds per game.
Stimage describes himself as a versatile player who likes to play defense and box out, bringing a good inside defensive presence to the team. For a team player who changed  his stance toward getting up to the level of DePaul basketball, however, this attitude adjustment impressed head coach Oliver Purnell.
"Rashaun has worked extremely hard and is very coachable," Purnell said. "He's tough but just as important he wants to get better and he seeks out coaching. From a coaching standpoint that's what you want."
As for actual in-game play, Purnell has also been impressed with Stimage's defense.
"It looks like he can defend inside and out," he said. "Lots of versatility and a toughness to his game."
At Daytona State, Stimage was also known for his defense. His head coach, John Ridder, called him "one of the best players in the country at the junior college level."
"He was one of the best defensive players in the conference," Ridder said. "He had great timing."
Ridder also said his defense was very physical, adding that he would not back away from guarding any player.
Another thing that Stimage brings to DePaul is his chemistry with fellow transfer Darrick Wood. Wood, a sophomore guard who transferred from Hutchinson Community College in Kansas, said that the two keep each other going in positive ways.
"On the court, we help each other a lot and in class too," Wood said. "We keep each other going in the right direction, going up, not down."
Stimage came into DePaul as a forward at 6-foot-8, but weighed only 217 pounds. He's been working for the past few months on putting on more muscle to help his physicality inside.
"Over the summer I put in a lot of work," Stimage said. "I gained 5 pounds so I'm trying to keep it going in the weight room."
Purnell said the improvements in the weight room have shown on the court.
"I think as he's gotten in better shape, spent more time in the weight room you can see a marked improvement in his conditioning and his physical ability," he said.
Stimage said his goal is to get to 235 pounds by the start of the season, which starts in early November.
Although it is too early to accurately make a depth chart, Purnell said that Stimage would certainly have a presence on the court.
Stimage will likely be in contention for the starting rotation with Forrest Robinson, Tommy Hamilton IV, Greg Sequele and fellow transfer Myke Henry
"I definitely see him in the mix because of his ability, because of his basketball IQ and the fact that he's anxious to get better," Purnell said.