Blue Demon Challenge donations double initial goal of $1 million
DePaul hosted the Blue Demon Challenge on Thursday, Jan. 23 with a goal to raise $1 million. The challenge surpassed expectations and impressed students and faculty with $2,006,201 in total donations raised and 2,439 gifts in total, according to the Blue Demon Challenge website.
The event honors the seven years of tradition where giving to the students, faculty and staff. Many friends of DePaul come together with the hope of reaching this year's goal of $1 million in a single day. These donations will support areas like the College of Communication, the Theatre School athletics.
Donations came from all over the United States and every amount, no matter the size, toward any area of campus, was appreciated. Donors could also choose to remain anonymous if they liked to.
"I am giving back because DePaul helped me to get to where I am at now, and I know where the money is going," said Harolyn Cain, a DePaul alumna who graduated in 2018 with a degree in public service management.
If DePaul received a gift from all 50 states, a donor who wanted to remain anonymous would give $50,000 to create a scholarship. Also, if 300 members of DePaul's faculty and staff made a gift, then an anonymous College of Computing and Digital Media faculty member would give  $20,000. The university met both of those challenges, according to a Newsline article.
A recent DePaulia article mentioned enrollment in higher education is declining nationally at about 4 percent – and Illinois is seeing a decline of nearly 17 percent.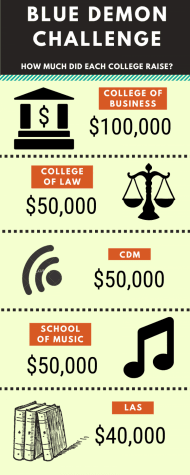 This decline in enrollment is something DePaul President A. Gabriel Esteban's administration knows well. In his State of the University address last October, Esteban discussed the school's "Grounded in Mission" plan for 2024, in which he hopes to reverse the eight-year decline in enrollment trends. Esteban said this goal is attainable, pointing to DePaul's biggest freshman year class to date, which had 2,627 students this academic year. He also cited the increase of Fulbright scholarship recipients and the new Grace School of Applied Diplomacy. The last time the university saw the type of enrollment increase that Esteban wants is when the university's enrollment nearly doubled between the 1980s and early 2000s. It now has been on the decline — roughly 12 percent — since 2011.
In terms of average revenue, The DePaulia found that between 2003 and 2011, DePaul's revenue grew by 5.7 percent and its expenses by 5.4 percent. In those same years, inflation increased by 2.6 percent. Between 2011 and 2019, though revenue has increased by only 1 percent, with expenses increasing by 1.5 percent and inflation by 1.6 percent.
The university already has several initiatives in place intended to jumpstart enrollment and revenue in areas like recruitment, retention and reinvention.
But declining enrollment and lack of campus culture did not discourage anyone's school spirit in this year's Blue Demon Challenge.
"We're part of this community, especially as students," said Joanna Talabani, a junior double-majoring in communications and media and Spanish. "I think what's really cool is that if you do donate, you get to choose where you want your money to go. I think it's kind of cool that, yes, you have so many options to donate to places, but here you can actually see your money makes a difference."
The Blue Demon Challenge is also significant because DePaul relies on financial support from alumni, families, friends, faculty, staff, corporations and foundations to help support DePaul in areas where tuition does not cover all the costs.
"I think it's awesome that we have all these challenges, so there's really an opportunity to give to the area that means the most to you in the university, and I think it's pretty cool and makes it personal," said Effie Mores, director of alumni relations at DePaul.