DePaul's enrollment doesn't reflect environment
Paula Luff, the interim vice president of enrollment management, makes a simple yet telling statement on the first page of 2019's Enrollment Summary, released last week.
"Strong student outcomes were not enough to offset an overall decrease in continuing undergraduates," she said.
In the autumn quarter of 2019, DePaul's undergraduate enrollment totaled 14,214, according to the summary. The university is experiencing a slow decline in undergraduate enrollment, as Luff put candidly. In the summary, Luff does note that DePaul is not alone in this decline. In a report from the National Student Clearinghouse Research Center, a nonprofit higher education research organization, national enrollment in universities and colleges declined by 1.7 percent, approximately 300,000 students, within the last year.
The summary compares the enrolled undergraduates from this year, 14,214, to last year's 14,507, a 2.1 percent drop in enrollment. DePaul stands at only slightly above the average decline in enrollment as compared with other universities nationwide.
The data that the summary highlights is the size of this year's freshman class. The university welcomed 2,627 new freshman in autumn 2019, making it the largest freshman class in DePaul's history. The College of Digital Media gained the most freshman with a 17.7 percent increase in enrollment. Schools that also saw an increase were the College of Science & Health, College of Communication and the Theatre School. The Business School, College of Liberal Arts & Sciences, College of Education and the Music School saw small decreases in enrollment.
DePaul's mission statement says the university aims to "foster in higher education a deep respect for the God-given of all persons." The university promotes diversity on its urban campus, as Chicago is one of the most ethnically diverse cities in the country. This figure does not account for the city's potential segregation and displacement of communities due to gentrification. DePaul's diversity figures present a different representation of diversity on campus in a similar way to the city of Chicago.
In 2019, people of color's enrollment increased by 144 students, with 8,854 as compared to 2018's 8,710. Students of color account for 40 percent of total enrollment — an impressive number on its surface. In 2019, enrollment of Caucasian students was 11,056. Hispanic and Latinx students account for 3,718 of enrollment, black students come in at 2,082, and Asian students were at 2,211. These three groups all increased in enrollment since 2018. Multiracial/Non-Hispancic students accounted for 781 of enrollment. Native Hawaiian/Pacific Islander were at 34 students, and American Indian/Alaska Native came in at 28.
When looking at the four major ethnic groups on campus, white, Hispanic/Latinx, black and Asian, DePaul does not conform to Chicago's almost split evenly diversity. The enrollment summary fails to give the reader a percentage breakdown of racial groups on campus, but here are those percentages.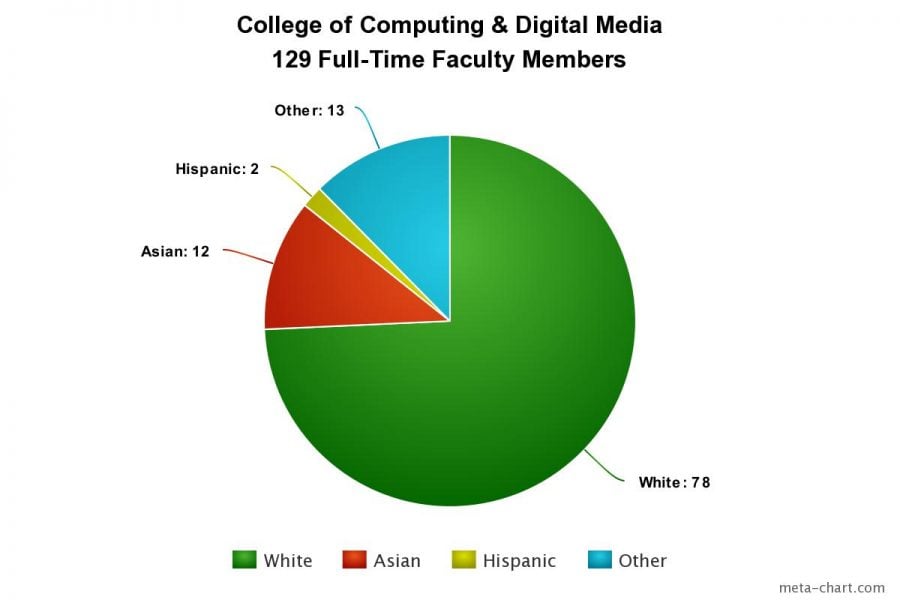 Hispanic/Latinx students account for 16.8 percent of total enrollment.
Black students account for 9.4 percent of total enrollment.
Asian students account for 10 percent of total enrollment.
Caucasian students account for 50 percent of total enrollment.
Chicago's approximate population as of 2018 is at 2,705,944, according to estimates and extrapolation from the census.
Hispanic/Latinx citizens account for 29 percent of Chicago's population.
Black citizens account for 30.1 percent of Chicago's population.
Asian citizens account for 6.4 percent of Chicago's population.
Caucasian citizens account for 49.4 percent of Chicago's population.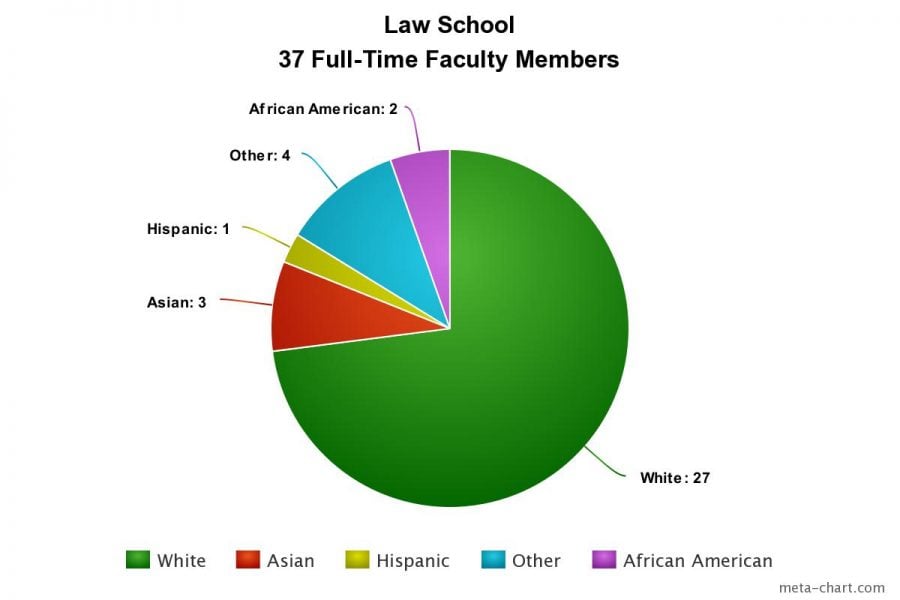 DePaul's percentage of white students does match up with Chicago's population, but it fails to represent Chicago's Hispanic/Latinx and black communities. DePaul's enrollment of Asians is higher than the city's population, larger due to the school's enrollment of international students, which accounts for 1,308 students. The top countries that international students originated are China, India, Saudia Arabia, Taiwan and Vietnam.
The university is not alone in diversity struggles. On paper, DePaul makes multiple efforts to increase diversity both with its students and faculty. A task force was created last year that hopes to improve diversity at the faculty-level, which can lead to a higher percentage of diverse applications. DePaul has made their application free through the Common App, an application that eases the college application process. Making the application free encourages students of diverse backgrounds able to apply without a financial burden.
"While DePaul is not alone in facing the demographic and competitive headwinds of today's higher education landscape, we have a uniquely talented and dedicated staff to navigate these challenges," Luff wrote. "This gives me confidence that we can and will achieve the outcomes that ensure our future success."
CORRECTION (Feb. 17, 2020, 2:53 p.m.): A previous version of this story misspelled Paula Luff's last name as Bluff.