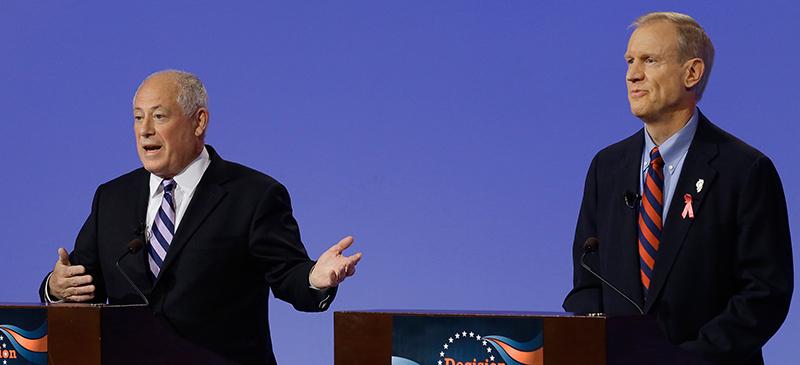 A number of DePaul professors are unsure of who is going to win the Illinois governor's race Nov. 4. With just a week left before the midterm election, professors cannot fully put their cards down on Democratic incumbent Gov. Pat Quinn or Republican challenger Bruce Rauner, a venture capitalist who has not held political office previously.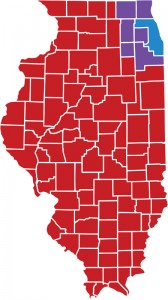 VIDEO: Who will be the next governor of Illinois? (link)
"We have two very different candidates, meaning that there's a clear choice for people to choose from," said Bruce Newman, professor of marketing at DePaul and editor-in-chief of the Journal of Political Marketing. "Voters have the choice of voting for a candidate on the basis of promises (Rauner) or voting for the incumbent (Quinn) who's fulfilled and fallen through some promises."
The professors interviewed universally agreed that the race will come down to the wire, similar to how Quinn narrowly won against Republican challenger Bill Brady in 2010 by approximately 30,000 votes.
"Based on an educated forecast, it's going to be a close race," Newman said. "Opinion polls indicate the attitude of the public at a certain point in time. They are good indicators, but there's always a margin of error."
But if professors had to choose between who would win narrowly, the majority would choose Quinn.
"All of the polling shows within 2 percentage points, but I personally think that Quinn will probably pull it out," said Scott Hibbard, political science professor at DePaul. "The polls in the last two to three weeks put him slightly ahead."
The professors also note that midterm elections produce less voter turnout compared to presidential elections.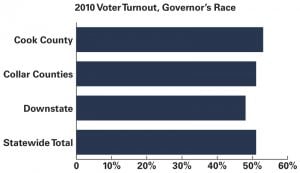 "Like most midterm elections, the key is turnout. If there is a strong turnout of voters, then Gov. Quinn has a strong chance of being re-elected," said Michael Mezey, political science professor at DePaul. "The drop-off in voting (between) presidential years and non-presidential years is usually about 20 percent."
According to the Illinois State Board of Elections database, overall voter turnout in Illinois during midterm elections in 1998, 2002 and 2010 hovered around 50 percent to 52 percent with the exception of 2006 dipping to between 48 percent to 49 percent. While Cook County (including the city of Chicago) and the Collar Counties (DuPage, Kane, Lake, McHenry and Will) have generally stayed within the 52 percent to 55 percent voter turnout range, counties in downstate Illinois show a decline in recent years going from 51 percent to 52 percent in 1998 and 2002 to 47 percent to 48 percent in 2006 and 2010.
The last Republican governor of Illinois was 1998-elected George Ryan defeating Democratic candidate Glenn Poshard statewide by approximately 3 percent. The 1998 election had the traditionally Republican-leaning Collar Counties showing significantly stronger support for the Republican candidate by an approximate 34 percent difference compared to elections in 2002 and 2010 that had an approximate 13 percent to 20 percent difference. It was also the only mid-term election within the last 16 years where suburban Cook County predominantly voted Republican by approximately 100,000 votes.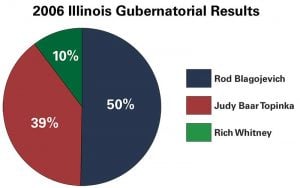 The past four midterm elections show Cook County as the only county voting predominantly Democrat while the collar and downstate counties voted Republican. However, the Democratic influence in the state is stronger with the weight Cook County and Chicago itself pull, according to Hibbard.
"(Illinois) is a predominantly Democrat state," Hibbard said. "You've got a good party infrastructure, and you have (the support of) both Michelle and Barack Obama. Democrats will do a pretty good job with their turnout."
Although Mezey agreed with how Illinois has "become more democratic," he questioned how strong the Democratic voter base will be this time.
"Democratic constituencies such as poor people, African-Americans, Latinos, young people are less likely to vote in off-year elections, so that makes it tougher for a Democrat to win," Mezey said. "Rauner's supporters tend to be heavily white, middle class suburban folks, and they are more likely to vote compared to the democratic constituency."
Rauner needs to draw major support from collar and downstate counties to ensure a win, according to Zachary Cook, political science professor at DePaul.
"Rauner needs to hit about 20 percent of the vote in Chicago, get about 45 percent of the vote in the Cook County suburbs, crack more than 60 percent of the vote in the Collar Counties and crack over 60 percent downstate," Cook said. "If he can hit those numbers, then he'll be the next governor."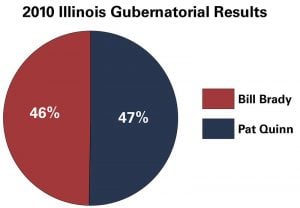 Third-party gubernatorial Libertarian candidate Chad Grimm also presents a possible threat to Rauner's Republican voter base because of his more conservative stance on social issues.
"Grimm is more socially conservative at least on abortion issues and gun rights issues than Rauner is," Cook said. "That may siphon away just enough votes that Rauner won't be able to hit his margins that he needs for victory."
Although Grimm is not projected to win, support for his campaign may help Quinn pull through.
"If you look at where Chad Grimm is drawing his support, it's largely Republicans from downstate Illinois," Hibbard said. "These are the kind of people Bruce Rauner should be getting. If he pulls a significant amount away from Rauner, that's going to give Quinn the edge that he'll need."
Despite traditional voting patterns, unpredictability behind voting patterns still exists.
"Voting is more complicated than the consumer marketplace," Newman said. "Will voters vote based on how they're feeling? Or are they actually looking at issues? Do they want something new and different? Part of Rauner's appeal is based on (his appeal as someone 'new and different')."
Professors agreed that Rauner is a different type of Republican from previous Illinois governor's races.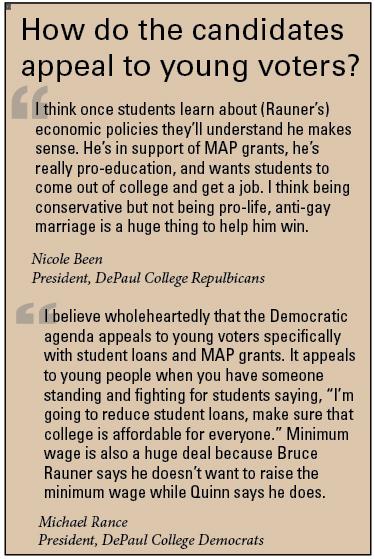 "This race is a little bit different than 2010 because Quinn was running against (Bill Brady), a very conservative Republican," Mezey said. "Quinn was able to win a very close race because people who might've been inclined to vote against Quinn didn't like the alternative. In this election, Rauner in some ways is a more appealing candidate – he claims to be pro-choice, he's muddled his position on gay rights, he's not associated with the far-right of the Republican party, and this makes him more acceptable to the demographic of suburban women and men who are maybe more inclined to support an economically conservative candidate but are repelled by right-wing views on (social issues)."
The negative nature behind both candidates' campaigns may be a distraction to voters, professors said.
"I think that this (election) has been an overwhelming negative affair," Cook said. "Rauner's forces are trying to channel feelings of disgust, dislike and incompetence around Quinn. Quinn's forces are trying to make Rauner into a clone of (2012 Republican presidential candidate) Mitt Romney that he's a vulture capitalist."
The preoccupation with candidate image makes voting behavior even more unpredictable with more important issues possibly taking a backseat in voters' minds.
"I don't think there's a really good debate going on," Hibbard said. "What Rauner is basically saying is, 'I'm not Quinn', and he's spending a lot of money to tarnish Quinn's reputation. And Quinn is throwing mud back and critiquing Bruce Rauner's business record. I'd rather have a more robust statement of their competing philosophies."