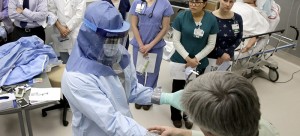 The news of potential cases of Ebola continues to spread quickly throughout the United States. The threat is something that is on the minds of citizens across the country, but what about those working in health care who the threat is more immediate for?
With the news of Amber Vinson and Nina Pham, two nurses who took care of Thomas Eric Duncan, the man who died from the virus, contracting Ebola the fear of the possibility must be very real for other nurses and health care workers in general. Students in DePaul's nursing program have taken the recent events in stride, following the updates but not allowing fear to stop them from doing their jobs.
"Our work puts us closer than everyone to the patient," Bill Cody, director of the School of Nursing at DePaul University, said. He said he wasn't surprised that it was nurses who got the virus because they work "the frontlines."
According to an Oct. 23 article from NBC, Vinson has now tested negative for the virus while Pham is, as of Oct. 24, Ebola-free. The possible threat still remains for many other nurses and health care workers, but they now have new protocols and precautions.
The Centers for Disease Control and Prevention (CDC) put up guidelines for hospitals for dealing with the Ebola virus, but were taken down before new, stronger guidelines were put up Monday Oct. 20, according to an Oct. 21 USA Today article. The guidelines cover personal protective equipment (PPE), including a full face shield with a disposable hood, two sets of gloves, a fluid-resistant gown, apron and boot covers, according to the CDC guidelines.
Also according to the CDC guidelines, any health care workers who are going to be working with the patient must be properly trained, wearing the personal protective equipment where no skin is shown and a trained observer must watch when the personal protective equipment is being put on and taken off.
Cody said there are also the universal precautions, meaning that everyone and their body fluids should be regarded as potentially infectious.
"Within the science of nursing, we try to give them the knowledge to protect themselves and their patients," Cody said.
Cody has been in the nursing field for 36 years and says he knows the risks involved, but that he doesn't think about them often because he wants to be able to do his job to the best of his abilities.
Students in the nursing school at DePaul seem to agree that as a nurse you know you are going to be caring for people, and that comes with risks. David Aken and Louie Espinosa, both second-year graduate students in the nursing school, want to work in critical care, where the risks would be high for them.
"I was personally frightened after getting the HIV needle stick lecture," Aken said. "That was a frightening lecture to go through, but that's part of the job."
Cody said that, "people become nurses because they have a capacity for caring for people, to state the obvious."
To go with that caring nature, students receive a lot of training and get new training when it is needed, such as with the Ebola virus.
"Being a good nurse comes with experience," Espinosa said. He also said that you need "a good knowledge base."
They get that experience through clinicals where they work in a hospital setting, but they aren't worried about getting a patient with the virus anytime soon.
"We wouldn't even be allowed to be near those people," Espinosa said. But more and more nurses and health care workers will be as potential new cases come up.
Aken said that maybe something like this will change people's views on nurses. They aren't just people who change the bed sheets for patients, he said.