Esteban answers student questions at latest SGA meeting
President A. Gabriel Esteban was in attendance at DePaul's SGA meeting on Nov. 5. Students were able to ask the president pressing questions around its relations with Chicago's Fraternal Order of Police, compensation of Chartwells workers, DePaul's Covid-19 precautions, amongst other discussion topics. 
Esteban commenced his portion of the session by answering questions that were asked beforehand. The first question was centered around DePaul's relationship with the Fraternal Order of Police and their discounted tuition. 
"It was difficult for me to watch," Esteban said about the killing of George Floyd by a Minneapolis police officer. 
Esteban said he doesn't stand for any kind of brutality but addressed the importance of education and how it can change someone's outlook. With that he brought up how meaningful change to erase police brutality would need to occur at a national level. 
He also discussed how police officers who attend DePaul represent a diverse group on campus. He took this opportunity to emphasize DePaul's inclusive environment. 
"DePaul has never been about exclusion, we've always been about inclusion,"  Esteban said. 
He tied this response with another question of the rise of antisemitism on campus. 
Esteban then discussed DePaul's payment of Chartwells dining workers, which was followed up with more questions from Wesley Janicki, SGA's executive vice president of facility operations. 
"Chartwells makes decisions about their employees, not DePaul," Esteban said. 
Esteban said what covers Chartwells workers is tuition revenue, which is on the decline. 
"Chartwells is a multi billion dollar corporation," Esteban said. With that, he added that DePaul doesn't have control over it.
 Janicki followed up by asking about DePaul's contract with Chartwells workers and whether its expiration date is a condition on how it treats them. 
"We can take that into consideration with the new contract," Esteban said. 
He also acknowledged how Chartwells is a private business and DePaul is a non-profit. Esteban also pointed out that the cost of attendance keeps going up, which is also a factor. 
Esteban also discussed the Office of Multicultural Student Success and tuition, noting that the university's biggest cost is "personnel expenses." 
Personnel includes faculty and staff, who help support OMSS. He then explained that DePaul's biggest source of revenue is tuition. Even though DePaul has seen less enrollment, he brought up the emergency campaign from last spring where students were distributed a sum of $541,000 in financial aid. Along with the student emergency fund, other factors such as mental health, technology access and internships are being looked into as priorities.
He also acknowledged the submitted questions around being on campus for classes and housing. Esteban said safety is the main factor taken into consideration for these decisions, even though he misses being at DePaul. 
"Like everyone else, I'd rather be in-person," Esteban said. 
After, Johnny Milas, the senator for fourth and fifth-year students, asked why temperature checks weren't being taken when entering university facilities. 
"It doesn't prove anything," Esteban said about temperature checks.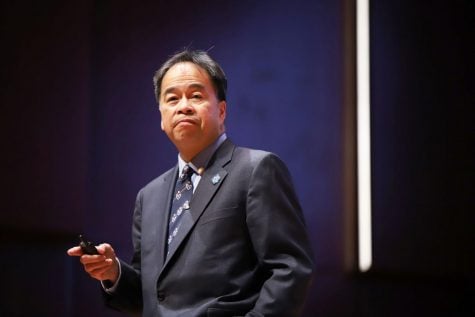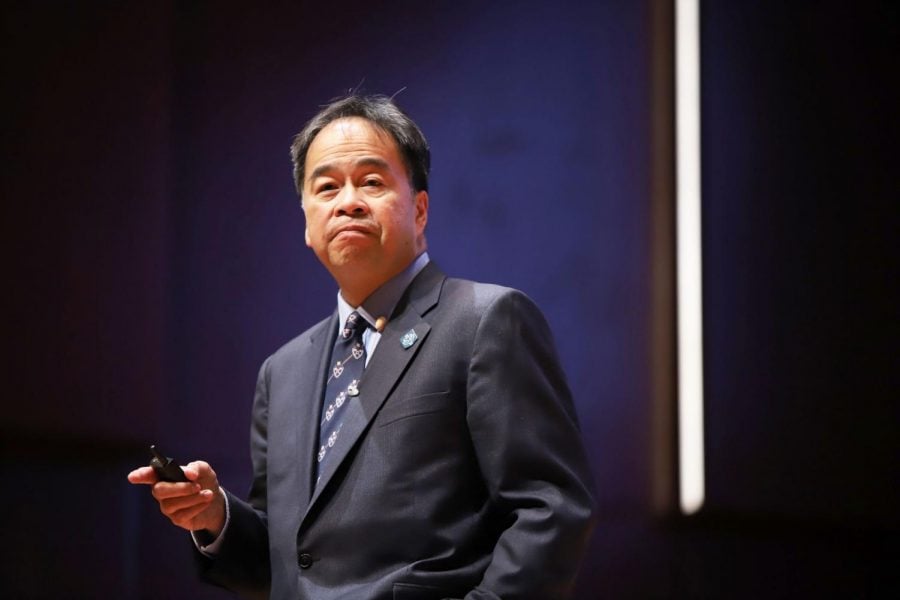 Esteban said students on campus that may have Covid-19 are likely to be asymptomatic. With that, he drew on his recent experience in the hospital, where his temperature wasn't checked. He learned that temperature checks are only needed in a hospital environment when medical workers show symptoms. Esteban said he was tested for Covid-19 two to three times. 
Alik Schier, the senator for first-year students, asked Esteban about how students with disabilities could be accommodated in virtual classes, especially those who are just starting. 
Esteban said students should turn to DePaul's Center for Students with Disabilities. He said he's also training faculty and staff with the center to help them work with students. However, in response to a question about the availability of closed captions for virtual lectures, Esteban responded by saying the AI software can't supplement those needs. 
Sonal Soni, a junior at DePaul and an attendee of the meeting, asked Esteban about DePaul's policy on free speech. This question came in light of the controversy around an event that covered the Zionist landscape on Oct. 27. 
"If a university is not a place to have a dialogue, then where else can you have [it]?" Esteban said. 
Esteban said that his Catholic faith has taught him to believe in the dignity of everyone, even if they have a different viewpoint. He added that that doesn't mean that there always needs to be agreement.
Jessica Nalupta, the senator for Mission and Ministry, asked about the update on DePaul's mission. Esteban responded by saying that he will still need to coordinate a meeting with Father Memo. 
Francesca La Rocca, the senator for transfer students, asked about the context behind DePaul's budget and the numbers that are released. Esteban referred her to DePaul's 990.
Before the meeting concluded, Zoe Sotores, the senator for the Theatre School, asked how performances will run in that school when classes return to campus. 
"Right now, we're planning to be fully in-person for the fall," Esteban said. 
He explained that classes and performances will be taking place. Esteban said in June how he thought he would execute theater and Cinespace classes safely, and now it's still on his mind. 
SGA also passed a resolution to urge Faculty Council to have a grading policy similar to spring quarter to accommodate students with the worsening conditions of the COVID-19 pandemic, a historical presidential election and increased civil unrest.
View Comments(1)