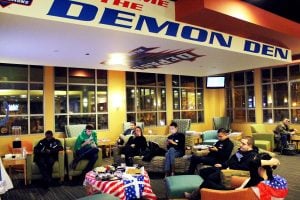 Patriotic colors, decorations, and free food brought together the political savvy DePaulians on Nov. 4 during the Student Government Association's Watch Party at the Student Center for the 2014 governor elections. Students gathered to watch the results and discuss their opinions and choices for the future state representative.
According to SGA's president, Matthew Von Nida, civic engagement is one of the group's missions this year.
"There is a joke that if every student in DePaul voted, we would get free tuition. But students should vote because the decision they make effects and impacts their lives," said Von Nida.
Von Nida said that MAP grants were an important issue for him when he voted today. MAP grants are awarded by the Illinois Student Aid Commission and are limited based of FAFSA application dates, number of applicants, and the funding levels given by the Illinois General Assembly.
"MAP grants are important, and I feel that without them, it does not follow the Vincentian mission. Students need them for their education," said Von Nida. "That is a reason that we should come together, so we could work with state leadership to impact students' lives."
The watch party was casual with about 15-20 students dropping by. SGA didn't have student turnout expectations, but was looking for students to come and go as they pleased.
Radio DePaul was also present at the SGA Watch Party.
"We started broadcasting around 7 and we are covering the Illinois governor elections as well as the local elections for the 10th district. During that time we had interviews and many call ins from both sides of the political spectrum," said senior Lily Streiff, broadcaster of Radio DePaul.
Radio DePaul also held trivia games and interviews with students, trying to get students to vote and be politically active.
"We want to get students involved because their vote will impact their futures," said Streiff.
Although many students did not wish to talk about whom they voted for and why, some expressed thoughts on why students should be politically aware and involved.
"I think students should be as politically involved as possible, not just in voting, but the whole process of leading up to who becomes the candidate in the election. But I also think students should be more realistic on what can be changed to make a better society in a certain period of time," said senior Christopher Ahrens.
Whether students chose to be involved in voting or not, the ballots are still being counted and students are anxiously awaiting the results and how it will impact the state of Illinois.