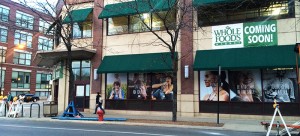 Students have been traveling near and far to find the sparsest of grocery stores, but their struggles are all about to end when Whole Foods opens up on campus in February 2015.
This will be the second Whole Foods store in Lincoln Park.
Last October, Whole Foods announced it would purchase a portion of the closing Dominick's stores in the Chicago area. The Texas-based grocery chain, however, would need time to renovate the locations before they were ready to open.
This means a convenient stock of produce and goods will be immediately available for students again.
While there is no specific date set as of yet, according to Whole Foods Market specialist Allison Phelps, the store will determine a date later on based on how renovations are going.
The first floor will feature grab-and-go items, such as coffee fruit and yogurt parfaits. There will also be a window facing the outside on Fullerton Avenue for customers to grab coffee and other items on the go for a quicker purchase. This will replace the Starbucks that was part of the  Dominick's that once occupied the corner of Fullerton and Sheffield avenues.
Helena Duecker, who lives on campus, is excited for the new store to open, despite what it may do to her bank account. She has been an avid Whole Foods shopper since her mom started bringing her to the store in high school.
"Their products are so high quality that you definitely get what you pay for," Duecker said.
In the meantime, without a grocery store close, Duecker has been shopping at Trader Joe's on Clybourn Avenue. She knows that when Whole Foods opens, she still cannot do all her shopping there.
"I know students are probably upset because it is so pricey," Duecker said. "But it might be a nice place to sit at night and have dinner throughout the week." 
In fact, its wine and beer bar will be the perfect destination meeting spot, according to Phelps.
"People can come in and rest, relax and enjoy being in a great atmosphere," Phelps said.
However, a red flag to students is still the cost.
Senior Denise Bergdahl also lives on campus, but prefers to buy most of her meals at the Student Center because she is required to have a meal plan. If she does go shopping, it's definitely not at Whole Foods.
"I can't believe how expensive (it) is," Bergdahl said. "I will only shop there for emergency situations. Otherwise, I will be going to cheaper stores like Aldi."
However, convenience just might conquer all.
"Dominick's didn't have a great selection of produce or healthy options, but it was cheap," Duecker said. "I'll actually probably do most of my shopping at Whole Foods because it's so close."
"I like that I will finally be able to access healthy food," Duecker said. "I believe fair trade is important, and Whole Foods carries a lot of fair trade products. I believe their mission is good by not allowing certain ingredients."
Besides offering natural, organic foods, Whole Foods features a 365-brand that is sold at a cheaper price. Phelps recommended this for college students on a tight budget.
Phelps' goal for the new store location and its surrounding community, including DePaul students and local residents, is to serve the neighborhood and fulfill their needs.
"Whole Foods looks to cater to its communities with services that include sustainable healthy eating habits," Phelps said. "We want to provide healthy eating to students who are learning how to be on their own and make their own choices about eating right."