Held and Morris Work Together in leading team to greatness
Last season, The Lady Blue Demons finished the season 14-10, missing the NCAA Tournament after getting knocked out of the first round of the Big East tournament by losing to Villanova. Heading into this season, the team looks to bounce back behind the leadership of two seniors: Lexi Held and Sonya Morris.
Held and Morris came to DePaul together in 2018. Even though they were coming in as recruited freshmen competing for minutes on the court, they developed a real bond off the court.
"We just clicked," Morris said about her friendship with Held. "Our personalities, our sense of humor; it just always clicked and the chemistry off the court carried over. It is really a sisterhood, really like a family. Understanding who each other are as a person, then acting accordingly. We really understood each other."
In the early part of their collegiate careers, Held and Morris learned under vocal leaders Kelly Campbell and Chante Stonewall. The journey to success has had its fair share of ups and downs, but one of the challenges Held wants to carry into the season is becoming a more vocal leader for the team, lessons that she learned from Campbell and Stonewall.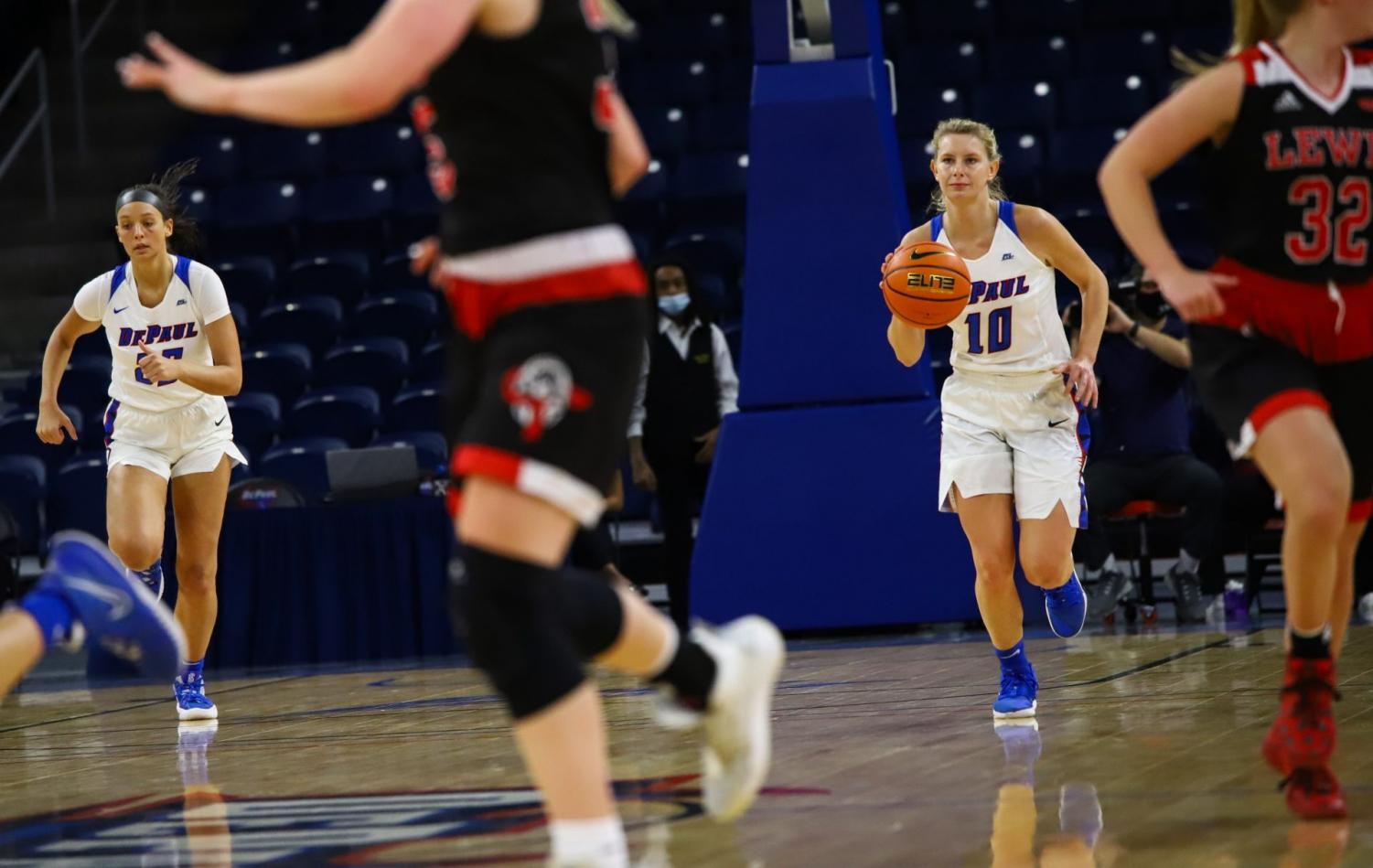 "As a senior and leader, I need to be more vocal," Held said. "I've always struggled with that because I'd rather lead by example. I learned how effective it can be to be even more vocal than I may think that I am."
Bouncing back from last season's disappointment, Held and Morris will have to lead the charge to help achieve team greatness. Morris reminisced on the feelings the team went through after failing to make the NCAA tournament, using it as motivation to not repeat those situations again.
"It was humbling," Morris said. "Even though we were like 18 or had been to many NCAA appearances, that does not mean that we're going to make it this year. That humbled us and put things into perspective like where we are as a team and it motivated us. It was embarrassing and we don't want to feel that again."
Held echoed the same sentiment, adding that the disappointing season added fuelt to the fire for the team to improve in preparation for the season.
"We don't like losing," Held said. "I think last year really allowed us to come together as people. I think we got a lot closer as a group. From the basketball part of it, we basically learned what does not work. We are tuning up stuff and working hard. Everyone's got a chip on their shoulder and nobody wants a repeat last year at all. It just adds more fuel to the fire."
Head coach Doug Bruno monitored Held and Morris's progression as players. He is proud of the development that has taken place with those two as current new leaders for the team this season.
"It's what good college players do," Bruno said. "There is a natural maturation process. They just get better at everything. They're better shooters, better at scoring, better teammates, better defenders. They just get better because they have more experience. They both just continued to work on their game. I think they've both gotten better at everything that they do. It's just been a natural maturation process."
Held and Morris have individual goals they want to achieve this season. Held wants to be more consistent this season in every component of the game. Morris wants to be the best leader and player she can be. But they both want to help achieve the ultimate goal of winning the NCAA championship.
This season, they have a tough schedule that features a lot of ranked opponents or play against quality opponents that are not nationally ranked. Held understands the assignment of not only competing teams, but beating the teams in front of them. As long as they do that, the end of the regular season looks bright.
"We have a really, really strong schedule, playing teams that are mainly ranked or if not are right up there with all of the top teams in the nation," Held said. "Our goal as a team is just really not to compete with them but beat them and I think if we can do that then we'll be set for the end of the season."
As the team continues to strive for a successful season, Held and Morris reflected on the journey it took for them to get to this point. They acknowledged the importance of having someone right by your side to help you achieve greatness, and Morris highlighted Held as one of the main helpers that helped her throughout her journey.
"Held is one of the main helpers for me," Morris said. "I always had somebody by my side. Even though we had a little bit of differences in my path, I was in the same direction. We just really push each other. We really are the shoulders to lean on."