Into the wild: DePaul students delve into nature with Chicago Wildsounds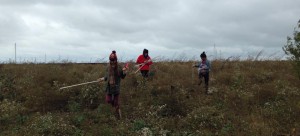 As the old, tired cliché goes, "A picture is worth a thousand words." But what about the sound behind that picture? The rustling of grass. A bird greeting the day with a song. The gentle hum of wildlife, just beginning to wake at sunrise.
A group of six DePaul students are delving into those sounds with their project, Chicago Wildsounds. The soundscape ecology project, under adviser Liam Heneghan, records the sounds of Chicago at three locations along the lakefront: Jarvis Bird Sanctuary, Montrose Point Bird Sanctuary, and South Pond. The students listen to the wildlife by setting up black recording boxes at each location, recording data every hour, on the hour, for 10 minutes.
While soundscape ecology is a relatively new form of study, with pioneers such as Bernie Krause paving the way for future soundscape ecologists with his organization "Wild Sanctuary," Chicago is a particularly interesting location given that it is a large metropolitan area. According to Heneghan, the project has attracted not just students and faculty but media outside DePaul with the possibility of reaching an even larger audience.
"We want to make those sounds available because they're not just scientifically interesting, they're beautiful," Heneghan said.
The group has gathered more than 16 hours of sound focusing on the north-south gradient of the lake. The three types of sounds to listen for are anthrophony, geophony and biophany. Anthrophony are sounds made by people, like the sound of a car horn or children laughing; geophony are sounds of the Earth such as rain and wind, biophany are sounds the animals are making. But here in Chicago, our human noise has a tendency to overpower the animal noise on the recordings.
"Planes are a constant thing," said Lisa Kenny, a senior environmental studies major and member of Chicago Wildsounds. "In all of our recordings, every minute it seems like there's a plane flying overhead. It's interesting when you're listening to the recording because you'll hear all of the biophony sounds … then you'll hear the plane going overhead and everything becomes a little more chaotic. You can tell that they (the animals) struggle to communicate."
According to Veronica Jachowski, of Chicago Wildsounds, another sound typical of the Chicago soundscape is the noise of Lake Shore Drive, which can be heard consistently in the recordings. But that, Jachowski said, is just part of recording in an urban environment rather than a rural one.
"What makes Chicago very unique is that a lot of people, in terms of soundscape ecology, are trying to preserve very pristine, remote areas," Jachowski said. "That's all fine, and awesome, but what we're doing in Chicago is introducing that urban element. This is part of our soundscape. In many ways, it's like, let's honor that and figure out what we can say about it in terms of ecology."
Over the last year, the small band of ecology students (and one music student) have spent hours logging these iconic sounds of Chicago, from the songbirds, to flocks of geese heading south to avoid Chicago's harsh winter chill, to even coyotes lurking near the lake front. According to Heneghan, the possibilities of sound cannot be exhausted so instead, the group must ask specific questions about the data they've collected. This quarter, the group is focusing on the relationship between soil health and above ground ecosystem. But, they're hoping to make a greater impact beyond this question.
"I don't think that it's unrealistic to think that we as soundscape ecologists are doing does not stand alongside all of the other efforts people are making towards thinking about how we live sustainably on this Earth," Heneghan said. "In fact, I'm betting all of our lives on the fact that these things really matter. Because if we don't, maybe we are screwed."
By collecting these sounds that are so uniquely Chicago, Chicago Wildsounds member Spencer Barrett said hopefully the project will begin to create a dialogue that stretches beyond DePaul, a sentiment echoed by Kenny.
"We see pictures of landscapes and we can appreciate them as aesthetically beautiful," Kenny said. "But we don't necessarily associate them with sounds. You don't really know what it sounds like unless you've been there before. It creates a conservation ethic. If we're able to listen to a landscape and appreciate it for its beauty, then we can work to conserve this space."
View Comments (3)