DePaul student apologizes for homeless publicity stunt
Sarah Lim, a 17-year-old DePaul freshman, expressed some regret for her homeless publicity stunt last week. 
In a one-on-one interview with The DePaulia, Lim described her actions as inappropriate.
"After doing it, I realized that it was pretty tasteless," she said. "A lot of people didn't like it."
Lim hung up flyers in Touhy Park, a homeless encampment in Rogers Park, saying the residents would be moved to one of the most high-end hotels in Chicago until they secured housing. On the flyers Lim used 49th Ald. Maria Hadden's name along with Bill Morton, president of the Rogers Park Chamber of Commerce, who is also running for 49th ward alderman, and Trudy Leong, a Chamber of Commerce staff member.
Hadden, Morton and Leong confirmed to Chicago Tribune and Block Club Chicago last week that they were not involved with the stunt. 
"I was pretty — I don't use this word very frequently — flabbergasted," Hadden said. "It's not a good feeling to be a public official and have somebody take your name and make kind of realistic-looking legal documents and use them."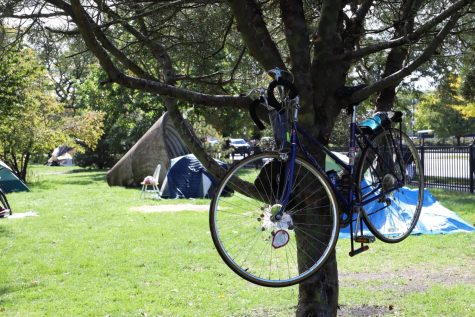 Hadden was concerned about the stunt taking advantage of the resident's vulnerability.
"We've been working with [the Touhy residents] for a long time and finding housing accommodations," Hadden said. "I had concerns about that. I felt angry and just felt a bit shocked."
Lim contacted Morton via Facebook the week prior to putting up the flyers to ask him to help her develop petitions so she could get the signatures she needed to run for mayor, according to the Chicago Tribune. 
She said during the interview that she was sorry for the harm she caused the Touhy Park residents; however, has not yet gone in person to apologize to the people in Touhy Park, but did send someone she works with to give the residents food.
"I'm still 17," Lim said. "It might be kind of dangerous for me to go down there considering what I did."
While the publicity stunt was more harmful than she anticipated, Lim said she still achieved her goal of gaining recognition from Chicago news outlets. 
"I don't think I'm proud of what I did," Lim said. "I'm proud of how I was able to land in the Tribune as a 17-year-old. I think that's very good. But I don't think the way I did it was that good."
Lim, who turns 18 in late October, said she still plans to run for mayor as a Republican candidate. Her next steps are to receive the petition forms so she can get on the ballot for the upcoming election in February 2023. 
She said that because she is facing known candidates like current Chicago Mayor Lori Lightfoot, Ald. Raymond Lopez, Willie Wilson and Rep. Kam Buckner, she does not intend to win. Instead, Lim is simply wanting to test the waters of running for an elected official position.
"I think an 18-year-old running for mayor is something really rare," Lim said. "So I think it would just be something to do to just be remembered."
View Comments (3)