Faculty Council: University officials remain uncertain if budget will affect faculty hiring, long-term contracts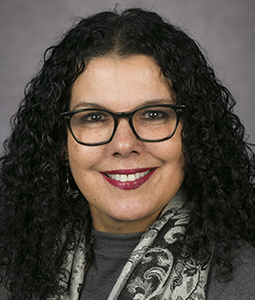 Following an annual report on status of faculty presented to DePaul Faculty Council members in attendance at Wednesday's meeting, questions arose regarding the promotion and hiring in select departments in light of the university's recent financial strain.
The report, presented by associate provost for academic planning and faculty Lucy Rinehart, details the makeup of faculty in departments throughout the university. Rinehart shared data providing information like what portion of DePaul faculty are full-time employees and how many new full-time hires DePaul has brought in over the past year and more.
Recent Faculty Council meetings held discussions related to long-term contracts for term faculty, and Wednesday's was no different.
In the agenda item following Rinehart's presentation, associate professor and chair of the status of faculty committee (SoF) Andrea Kayne, asked DePaul Provost Salma Ghanem how DePaul's recent financial woes due to declining enrollment might affect any push for long-term contracts for term-faculty members.
Ghanem did not have any direct answers as to whether these contracts would be possible or not.
"Long term contract requests come to us in the spring," Ghanem said. "I'm not opposed to long-term contracts for term faculty members for the purpose of continuity, but at the same time, we have to look at it in terms of what's happening in enrollment."
In a letter to faculty and staff from DePaul President Robert Manuel last month, the university leader explained that cost-saving measures would be put in place to combat DePaul's decline in enrollment. Manuel said that administration would be enacting a hiring slow-down, limiting discretionary spending, consolidating some non-academic departments and delaying or deferring some maintenance-type requests at the university.
DePaul's recent fall census showed a significant decline in enrollment, particularly within the graduate student body, although the school's freshman class and enrollment of international students did increase since last year.
Ghanem addressed the decline on Wednesday and gave insight as to what she sees is behind it.
"Our undergrad retention is pretty darn good," Ghanem said. "What we're seeing this year is graduate students not coming back, and this isn't unique to DePaul. A big part of it is the economy because [graduate students] are choosing to go back to jobs."
While faculty finally received a raise on Jan. 1, these funds were largely pulled from the university's endowment. Ghanem was quick to explain to council members that DePaul still has a long way to go before they are no longer operating in a deficit, and that departments asking for hiring searches could be waiting longer than they would like for these searches to be granted. 
"I'm going to be honest guys, I don't think 2023 isn't going to be better than 2022," Ghanem said.
Faculty Council President Sonia Soltero assured the council that the president and provost offices are focused on student retention to not let DePaul's enrollment and bottom line slip further into the red.
"Student retention is at the forefront of efforts for the president and the provost," Soltero said. "I know [the provost office] is working with deans to keep students between quarters."
Parliamentarian Added
A new face was seen next to Soltero at Wednesday's meeting. Allison Ortlieb, an assistant dean and professional lecturer in DePaul's College of Law, assumed the new position as Faculty Council Parliamentarian. 
Following a vote by members, Ortlieb, appointed by Soltero, began her new role immediately on Wednesday. As Parliamentarian, Ortlieb will act as an adviser to Soltero on procedural matters during council meetings.
The parliamentarian is a neutral voice in Faculty Council meetings and will only serve to clarify procedural questions that arise during meetings, which indeed they often do. Ortlieb explained that she will be unable to vote nor can she give any opinion on any discussion or agenda items.  
With a background in law, Ortlieb said she has always been interested in the role of parliamentarians in governing bodies, making her well-poised for the position on the Faculty Council.