Penned into the lineup: Riddled with injuries, DePaul finds consistency with Eral Penn
When graduate forward Eral Penn decided to transfer from Long Island University (LIU) to DePaul, it was likely that it would take time to adjust to the superior challenge of the Big East conference. What Penn likely did not expect was having to adjust to a completely different position, putting his versatility to the test.
"Eral plays hard," head coach Stubblefield said. "When I recruited him, I really felt like the rebounding would translate from LIU. I didn't know much about the scoring, but his effort that he plays with night in and night out, his rebounding, I knew that would translate."
Just days before the season opener against Loyola (Md.), senior center Nick Ongenda went down in practice with a wrist injury. Staff reevaluated the wrist 8 weeks later, and Ongenda  eventually needed surgery. Graduate center Yor Anei suffered a foot injury a few weeks later and missed 10 games.
The team had to figure out an adjustment for their starting rotation going forward. Without both its centers and with limited options, Stubblefield turned to Penn.
"When Yor went down, I had to learn a whole new position," Penn said on the transition to center. "I had to adjust to playing a lot more minutes than normal and stay out of foul trouble."
The plan when Penn transferred was for him to play alongside both graduate forward Javan Johnson and Ongenda. Instead, Penn took over the center position full-time and Johnson moved from power forward to small forward.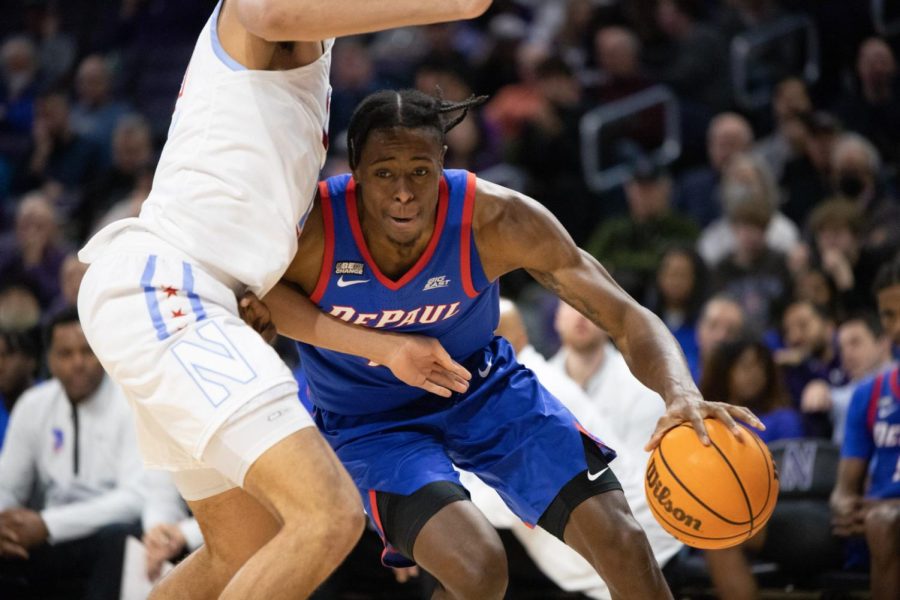 The lineup was shaken up tremendously, and Penn was set to take on a whole new set of challenges that he did not expect with his lack of experience at center.
"I guess [it was a challenge] memorizing the position of that person under spacing at that spot, instead of picking them up," Penn said. "The size difference is like with guys that are way bigger, but I'm just strong, so I didn't have too much of a problem and eventually, I got used to it."
One of the biggest challenges Penn has faced in this position this season is his lack of size. Penn's measures in at just 6-foot-6, and since taking over, Stubblefield has been forced to run out a smaller lineup, which has led to DePaul being out-rebounded 38.1 to 32.9.
Though he is undersized and tasked with going for rebounds against players 6 inches taller, Penn has found a way to give DePaul some production on the glass.
"I just try to use my strength and quickness," Penn said. "In my opinion, height doesn't really mean much, but once I just use my strength and quickness to time their moves and what not, I feel like I'll be good. I'm never really worried about anyone else's height to be honest with you."
Penn has provided a ton of versatility to the lineup, and since making the change to center, the Brooklyn-native has recorded six games of 10+ rebounds. 
He also has averaged 10.3 points and one block per game, with his best performance of the season coming against Minnesota on Nov. 14 when Penn recorded 10 points, 14 rebounds and two blocks.
"He's been playing really well for us," star forward Javan Johnson said of Penn this season. "He's been playing out of position and I really like how he's playing."
Penn's good performances coupled with the team's injury woes have led to an increased time on the court. Even while making the transition from LIU to DePaul and a stronger conference, Penn's minutes per game are virtually unchanged this season. His 31 minutes per game ranks third on the team.
 Considering all that was asked of him, it is easy to see why Penn's teammates are happy with his play. It is not necessarily easy to transfer into a conference as tough as the Big East, adopt a brand new position all while adjusting to life in a new city. A shakeup like that can be a difficult transition, but Penn says he has handled it with ease.
"Adjusting to and transferring from that type of level into the Big East definitely has been a lot, and I feel like I found a way, just like my coaches preach," Penn said. "When you come from that level, and get the ball it's just a humbling moment for me. That's why I [transferred to DePaul,] and to be able to be around so many good guys, it just also helps you grow as an artist basically. I like the opportunity because it's actually really helped me for the next level in my career."
Stubblefield might have found a gem in Penn. While Penn is lacking in size compared to fellow big-men like Anei, who measures at 6-foot-10, Penn has been more productive. 
Penn has used his speed and strength against taller opposing players, while showing his ability to adapt to different spots on the court.
"I always knew I was versatile, I can play two positions," Penn said. 
Since Anei's return from injury on Dec. 25, he has played a majority of the games at power forward, while Penn has held the center position. Stubblefield's decision to keep Penn at center has panned out thus far, and given Ongenda more time to work his way back from injury. 
Even though Penn lacks the ideal size you look for in a traditional center, he is a high-energy player that brings a lot of physicality to each game. Ultimately, he has proved himself as the heart and soul of the Blue Demons' squad this season.
"I'm a basketball player," Penn said. "Whatever my coach needs me to do, and if he thinks I can do it or not… I'm just going to do it.