Pritzker signs abortion access bill into law: students, faculty push for increased action to protect rights
The 50th anniversary of Roe v. Wade on Jan. 22, caused some to mourn the loss of the reproductive rights women have held for decades, while others celebrate the end to abortion. 
Now, six months after the United States Supreme Court overruled Roe in June, Illinois Gov. JB Pritzker signed a reproductive rights and gender affirming care bill into law on Friday, Jan. 13.
"When Roe v. Wade was overturned, I felt so helpless," said DePaul junior Isabella Eckardt. 
Months later, students like Eckardt no longer worry whether the Illinois state legislature will deny them rights to their own bodies.
Pritzker's reproductive rights legislation protects health care providers and their patients from legal action and expands health care access across the state of Illinois, according to Pritzker's press release.
The legislation also includes protections for out-of-state patients seeking a procedure in Illinois. According to the most recent data from the Illinois Department of Public Health, close to 10,000 abortions every year are from out-of-state patients.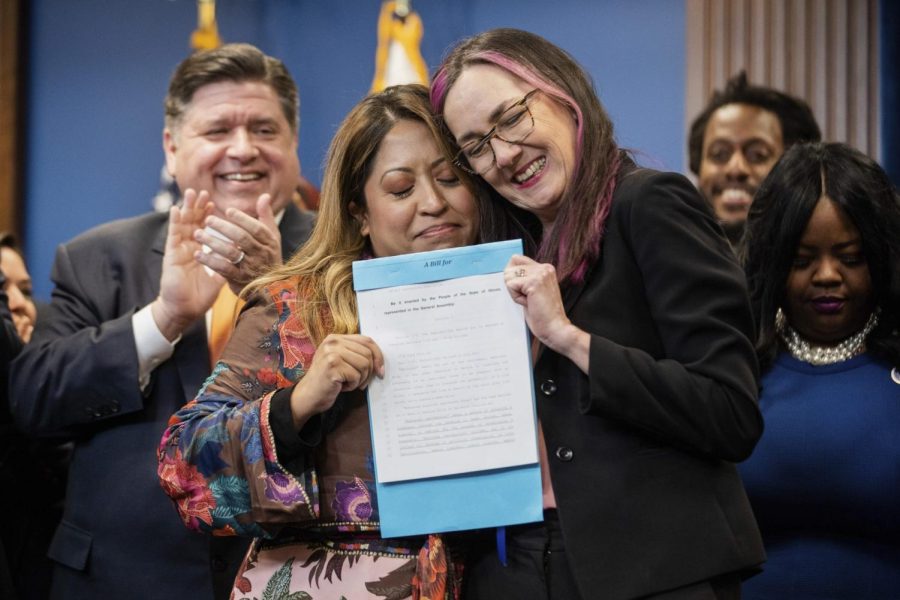 Now, Pritzker says health care providers will no longer have to fear legal action from surrounding state governments for providing essential care, and out-of-state patients will no longer have to worry about their information being shared with state authorities where abortion has been outlawed.
"Here in Illinois, we hold certain ideals: abortion is health care. A medical decision should be made between a patient and their doctor — no one else," Pritzker said in the press release. "Last summer, when Roe v. Wade was overturned, I made a promise that Illinois would remain a beacon of hope and an island for reproductive justice for all who seek it. This bill fulfills that promise."
To Eckardt, as a woman and a college student, the overturning of Roe was a violation to her fundamental rights.
"Not having rights to your own body is scary when you are a college student already struggling with life as it is," she said. "This is not a political issue, this is a people issue that has unfortunately been conquered by politics."
Although some find the bill promising, experts are concerned for those in states where abortion was outlawed following the overturning of Roe v. Wade last summer.
"Because we are in this position of protected status, we need to work really hard for those who are not, who are being impacted by this, who are our neighbors," said Laila Farah, a women and gender studies professor at DePaul. "We are in a great position to advocate because of our protected status within the state."
According to the New York Times, at least 13 states have banned abortion including Wisconsin, Missouri and Kentucky, which all border Illinois.
With this new reproductive rights legislation, Pritzker aims to bolster Illinois as an "island of reproductive justice" with increased protections for those seeking the procedure from neighboring states.
To Farah, Illinois residents should use their protections to help those without autonomy over their own bodies due to conservative agendas in other states.
"There's stuff we can do on the ground in Illinois to help folks get access to what they should already have as their constitutional, democratic right," she said.
Ann Russo, director of the DePaul Women's Center and professor in the Women and Gender Studies department, said Illinois residents should use their protections to partner with organizations like the Chicago Abortion Fund and the We Are Jane nonprofits to assist those without access to abortion services. 
"We must remember there are many who may not be able to get to Illinois and we must get involved – contribute to building support, resources, and care to make it more accessible and to join with others in pushing for change across the country," said Russo. "There are people streaming into Illinois for this care, and this will only increase."
For Farah, abortion protections in Illinois do not address the issue on a national level.
"Although it's great that folks like Pritzker…and legislatures such as the progressive one that we currently have in office [protect reproductive rights], it doesn't address this on the national level," Farah said.
Eckardt believes there is more people can do to help women all over the country. To her, although the legislation is a substantial feat, it is a small victory in a larger issue.
"We're leaving a basic human right up to a matter of politics," Eckardt said. Upon hearing about the bill, she said she thought, "Wow, this is the best we can do?" 
Illinois is already facing backlash after the passing of the bill. 
Two days after the abortion access bill was signed into law, the Planned Parenthood location in Peoria, Illinois was set on fire by an unidentified perpetrator, according to ABC news. 
After hearing about this attack, Farah believes abortion clinics and those seeking the procedure in Illinois should be cautious in upcoming months.
"I do think we need to be worried about violence, and I do think there will be [more] repercussions from those sorts of people who have no problem enacting violence," she said. "[We] have to be very careful."
Russo said she was not surprised by the attack, but believes everyone must work together to protect and support those in need of reproductive care.
"The attacks on abortion clinics, on those who provide abortions, and on those who get abortions will continue and have increased," she said. "And this is not new at all. They have been subject to harassment and violence before this, and I can only imagine that that will increase as states empower police and citizens to be able to take action against those who get abortions and those who offer them."
For Farah, although the bill is a step in the right direction, there is still much to be done for those who continue to live without access to abortion services.
"We have a long [road] ahead of us," she said.