DePaul celebrates 125th anniversary with skating event
As part of its 125th anniversary celebration, DePaul organized free ice-skating sessions for community members and students at Maggie Daley Park on Jan. 25, 2023. 
The event had four sessions — 11 a.m., 2 p.m., 5 p.m., and 8 p.m. Each session was for two hours, and 125 free skate tickets were given to the participants per session. 
This event was the first kind of event DePaul organized in collaboration with the Chicago Park District. 
Despite the bad weather, the park saw at least 325 ice skaters throughout the day. The posters and banners with event details were posted in Maggie Daley Park for sparking awareness. 
"DePaul is not just a classroom, it is a playground," Jane McGrath, associate vice president of student affairs said.  "We have organized the free ice skating event as part of our 125th anniversary celebration as a fun activity. Our university is so connected to Chicago that we plan events for a whole [community] to celebrate its anniversary in and around Chicago."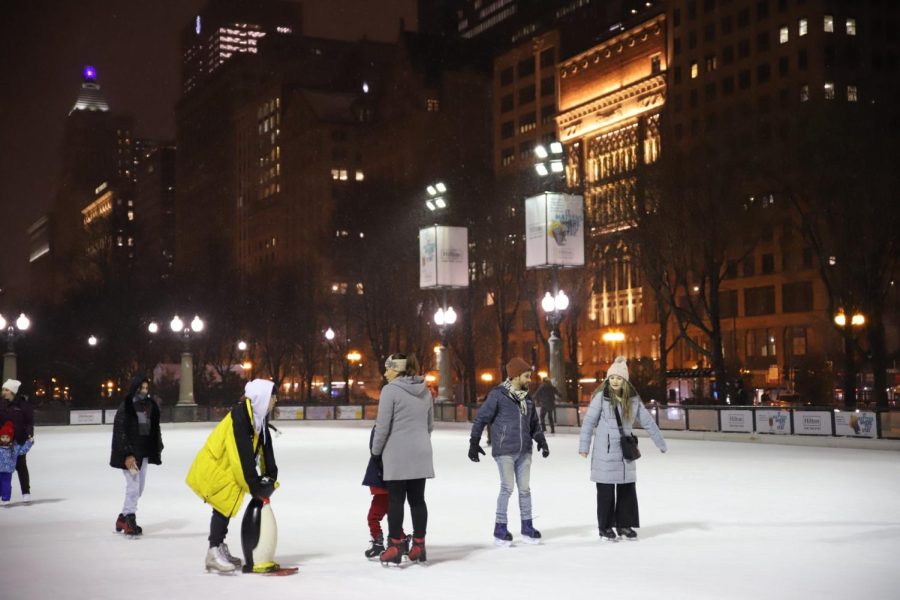 The skaters at the event were so delighted that they were getting to skate for free during the event. 
"It is fun to be able to do such things and to have so many opportunities  at school," said DePaul film student Tori Wright. "DePaul has done a great job organizing this event and it has reassured the university's objective of peace, love and happiness. It is another level of pleasure that I got to do skating entirely for free today. I would recommend DePaul to organize more of these events in the future too."
The ice skating sessions were held in the river-shaped rink on the front and back side of the park. 
Carrie Emge, the marketing and communication staff member of the university, said that the free ice skating gave an extra push for her to come and  really served as an effective incentive. Emge said with DePaul being in the heart of Chicago, the university had done the best thing by organizing this event, and she wished for more such events in the future. 
The free ice skating event gave students the opportunity to free skating at the ribbon for two hours of each session. It also provided them with the rental skates for free instead of renting them for $18 including taxes. 
"The sessions were successful as all the skaters had [a] fun time," said Emily Holloway, a skate host at Maggie Daley Park. "I really wished the weather was good and that more people would have come. Nonetheless, DePaul should organize free ice skating sessions more often."
The attendees skated, music played and the area was lit up with colorful, flashy lighting. 
"It was my first time ice skating," said Hritik Gole, a business analytics major at DePaul. "For an international student like me, it is a dream come true and I'm very grateful to DePaul for it. Now, I'm excited for all the upcoming events."