Hockey sets eyes on first regional appearance since 2009
The historical season for DePaul men's hockey continues as it gets set for the Northern Collegiate Hockey League tournament in Fond du Lac, Wisconsin. DePaul will be the No. 2 seed and face off against Roosevelt in the first round on Feb. 10.
"We have high expectations," said head coach Dan Wood. "We've had them all season long and this is kind of what you've been playing for all year. I expect us to be playing our best hockey going… going into the playoffs."
The playoffs will consist of two separate tournaments and the first will be the NCHL, which includes the top eight teams in their conference. Afterwards is the regional tournament. If DePaul advances, they will move on to nationals.
The Demons haven't qualified for regionals since 2009 and are in a prime position to make a deep tournament run as this may be the most talented team in the history of the program. 
"It's definitely a welcome change and just shows how far the program has come in the last couple of years," Wood said. "When it comes to regionals, it's going to come down to every single shift and every single play is magnified since it's a much bigger scale."
The Blue Demons finished the season 23-7, one of the most successful campaigns in program history. The team seems to be heading in the right direction with Dan Wood at the helm and team full of confidence heading into postseason play.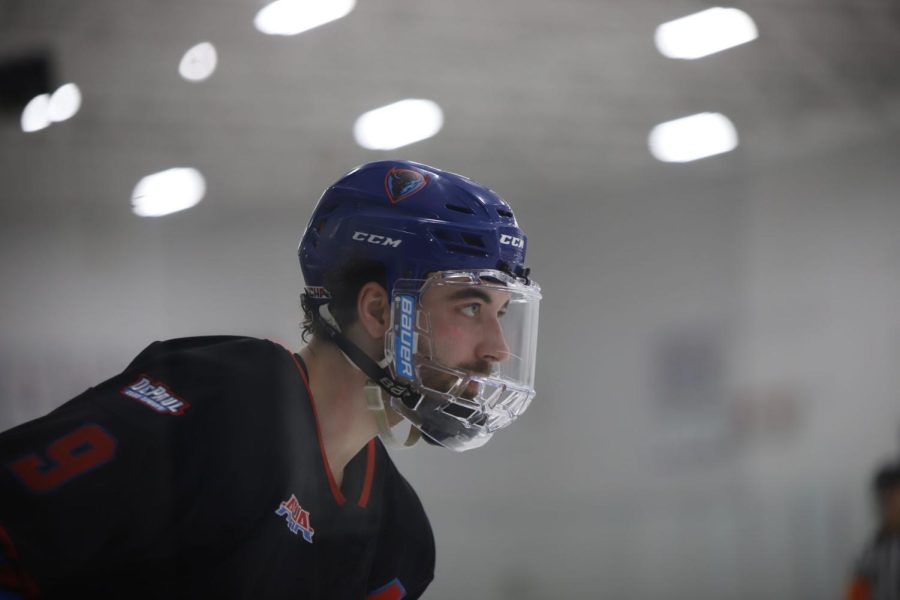 "Obviously, this team has had such a historical run," said sophomore winger Danny Mannarino. "It's been so long since DePaul hockey has had a successful program and the [American College Hockey Association] gets more competitive every year. Honestly, I'm just really proud of our team, the coaching staff, our equipment manager and everyone [who is] putting this run together in a positive way."
Mannarino has made a significant jump this season. The winger scored 20 goals this season, which is an improvement after tallying 12 last season.
"I feel like I can be a playmaker," Mannarino said. "I feel like I'm able to score goals, but with the playoffs, the game is going to change and be a lot tougher. I think if myself and everyone else works their hardest we should be okay."
This upcoming postseason run will be Wood's biggest test yet since a promotion to head coach in June 2021 after serving as an assistant. From a coaching standpoint, keeping his team focused could be a key factor once the playoffs begin.
"This is what I love to do," Wood said. "This is the time of the year that you love playing and everything is amplified. The biggest thing when you get to the playoffs is you get super high emotions and you can ride the waves. The goods can be great and the bads can be the worse, so being able to monitor and ride those emotions effectively, managing all those expectations and managing those emotions is going to be key for success."
DePaul's offense has been its strength this season as the team has averaged 5.82 goals per game. The best performance came on Oct. 21 against Lewis University, when the Blue Demons scored 16 goals. As they head into postseason play, the biggest question will be if this high-paced offensive philosophy is sustainable.
"We've been in those recently [low scoring games] with Marian, Concordia and Iowa," Wood said. "Those are the three top teams in our region and we have had several low-scoring games this year. We're confident that we're able to play in those games, particularly with how we played in the last half of the season." 
On the cusp of accomplishing a goal that DePaul hockey hasn't experienced in more than a decade, the team will be looking for leadership. Tensions and expectations are raised as the team is now playing in elimination scenarios.
"I think the biggest challenge we're going to face is probably just being relaxed," Mannarino said. "Just having everyone relaxed and not thinking 'oh it's playoff season or it's regionals' and just like come out and play our game. At the end of the day, it's just another game and playing will help calm us down."
If the team has hopes of success on a deep playoff run, it will need to have multiple players step up on the defensive side of the puck to take pressure off its goalies. Junior goalie Asher Motew has been stellar this season, recording a 14-5 record and allowing only 66 goals with a save percentage of 92%. 
"I think the biggest impact we could have is playing defense helping out our goalies," junior winger Billy Paschen said. "We've been focusing a lot on offense and we know we could score and create plays in the offensive zone, but we need to focus on the neutral zone and traps. The coaching staff has been practicing with us and keying in on those systems and that will help us against fast pace and skilled offenses."
Fans and alumni have felt excitement this season as the hockey program at DePaul has enjoyed increased relevance. Spectators filled Johnny's Icehouse all season, and with the playoffs around the corner, everyone is more excited than ever before.
"Our season this year doesn't happen without the alumni and everybody that built the building blocks before everyone got here," Wood said. "We don't get to where we are today without the work that people put in before. I'm excited to see us in the playoffs and see what we can do."