Timmy Knudsen, Brian Comer secure top two spots in 43rd Ward race, head to April runoff
Ald. Timmy Knudsen and Brian Comer will face off in a runoff on April 4 after besting a field of four other candidates in the 43rd Ward Aldermanic election. 
Knudsen, who was appointed to the position by Mayor Lori Lightfoot in September, secured 27% of the vote with all precincts reporting, while Comer won 24% at the time of publishing. Election staff still need to tabulate nearly 3,000 mail ballots, according to data revised from a Sun-Times report from Tuesday night. 
"It shows me the message of the new generation coming on the city council is working," Knudsen said. "We're going to keep doing exactly the same thing, and I'm excited for the next month."
On Tuesday night, the 43rd Ward alderman said that the election results showed that his team's strategy of connecting with voters face-to-face proved successful.
"You know, we knocked on 13,000 doors," Knudsen said. "It kind of shows me that our ground game is working." 
Knudsen and Comer finished at the top a ticket of six candidates in the affluent 43rd Ward, which is home to the Chicago neighborhoods of Lincoln Park and the Gold Coast. The duo defeated Wendi Taylor Nations, Rebecca Janowitz, Steve Botsford and Steve McClellan.
Michele Smith, Knudsen's predecessor who entered retirement early last summer, endorsed Taylor Nations in December. Janowitz reportedly spent $750,000 on her own campaign, the most amount spent on any candidate in the race.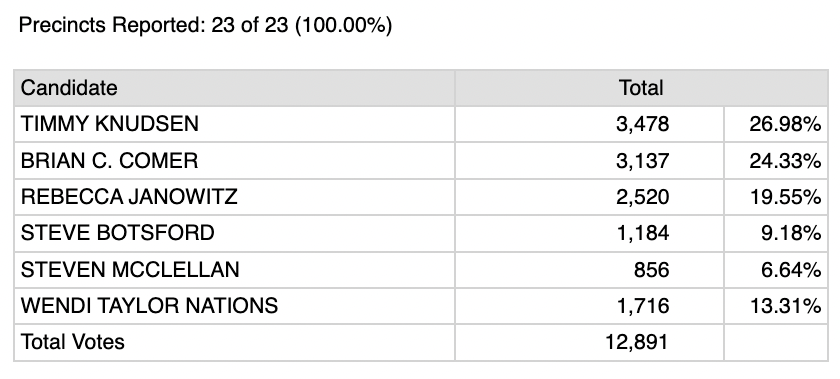 Comer, who received an endorsement from the Chicago Tribune on Feb. 13, went on the offensive against his opponent following Tuesday night's results. 
"My opponent and I could not be more different from each other," Comer said, addressing supporters at a victory party in Lincoln Park.  
The current president of the Sheffield Neighborhood Association and beat facilitator for the 18th Police District later said that ward voters resonated with his message of tangible action, rather than political speech.
 "We've talked to everyone about the actionable plans that we want to put forward," Comer said. "And we're not just talking in the platitudes that typical politicians do."
 As a native of the 43rd Ward, Comer sold himself as a candidate with close ties to the area and a deep understanding of residents' concerns. On Tuesday night, the candidate noted how special it felt to have a chance to represent the ward in which he was raised.
"As a local kid who grew up in the neighborhood … I know our ward like the back of my hand," Comer said.
Prior to taking over for Smith on City Council last fall, Knudsen served as chair of the Chicago Zoning Board of Appeals, while also working as an attorney. According to Knudsen's campaign site, he provided legal services to over 40 asylum seekers. The alderman became the first openly gay representative of the 43rd Ward when he was sworn in last fall.
Like other Chicago municipal races, the issues in the 43rd Ward election heavily hinge on public safety. Throughout the race, both Knudsen's and Comer's messaging have leaned heavily on curbing crime. Comer has touted his relationship with neighborhood police.
 Knudsen cites his work to install security cameras throughout the ward in his brief period as alderman, using added technology as a tool to aid police in their goal of reining in surging crimes like car-jackings and robberies.
"We brought in a government technology firm to rethink and do an overhaul of our system," Knudsen said. "Those cameras are for safety because they put eyes on the beat for the commanders and also, they collect data for organizations like the University of Chicago Crime Lab." 
Over the next month, crime is likely to continue as the issue at the forefront of the 43rd race. Both candidates said they would continue to lean heavily on their ground games that proved effective in the first round of the election, selling their approaches to crime and area fiscal stability. 
"We're going to just reconnect with everybody that has been a part of this effort for the last six months," Comer said. "[We'll] bring them in closer to help us extend and go deeper into the 43rd Ward." 
Knudsen also said his team's focus will be knocking on doors between now and April 4.
"My focus will always be reaching more constituents, reaching more voters, having one-on-one conversations to hear what really matters to them," Knudsen said. "My priority will be finding out how we can bring them results."
View Comments (2)