'You' wanna talk? Penn Badgley and Nura Mowzoon take over DePaul with charisma and powerful discourse
The start of a new quarter did not deter students and fans from lining up hours in advance to see Penn Badgley speak.
On March 28, DePaul's Division of Mission and Ministry welcomed Badgley, the actor – best known for appearing in "You" and formerly in "Gossip Girl" – and Nura Mowzoon, relationship coach and Arizona State University professor.
As part of their "Can We Talk?" discourse series, they paid a visit to the Lincoln Park campus on Tuesday to speak to nearly 600 Blue Demons. The two discussed the value of having difficult conversations and responded to students' inquiries about a variety of topics including racism, cancel culture and relationships. 
The event was sold out, but some students were willing to stand in line for hours. The waitlist was set up on a first-come, first-served basis.
This was a highly anticipated event for students, particularly to junior Ayooluwa Olugbenga, who was fascinated by the celebrity's visit. 
"This is such a random celebrity coming to our school," Olugbenga said. "I thought 'why not?' it's an interesting topic with an interesting personality, let's go see what this is about."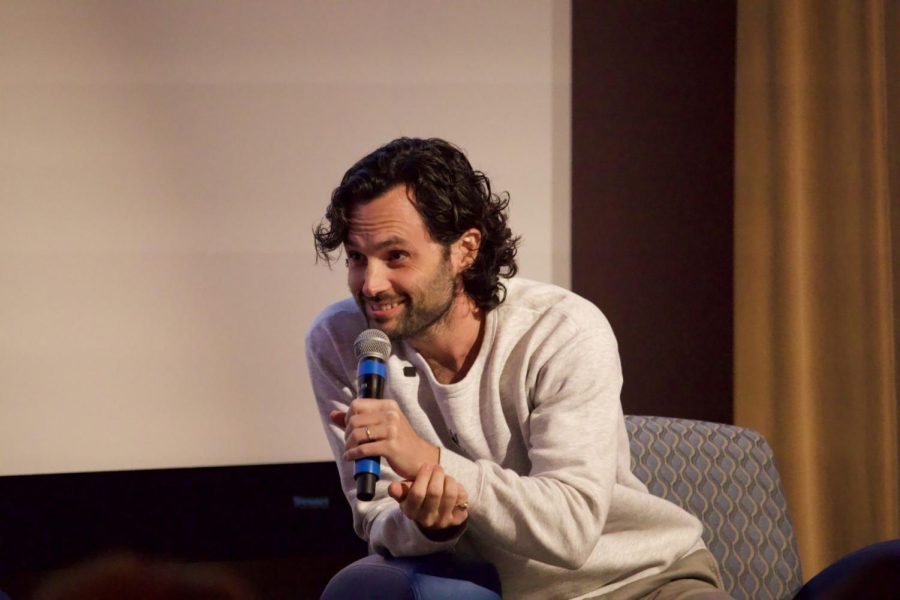 As students filled the student center in excitement, applause and screams erupted as soon as Badgley entered the room. 
"We're never sure how many people are showing up based on my presence, or what sense you have for why you're here," Badgley told the crowd. 
The series' purpose is to "create spaces for meaningful conversations," though Badgley stated that he did not have 'authority' over these discussions, but rather experience. With his television performances, he contributed his experience and knowledge as a part of an industry that portrays unrealistic and/or toxic relationships.
Mowzoon added a scientific and educational perspective to the discussion. Mowzoon has focused her career on analyzing human relationships, which was motivated by her parents' ties.
"I realized that talking about love, relationships and interpersonal dynamics was the one thing I could do until the sun came up and not realize how much time had passed," Mowzoon said. "It sounds corny, but this is why I do what I do."
After introducing the series and themselves, Badgley and Mowzoon expanded the conversation to include students.
A number of questions, including "What do you think gets in the way of having these meaningful conversations?" and "When have you found yourself most receptive to hearing other perspectives?" were shown across the screen behind them. 
Hundreds of students raised their hands to speak, and Badgley and Mowzoon selected students from across the room to give their thoughts on these questions.
Several students shared their personal experiences, perspectives and questions, and some even answered the questions on the screen. 
"Oftentimes, what stops these meaningful conversations from taking place, is a lack of will on one or both sides to actually have a conversation," Olugbenga said."Sometimes people care more about the clout and less about the connection and conversation that can be had."
The purpose of the discussion, however, was not to answer all of these questions, but to begin the conversation.
"There is a need for these conversations," Badgley told The DePaulia.
Sophomore Kelly Regovic said that her main takeaway from the discourse was to be more open-minded.
"I learned that in order to create change, we need to dig deeper into these conversations," Regovic said. 
Although Badgley and Mowzoon claimed they did not have a favorite school yet, they were both impressed with the discussions during the event.
"The one thing I appreciated about this crowd was that it was diverse," Mowzoon told The DePaulia. "It felt like people were actually engaging in the conversation; it felt like the conversation hit home for many people."
So far, the duo have brought their conversation to Arizona State University, the University of Illinois at Urbana-Champaign, San Diego State University and DePaul University.
Badgley and Mowzoon intend to continue their series at additional campuses around the country. Follow @canwetalkseries on Instagram to follow the two on their journey.