'They've taken this away from me': Best-selling author, DePaul prof. Erika L. Sánchez's contract not renewed
Erika L. Sánchez, a New York Times best-selling author and DePaul term faculty, received the news on April 10 that she was among the six term faculty whose contracts would not be renewed for the upcoming school year due to the university's $56.5-million-dollar budget gap.
"I didn't see it coming," Sánchez said about the emailed letter from the dean of the College of Liberal Arts and Social Sciences (LAS), informing that her contract would end in June.
Sánchez said it was a "terrible move" by the university because of her positive reputation she has with the Latine community.
Sánchez is the Sor Juana Inés de la Cruz Chair of the Latin American and Latino Studies program, a recognition given to Latines who make important contributions to Chicago and the United States, according to DePaul. 
Previous chairs include Latina writers Ana Castillo, Achy Obejas and Emmy award-winning journalist Maria Hinojosa in 2012.
Sánchez said despite her success as an author, poet, essayist and upcoming "I am not Your Perfect Mexican Daughter" film,"Brown women were underestimated, always…At what point are we enough? How many accomplishments do they need for me to feel like I'm a valid person to keep? I don't know what else I can do," Sanchez said.
The news sparked turmoil among Latine students who say they already lack a sense of representation and belonging at DePaul.
"It made me very angry and very sad," said Leslie Camacho, a senior at DePaul. 
As a first generation Mexican American student, Camacho said it is "disappointing" that she will never be able to take one of Sánchez's classes. She said she would have related to her experience navigating the difficulties of being one of the first in her family to pursue higher education. 
"I feel like my students really appreciated that about me and how I listened to them and I cared about them," Sánchez said, referring to her shared experience as a first-generation college graduate.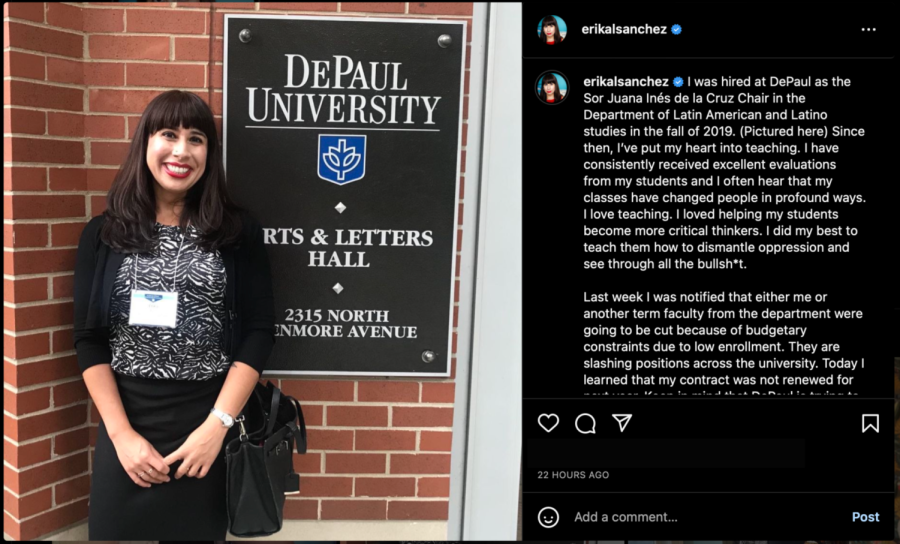 Flavio Diaz, a student leader in MESA, a Latine centered cultural organization, said that ending Sánchez's contract despite the university's efforts to become a Hispanic Serving Institution (HSI) shows the "hypocrisy" behind the institution's values rooted in diversity, equity and inclusion. 
In 2021, DePaul created a faculty led taskforce that would help the university reach a 25% Hispanic student population in order to apply for Title V federal funds that would qualify the university as an HSI.
HSI status would grant the university funds that can be utilized for academic tutoring, counseling, student support services, faculty development and the purchase of educational materials, among other resources for Latine students. 
On March 31, the Center for Latino Research Advisory Board leaders met with President Robert L. Manuel to discuss future plans to push forward the HSI agenda, according to Carolina Sternberg, the Chair of the Department of Latin American & Latino Studies (LALS). 
According to a fall 2022 Institutional Research & Market Analytics (IRMA) census count, 23% of DePaul's undergraduate enrollment is Hispanic. 
"I think it's not okay to see these cuts reflected in the very little population of diverse faculty that we already have because most of the diverse professors that they claim we have [are] our adjunct professors," Diaz said. 
A 2020 report shows that of the 870 full-time faculty, Black and Hispanic professors only comprised about 6% each of the total faculty, according to IRMA.
Sánchez said many of her students told her she was the only professor of color they have ever had at DePaul.
Sánchez said the lack of diverse racial representation among faculty is "alarming" and the university's decision to discontinue her contract is "very symbolic of what they're prioritizing, and it's not students." 
The dean of LAS, Guillermo Vásquez de Velasco, said in a statement to La DePaulia, "The short-term faculty appointment was an attempt to implement a growth strategy to increase enrollment. Change was necessary to make sure the program has the right components to ensure the continued success of this academic program that is deeply rooted in the university's mission."
The statement also mentioned the LAS department plans to welcome a new, full-time, tenure-track faculty member in fall 2023. 
Junior Gianna Aguilar-Valencia said the university should be more transparent in their decision-making process and the way it affects students. 
"We pay so much in tuition, we do so many things," Aguilar-Valencia said. "[We] bring them [a] kind of reputation and then yet, we don't kind of get the support system that we are trying to build in this community."
Vásquez de Velasco said he supports the university's continued efforts to become an HSI in the statement. 
It was her love for connecting with students that drew Sánchez into teaching in the first place.  
"I never even needed this job. I want to emphasize that it was because I believed in it, I cared about it. I wanted to be a professor, I wanted to reach students," Sánchez said. "It pains me that they've taken this away from me. They've also taken away that experience from students who really felt excited about my classes."
Sánchez has since publicly criticized the university on her social media platforms.
"DePaul does not care about its students and faculty of color," she posted on her instagram account with over 22,000 followers. 
She was also scheduled to speak at Latinx graduation, an annual gathering of graduating students and to celebrate academic accomplishments. 
Vásquez de Velasco did not confirm whether Sánchez will be speaking at the event. "The plans for the event are still in development," he said in an email statement.
"I don't want any relationship with DePaul at this point," Sánchez said.
Students have created a petition asking the president and his offices to work with students to protect at-risk professors and programs.
"As a community, we still have a lot to fight for and advocate for our communities," Diaz said. "At the end of the day, we're the only ones that's going to do it for ourselves."