Student's story ignites safety conversations at SGA assembly
Editor's note: ​​This story contains mentions of sex offenses and descriptions of assault. 
"On this day I learned a very hard lesson: How to keep living when you have felt the cold grasp of death," Paria Ghaderi, Student Government Association (SGA) senator for the College of Communication and senior said at a campus safety assembly on May 4. "But this is not a story about the end. This is a story about new beginnings."
According to police, on April 13, a registered sex offender assaulted two students on the Lincoln Park campus. The offender was arrested and charged with two felony counts of unlawful restraint, one felony count of battery with use of deadly weapon and one misdemeanor count of theft.
Ghaderi is one of the survivors of these attacks. 
She shared her story at the SGA campus safety assembly before an open conversation between students, staff, faculty and administrators about safety concerns and ways to address them. These include changing the university to closed campuses and requiring swipe access to regulate who is entering the buildings and possible changes to Public Safety policies and alerts.
Gene Zdziarski, vice president for Student Affairs; Bob Wachowski, Public Safety director; and Alexandra Murphy, College of Communication dean, were a few of the administrators present at the assembly in the Lincoln Park Student Center. 
"I have relived and repeated this story so many times it feels as though I am reciting a monologue," Ghaderi said. "I still question if what happened to me actually took place, but tonight, I feel reassured that it happened and that it will not happen again, at least not on this campus. I am willing to keep reliving this story if it promotes caution and safety."
In her speech, Ghaderi said she remembers screaming while the offender attempted to suffocate her for several minutes in the parking garage off of Sheffield Avenue closest to the Fullerton train station. Ghaderi continued screaming as she escaped, but despite being near the parking attendant booth, it was only when a pedestrian walking by saw her crying that someone came to help her. There were no emergency buttons inside the garage for her to access. 
Ghaderi wore the same outfit she was attacked in to the assembly. In her speech, she said the offender dented the necklace she was wearing with her mother's name engraved in it. 
"This is something that could happen to you, me or anyone," said freshman Suzan Arab, SGA senator for community and government relations. "[Ghaderi's] story was heartbreaking to hear because I park in that same garage. It's horrible that something like this had to happen for us to make these changes. They should have been implemented a long time ago."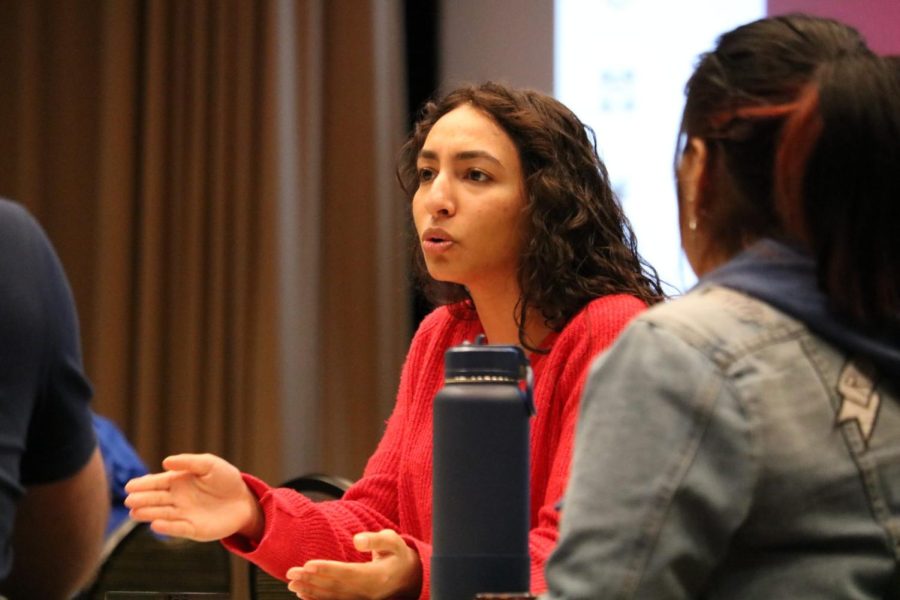 Since Sept. 1, there have been 20 safety alerts from Public Safety. The first was an alert about two sex offenses from the same offender.  
"If we don't take this seriously and start making changes now, this is going to keep happening," Arab said. "Today was just another reminder that these things happen way too close for comfort."
Students were given the opportunity to share their ideas on how to improve campus safety through a Google Jamboard. SGA said they would document the virtual submissions to help revise their current public safety proposal. Suggestions included more Public Safety officers patrolling campus, identification requirements to access the parking garages and mandatory safety procedure sessions for faculty and staff.
"This was a learning experience for us as well so we know how to improve going forward," said sophomore Avery Schoenhals, SGA executive vice president for facility operations and vice president-elect. "Students need to know that they are safe in their classrooms and that not just any person can walk through the door."
Ghaderi said seeing SGA's initiatives for public safety, including this event, make her feel proud as a member of SGA and heard as a survivor. 
"My mother used to tell me that when horrible things happen, we must get up every morning and pick up the bits of ourselves that are shattered off the ground before gluing them back together," Ghaderi said. "The new changes and renewed emphasis on public safety make me feel as though I have honored her words and done everything possible for my community."
Schoenhals said an idea shared at the event that had not been previously considered was the possible creation of a public safety committee. SGA does have committees for other facility operation groups such as the dining hall. 
"It's past time for a lot of the administrators such as the people who are head of the departments like Public Safety or parking services to start getting used to what students have to say," Schoenhals said. "Having a committee where we all have to sit at the table and listen to concerns students are bringing forward would be a great way to start that."
One of the suggestions discussed at the assembly included allowing Public Safety officers to request identification from people on campus. Librarian Kristin Lansdown said in her experience as a Double Demon, this would only lead to profiling. 
"One of the policies I saw SGA put in their statement was about reversing the ban on Public Safety being able to ask students for ID," Lansdown said. "For me, that raised red flags because when I was a student, I know that many Black male students were often asked for ID for no particular reason at all."
Lansdown said she has mixed feelings about the possibility of DePaul becoming a closed campus because of her belief in the Vincentian mission which is one reason the campus is open.
The library cannot become a closed-access building because it houses the Federal Depository and the DePaul Special Collections and Archives which are both open to the public.
"The library needs to remain a place that is open and welcoming to everyone," Lansdown said. "I do want students to feel safe, but it's an interesting vision to think about in terms of safety for our campus' future."
Ghaderi said she feels like a catalyst for change. She hopes that her story will promote caution in students, staff and faculty on campus, while helping SGA push for new safety policies. 
"This entire experience has taught me that there is so much good in the world," Ghaderi said. "I want everyone to understand that this experience should not be viewed as a frightening occurrence, but rather as a cautionary tale with both positive and negative aspects."
The next step for SGA is to finalize their proposal for President Robert Manuel using the feedback they received at the assembly. The timeline for when this proposal will be submitted is presently unclear as SGA continues to develop initiatives and push for change.
The College of Education is currently the only building to change its access policy to swipe-access, requiring students to use their ID at the door. They implemented the change on May 2.
"The end product of this for us is that students currently don't feel safe when they're on campus at DePaul and that fundamentally has to change," Schoenhals said. "Going through these meetings and working on these proposals is all part of our effort to make sure students can feel safe when they go to class."