Acknowledgment & atonement: DePaul apologizes for Vincentian history of slaveholding
Minister Jené A. Colvin, from DePaul's Division of Mission and Ministry, said her grandmother Eunice Jones Hawthorne lived to be 95. Born in 1919, Hawthorne lived when Jim Crow laws were in place and Black Americans constantly faced the threat of lynchings.
"Very often, people imagine slavery in the United States as something that happened a very long time ago," Colvin said.
Colvin said to this day, she does not know whether her twice-removed great grandmother Eliza Oakley was "gifted" to a man named Thomas Wiley, or if it was a consensual, illegal relationship. 
"Nearly every Black person in this room could tell you a similar story," Colvin said. "Stories where records tell lies, or simply don't exist, when they, with their families or colleagues, scoured records for years simply to find the names of their family members, their loved ones. We aren't all reading the stories in history books, [but] some of us have lived and heard them firsthand. They are our oral and documented family histories."
Colvin shared this story in her opening statement Monday, May 1, at the "Confronting our History: Vincentian Slaveholding, and Apology and Commitment to Atone" ceremony where the interfaith program at DePaul apologized for the enslavement of Black people by the Vincentians.
The ceremony came two years after DePaul created a task force  in 2021 charged with addressing the Vincentian's relationship with slavery. At the same time, DePaul alumna Cam Rodriguez was conducting her own investigation into DePaul's history with white supremacy that was published in 14East magazine two weeks before DePaul held the ceremony.
DePaul is the first Catholic, Vincentian university to hold a ceremony officially apologizing for its history of enslaving Black people.
Rodriguez attended the ceremony Monday night where DePaul President Robert Manuel presented her with a Vincentian Shared Coin in recognition of her research.
"Without knowing, you can't apologize for what you don't know about," Rodriguez told The DePaulia. "And so that was the main intention of the story, not necessarily awareness, but acknowledgement that this history existed, and then kind of putting the ball in the university's court institutionally to see what it does to respond to that."
Manuel then shared his appreciation for the task force's diligence in uncovering DePaul's past history with slaveholding.
"In a strange way, [I'm] proud to be here today," Manuel said. "I want to express my deepest appreciation to the members of the task force to address the essential relationship of slavery, for their work, their dedication and their insistence that we hear and recognize."
The Vincentian's past relationship with slavery was discovered through the university archives in 2021, which prompted DePaul leadership to take action. One of the first tasks was to rename the Rosati Room in the John T. Richardson library in Lincoln Park. The room was named after Bishop Joseph Rosati, one of the first leaders in the Vincentian community and a participant in the slave trade in the early 1800s. Through Rodriguez's research, she discovered Rosati bought and enslaved an 8-year-old boy.
"The task force came together in response to needs from our community to name the shameful action of enslaving human beings in the history of Vincentians," said Father Guillermo Campuzano, a liaison for the task force.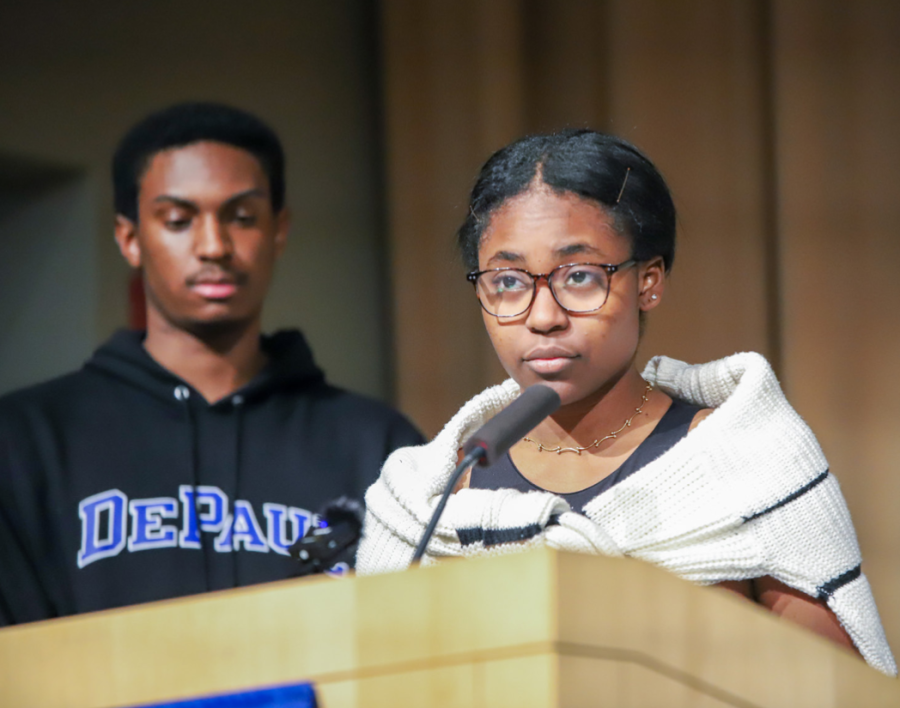 The task force also received board approval to rename the Belden-Racine residence hall after Aspasia LeCompte, a woman previously enslaved by Bishop Rosati and petitioned for her freedom, Campuzano said. The Rosati Room and residence hall will be renamed on May 18. 
"[Her] legacy of dignity and perseverance in the face of dehumanization will be a permanent reminder of personal and communal resilience, as well as a way to let successive generations of the DePaul community learn the story of a shameful lapse in the mission so it is not forgotten, while also celebrating people of African descent in a permanent way on campus," Campuzano said. 
For Colvin, holding the ceremony was important because she was able to use her voice to emphasize the need for change and acknowledgement of the past.
"Words always need to be something that can take root and do something right," she said. "Like, it's not enough for it to sound good. If it doesn't do something, then [why] are we talking?"
Valerie Johnson, the interim provost for Diversity, Equity and Inclusion (DEI) at DePaul also spoke at the ceremony. She emphasized the importance of recognizing the past in order to move forward.
"Any sort of apology that does not recognize its own complicity, and that moral responsibility to atone for the past, I think that that, like in the words of Frederick Douglass, you know, he said that America binds itself to the past, it binds itself to the present and therefore binds itself to the future," Johnson said. 
At the ceremony, Colvin expressed her hope that by acknowledging the past, DePaul will be able to foster a better environment for Black students. According to DePaul's most recent enrollment data, students of color account for 43% of the total enrollment, however, Black enrollment has been on a steady decline over recent years. In 2021, DePaul only enrolled 1,998 Black students. 
"I hope that retention rates for Black students at this university will exponentially increase," Colvin told The DePaulia. "I hope that there are enough Black students on this campus that whatever work needs to be done, it can be shared by the community … and I hope that that work won't be long for them. There's a sense of hopeful stubbornness that comes with fighting even when you're exhausted, and when you're still consistently experiencing the thing you're fighting."
Manuel released a plan on Jan. 30 to address issues of bias and inquiry within the university  including; becoming a Hispanic Serving Institution, a Asian American, Native American, and Pacific Islander Institution and increasing the number of Presidential Fellows for 2023-2024.  The number one action is to respond to the Black Equity Initiative. 
Fr. Patrick McDevitt, Board of Trustees member and the provincial superior of the Congregation of the Mission, unsanctioned fathers and brothers of the Western Province at DePaul spoke on behalf of the Vincentians at the ceremony Monday evening. 
"On behalf of the Vincentian priests and brothers, I say to you, and I say to the whole world that we deeply regret, apologize and humbly ask forgiveness for our role in slaveholding and in any form of racism we have ever committed," he said. 
The Western Province, whose founding members participated in the enslaving of Black people, are currently engaging in anti-racist education and investing resources to projects that benefit people of African descent, Campuzano said.
For Colvin, while DePaul cannot change the past, they must work toward educating the community and consistently seek ways to better the Black experience at the university.
Colvin said even though her ancestors' enslavement happened decades ago, people still try to hide records that prove what happened to enslaved peoples in America. Therefore she emphasizes the importance of uncovering those records and acknowledging the past in order to move on in the future.
"There is no version of slavery, that is not horrific," Colvin said. "There are no kind slaveholders. There is no absolution when someone insists on keeping everything they have that results from that theft and abuse. Even if that theft and abuse [that] happened six generations before. Reconciliation cannot happen without truth."
An earlier version of this article said Minister Jené A. Colvin's grandmother was Eliza Oakley. Colvin's grandmother is  Eunice Jones Hawthorne and twice-removed great grandmother was Eliza Oakley. This article has been updated to reflect those corrections.