Idea Realization Lab sparks creativity, inspiration across DePaul community
Between a full load of classwork, part-time – or full-time – jobs and attempts to maintain some semblance of a social life, trying to pick up a hobby as a college student is not easy. Whether it is budgetary constraints, time crunches or just flat-out knowing not where to start, discovering a new passion can be difficult. For students seeking a new hobby or creative space, DePaul now has the Idea Realization Lab (IRL). 
Opened in 2019, IRL is a "creative makerspace" that offers the DePaul community a space to explore the creative arts. Some of the equipment offered include screen printing, woodworking, embroidery and 3D printing materials. The IRL's website describes the facility for "student-driven initiative to promote the pursuit of thinking through making within the DePaul community." 
According to Lab Coordinator and adjunct film professor Ben Kumming, the mission of the IRL is to encourage DePaul students to explore their creative side in a unique, personal way. 
"IRL represents a different approach to education in that it wants the students to make things and experiment with physical objects — to try to do things and fail, and learn from failing. I think that's a really healthy way to approach, not just education, but life in general," said Kumming, who has worked at the facility since its inception in 2019. 
According to Kumming, it was the unique approach to learning that originally drew him to working at the IRL.
"It was more about the ideology and the philosophy behind it, I didn't necessarily have any particular skill in any of the processes we have at the IRL," Kumming said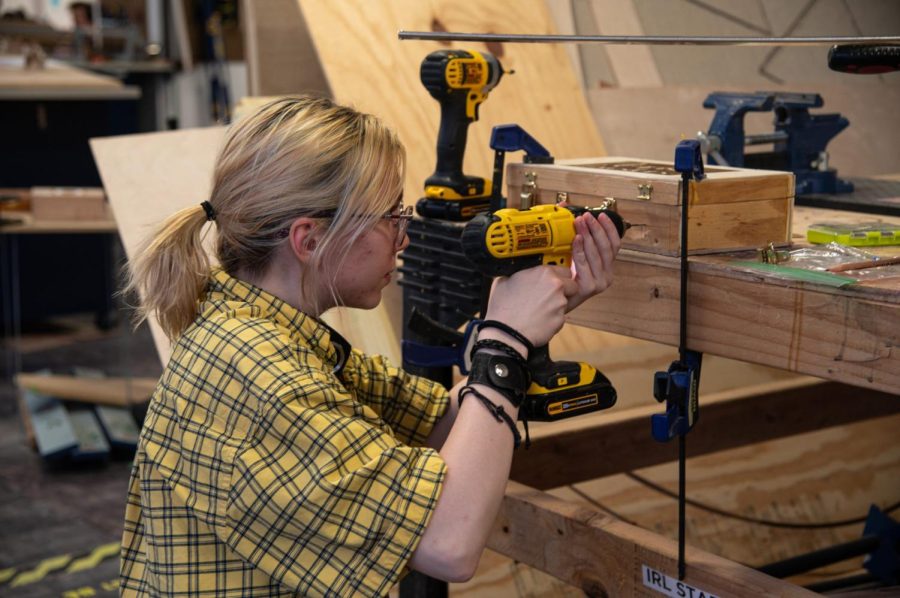 Kumming is not the only staffer at the IRL who was drawn in by the facility's creative atmosphere. 
Amanda Rau, a DePaul sophomore and part-time lab moderator said the energy and philosophy of the makerspace is one of its most attractive qualities. Between the massive floor to ceiling windows that give a beautiful view of the city, the constant buzzing of sewing machines and woodshop gear and a live feed connecting the Loop location with Lincoln Park, the IRL has a unique, undeniably creative atmosphere that many students said adds to its charm.
"It's super laid back," Rau said. "We've got fun music going, a lounge area and a very collaborative feeling space. We have a wall with community members' work, and the place is filled with student projects." 
But even with a staff eager to welcome new students and creatives into an atmosphere that encourages risk-taking and positivity, employees of the IRL said there is still a large chunk of the DePaul community unaware this resource is at their disposal.. 
"A few of the other spaces on campus are reserved for people in certain majors— like the cage downtown, or camera equipment and sound equipment, that's mostly for film or animation majors," said Ada Peters, a DePaul junior and lab moderator. "And I get that, it falls in line with the notion that 'Oh, this space is probably just for hardcore artistic people.' But it's not! Anyone can come in, and the great thing — this is what I tell people — is that the materials are covered by your tuition. You can use any and all of it."
According to Peters, the impressive roster of machines and materials makes IRL an ideal resource for DePaul students looking to explore and expand their creative hobbies.
"3D printers are definitely one of our most popular offerings," Peters said. "Same with screen printing. We also have the ability to make stickers or vinyl cut in general, where you can make heat transfers that stick to shirts. We have woodshop stuff, lots of saws. We have laser cutters, general crafty materials, lino cutting to make your own stamps, vacuum forming, soldering and electronics stuff. At the IRL downtown, there's a tufting gun, you could make your own rug. It's crazy the volume of things that exist there."
In addition to all kinds of equipment available for free use, the IRL staff offers free classes to help the DePaul community learn how to use the many machines available in the maker space.
"At the IRL one of the things that we do to encourage learning is run workshops on how to use some of the more complicated or potentially hazardous tools and machines. But we have a lot of resources that students can just walk in and help themselves to or ask our staff for a quick overview of how to use."
But the classes are not limited to complicated machinery, either. IRL regularly hosts workshops geared toward creative, unorthodox projects. 
"There's a specific series called The Fun Friday workshops, where every Friday there's some interesting little thing you can make," Peters said. "I ran a pajama pants workshop last February. There have been days where it's like 'Today we're making pickles. We're gonna learn how to pickle stuff." 
Even if you are not interested in taking a class or picking up a new skill, staffers still encourage the people to drop by the IRL and experience the creative community. 
"You'll meet some interesting people and find one of the coolest spaces on campus. It's really active and dynamic, full of projects that other students have made. If you're in need of inspiration, just going to the lab shows what's within reach," said Kumming. "None of the things we've got in there are made by professionals. It's really inspiring to see what your peers are capable of because it means that's also what you're capable of."
For anyone in the DePaul community interested in visiting the IRL, it is as easy as showing up to one of their two locations in Lincoln Park or the Loop and swiping your DePaul ID.