Thrifting and Gen Z's shopping paradox
For those who can brave the distinctly charming smell of musk and stale perfume, a trip to the thrift store often doubles as a rewarding bargain hunt and a satisfying stroll down memory lane. 
In recent years, thrift shopping or "thrifting," has taken Gen Z by storm in-person and online, but has yet to disrupt the world of fast fashion yet.
Thrifting has numerous implications, from environmental sustainability to affordability and staying on trend with the latest—or oldest—fashions. 
Thrifting has its origins in the late 19th century at the dawn of the Industrial Revolution and mass production of clothing, according to Melissa Gamble, professor in the Fashion Studies Department at Columbia College Chicago with expertise in trendspotting.
It was not until the 2008 recession that thrifting became more popular, since it was an accessible and cheap way to buy clothes. This is when attitudes began to change, and the stigma started to break. 
"Some people couldn't deign to wear secondhand clothes, so it was really frowned upon. And it was a resource for people of lower socioeconomic means," Gamble said. "We start to see some conversations among younger consumers about thrifting as more sustainable, but we see really the major shift happening with the 2008 economic downturn."
Now, low prices and seemingly endless inventory come in handy for young adults looking to stay on trend on a budget.
Gamble said Gen Z – those born between the late 1990s and early 2010s – is a generally more sustainability-focused generation, which is one reason why thrifting has gained popularity in recent years.
"If you look at [the] values, attitudes and opinions of Gen Z, the environment is high up there," she said. 
According to a Pew Research study, 67% of Gen Z believe that climate should be a top priority to ensure a sustainable planet for future generations.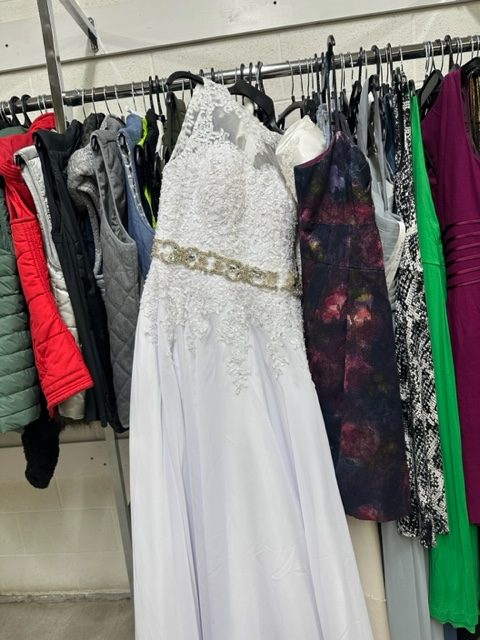 Roberta Garner, professor emerita of sociology at DePaul University, said the environmental benefits of thrifting are not only necessary as climate change accelerates in a growing world population, but also a hip way of promoting personal sustainability. 
Gamble agrees that sustainability is a large factor in this trend. 
"I think we are going to see it become a mainstream trend. And we're going to see it happening through really all tiers of society, primarily because of the environmental drivers and the sustainability drivers," Gamble said.
Despite thrifting's popularity among young people, Gamble pointed to a contradiction that seems to perpetuate the fast fashion cycle. 
"Gen Z is also the demographic that is driving fast fashion purchases and the rise of all these fast fashion companies," she said 
Shein, a Chinese-based online fast fashion company, is extremely popular among Gen Z, who rank Shein among their favorite online commerce sites, according to Piper-Sandler survey.
They sell cheap on-trend clothing – as thrift stores do for young people who fancy a wardrobe that spans many decades – yet Shein contributes to carbon emissions and immense water usage because their clothes are new and shipped around the world.
"We find a lot of younger consumers that are both thrifting and shopping in places like Shein," Gamble said. 
Sites like Shein have an inclusive range of sizes that makes it easy for everyone to find something on-trend without easily and without breaking the bank. 
Thrifting has reached the online market too with sites like Depop and ThreadUp. 
Though apps and websites make the thrifting craze accessible for people with limited time or in-person access, Gamble said it is problematic because it perpetuates the consumption cycle. 
"From a sustainability perspective, you can argue that it's second hand, and so it reduces carbon emission and water usage because you don't have the production component," she said. "But you still have a lot of transportation emissions, you have other packaging costs that you're contributing, so it is not a zero impact. It's still a negative impact."
Depop's approximately 30 million users seem to support the idea of thrifting, but still contribute to the fast fashion cycle. 
Much like people's buying habits, the thrifting trend is not one-dimensional. 
Gen Z values unique, arguably quirky, fashions that provide a first glimpse into one's identity.
Garner thinks that expressing individuality amid a regimented society is a large part of the second-hand appeal. 
"People have a certain way of feeling about their whole society and they express it in fashion," she said. 
The process by which trends catch on has accelerated through social media, especially Tik Tok. 
"I think I definitely got into thrifting through social media initially," said DePaul freshman Ximena Rangel. 
Growing up in Mexico City, Rangel said thrifting was a new and cool activity that she latched on to in the United States. 
"I fell prey to the trend because in Mexico, thrift shopping isn't really a thing at all," she said. 
Though she was introduced to the trend online, Rangel said what was first a culture shock, is now a part of her life. 
"The number one motivation is prices," she said. "I'm a college student working three jobs and I don't have like a ton of money to spend on really expensive pieces."
Rangel said thrifting also pushes her to be an artist. 
"It gives me an opportunity to be a lot more creative. For example, I went thrifting and I saw a dress that was beautiful. It was oddly shaped and three sizes too big, but if I sew it, I'll use the scrap material for patches on something else," Rangel said. "That could be 13 new projects that came with one thrift purchase."
With more standardization of technology and increased governmental regulations upon what is and is not socially acceptable, Garner said that the thrifting trend promotes creativity and individuality. 
"There's this looming standardization through AI and algorithms and corporate compliance mandates and so people are trying to carve out a little sphere for themselves," she said.
The many motivations for thrifting are supported by many opportunities online and in-person. 
Ultimately, people will always shop, it is just the way people shop that changes every year 
"Fast fashion, thrifting and shopping in general – whether it's online or in person – are all going to stay for a while," Garner said.  
She also said that some people use thrifting and vintage shopping to look back at times that seem happier and carefree. 
Though this all may be true for some, others just see thrifting as an easy activity to do with friends.
"Thrifting is really fun," Rangel said. "It's like a treasure hunt. You feel more rewarded when you put more effort into something as simple as shopping."
Garner and Gamble said thrifting has three main drivers: the environment, the economy and personal style, which all apply to people differently.
"With thrifting, there are the foundational economic and environmental trends, but there's also the feeling of putting a little bit more of yourself into what you're picking out," Garner said.
View Comments (2)