'It's been a long time coming': Taylor Swift is bejeweled in three-day run at Soldier Field
Anything I can say about Taylor Swift's "The Eras Tour" has probably already been said before: It was magnificent. From the moment I got on the 146 bus in Uptown, to the moment I got back to my apartment, I was surrounded by Swifites. They are hard to miss, adorned with friendship bracelets, cowboy hats in toe and glitter everywhere. The old-school Swifties had painted "13"s in nail polish and eyeliner on their left hand, a nod to Swift's classic 13 on her hand from the "Fearless" and "Speak Now" tours. Afterwards streets littered with an occasional fan still with their bracelet from the concert blinking bright pink. 
The energy in Chicago was electric. It seemed everyone in the city was at the very least aware of Swift's arrival, and at most jubilantly preparing for it. There is a lot to be said about the level of fame she has been able to achieve. It feels like she is breaking records on a daily basis. She has secured her place as a force in the music industry, which only happens once in a generation. It feels cliche, something every publication mentions, but like Barbara Walters said, "Taylor Swift is the music industry." "The Eras Tour" is only a reflection of her sheer prowess. 
Swift has over 200 songs in her discography. The material she had to work with alone was bound to create a tour that fanatics and casual listeners alike could get behind. But like usual, she took it a step further. As the show starts with huge cloud like cloths come down the stage, Swift's vocals echo throughout the arena, "It's been a long time coming," It has been five years since her last tour — The set list is meticulously crafted, taking the audience through a journey of her "Eras." The concept of "Eras" became a part of Swift's canon with the release of "Look What You Made Me Do," showing different versions of Swift from each of her album cycles.  Each "Era" of her 17-year stint as a performer can be compartmentalized as a fragment of the performer that is Swift, and the "Eras" in the tour reflect that. The journey the audience takes brings them back to when they first listened to the music in that "Era."
Opening with "Lover," an album fans expected to see in concert in the form of "Lover Fest" that was ultimately canceled due to Covid-19. "Cruel Summer" was the first full song, and it drew everyone into the world this concert created. Swift stopped just before the bridge to say, "We have arrived at the first bridge of the evening, now I would prefer that we cross it together and that means, you scream it with me, go!!!" The all-consuming joy felt by that audience was indescribable. But that was just the start: With every song, the audience got louder and even more joyous. Swift's ability as a performer is something that I have never seen before. 
Another highlight of the night — besides the whole night being a highlight — was the nearly three-minute applause after "Champagne Problems" where Swift appeared to tear up and mouthed "I love you" to the audience. My heart is melting. Also during the "Evermore" set, almost the entire audience of 60,000 people held up their flashlights to honor the song's namesake, Swift's grandmother Majorie. The awe in Swift's face every time the audience stuns her with its love and adoration makes you feel like you're the only person in a room of thousands. It's another contributing factor to what has made her not only successful at touring, but also gaining a fanbase of millions. 
Something has to be said for "All Too Well (10-Minute Version)." Ten minutes is a big chunk of time for one song, especially in a concert, but it was time well spent. "All Too Well" has become a secret code between Swift and her fans. It wasn't a single, it wasn't particularly popular, but the emotion has transfixed fans since its release. The announcement of the 10-minute version had Swifties prepared to be broken once again. It's by this point in the concert that I began to think to myself again, is this real life? How do we all know all these lyrics? This is insane. It's hard to identify one thing about Swift or her music that makes me feel such a visceral connection, such a love for her, but this song is a good guess. 
By the time we arrived at the 1989 set and I heard the drums of "Shake it Off," I was 12 again, transported to Soldier Field eight years ago — her more heart-wrenching lyrics were a lot less relatable then, those were the days. That was the last song I heard Swift perform live until I was greeted by her again like an old friend at "The Eras Tour." She is a woman that the whole world knows, but she still began with "I'll be your host this evening, I'm Taylor." 
The surprise songs did not disappoint. When she says surprise songs, she means it, choosing a previously unreleased track and a song written and recorded for a soundtrack. First up was "You All Over Me," a "From the Vault" track on the guitar. As she announced it, she brought the feature on the track, Marren Morris, on stage to perform with her. Morris just does background vocals in the studio track — but here she shined with her own verse.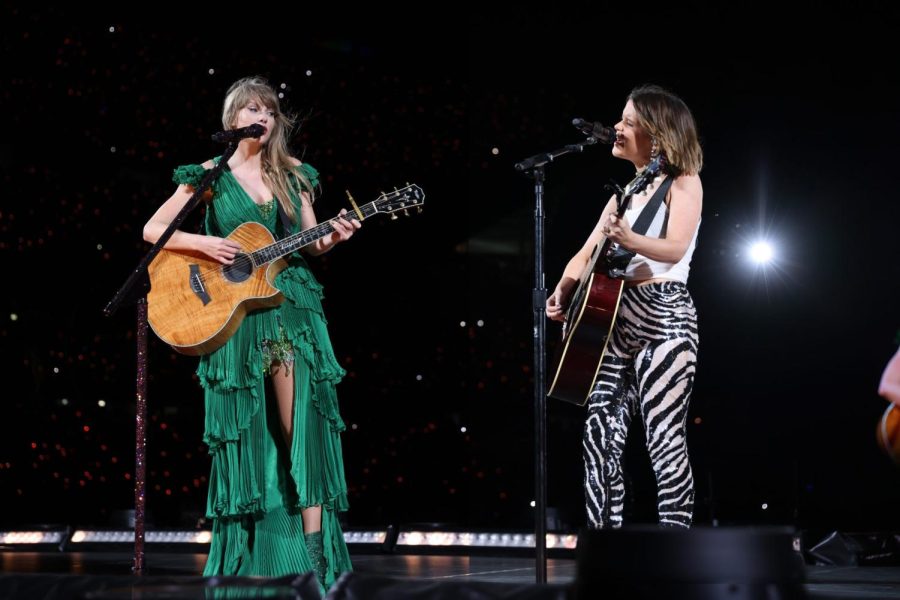 To what I imagine is everyone's surprise, Swift went straight to the piano and sang "I Don't Want to Live Forever," from "Fifty Shades Darker." This track is not a part of her traditional discography, the stripped down acoustic version was much sadder than the original. 
To close out the night, Swift brought us back to the present day with "Midnights," her most recent studio album. "Karma" was a perfect end to a perfect night, complete with fireworks and confetti. Every moment of Swift's show feels like a full production, almost theatrical, until the moment she goes off stage. This is a night that will live in my wildest dreams, for the rest of time. I cannot wait to see what Swift does next. "The Eras Tour" is a must-see masterclass in performing excellence. It is a night you will never forget.