An idea sparked four years ago led environmental activists and scholars to create a multimedia art exhibit that features local and global stories of climate injustices. 
Visitors gathered for the opening of "Climates of Inequality: Stories of Environmental Justice," an exhibit held at the Chicago Justice Gallery. The exhibit was developed by University of Illinois at Chicago (UIC) students and activists through the Humanities Action Lab, a coalition of colleges and environmental justice organizations in cities across the U.S., Puerto Rico, Colombia and Mexico.
Upon entering the gallery, visitors are met with the sight of informative panels, featuring the stories of seven communities locally and abroad that became "sacrifice zones," which are unregulated industrialized areas that lead to environmental damage and long term health risks to community members.
One of Chicago's sacrifice zones is located in Little Village, which was covered in a thick cloud of dust after an old Crawford coal plant imploded on the southwest side neighborhood in April 2020. 
The implosion exacerbated the health of South and West Side communities that already face a disproportionate amount of air pollution and hazardous waste, according to a 2023 cumulative community impacts summary from the Chicago Department of Public Health (CDPH). 
Jocelyn Vazquez, a lifelong Little Village resident and a current community service organizer with the Little Village Environmental Justice Organization (LVEJO), said the health discrepancies among those who lived near industrial corridors were particularly illuminated when the South Lawndale community reported some of the highest rates of Covid-19 throughout the course of the pandemic. 
A lot of the people in her community also didn't "have access to health insurance," which limited their ability to seek medical treatment, Vazquez said. 
By informing more people about the environmental injustice through art, it allows her community to "heal" and reminds people that "they have a say and they have a right to share the experiences" about their neighborhood, Vazquez said. 
Edith Tovar, a lead organizer with LVEJO who graduated from UIC, said the exhibit was a "special homecoming."
"Seeing the stories of my neighbors, it's beautiful," she said, holding back tears.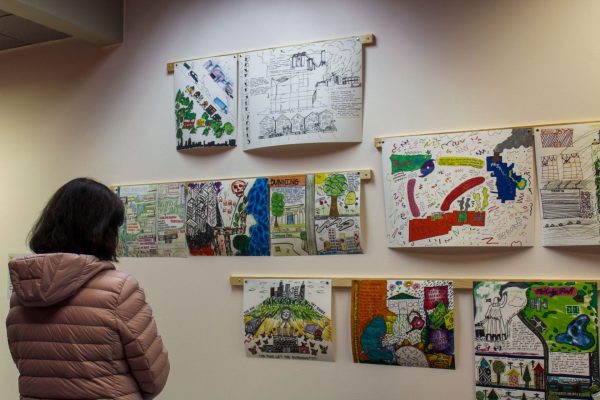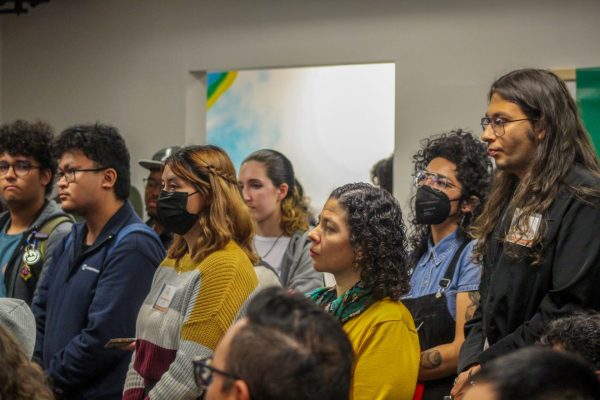 The exhibit also featured neighborhoods located in some of the city's 24 industrial corridors, including Altgeld Gardens, Calumet River, McKinley Park, Pilsen and the Southeast Side.
Amalia Pallares, vice chancellor for Diversity, Equity and Engagement at UIC, said she hopes the exhibit will help spread awareness on how environmental burdens affect minority communities.
She added that although "we have sacrifice zones, we do not have sacrifice people."
The exhibit taught students that climate change and environmental pollution are not isolated issues, Pallares said. 
"They're connected to labor and economic inequality and migration and health and justice," Pallares said.
Lauren Miranda, who worked as the exhibition designer, said the Social Justice Initiative wants to illustrate the climate injustices people face not only in Chicago but in different locations around the world.
"We tried to create a variety of different types of scenarios and situations that people are in around the globe," Miranda said.
For Essence McDowell, director of arts and communication at the Social Justice Initiative, creating the exhibition was "probably one of the most challenging" projects she's taken on because of her personal ties to climate injustices. Her family, she said, currently resides in one of the featured sacrifice zones in Northern New Jersey.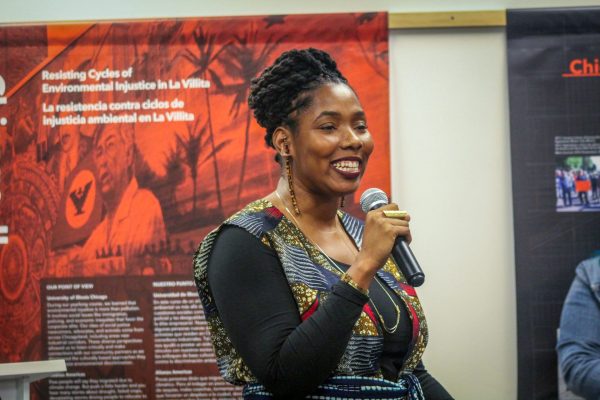 "It was an exhibition that I think just really centered our livelihood…this planet and our protection of it," McDowell said.
As McDowell addressed the crowd of students, activists and community members, she referenced a colorful mural located in the back of the exhibit that showcased an earth split in half, divided by the vertex of two of the room's walls. 
"When I stand in front of that mural, I'm like, there are two ways that we can go with this planet. There's one where this planet is destroyed and thus that destruction of our planet deeply impacts us and forces us to fight harder…," McDowell said, as she pointed to protesters painted against a smoky backdrop. "And then there's another way that we become a part of the planet and we integrate into nature, into healthier practices." 
Dr. Rosa Cabrera, director of the Latino Cultural Center at UIC said the exhibit centers climate change as an interconnected social justice issue while also highlighting the environmental leaders who are finding solutions to climate inequities. 
"We wanted to affirm the work that this dedicated community in these areas continue to do fighting these fights," Cabrera said.
Vazquez hopes visitors walk away from the exhibit realizing, "they have the power to make changes to this world."