DePaul's women's basketball team has eight new faces this season, including Brynn Masikewich and Sumer Lee, who both have played internationally in their home country of Canada.
The two newcomers have professional-level experience and have traveled the world with the game, and they are still early into their careers. Originally from Alberta, Canada, Masikewich is a 6-foot-3 graduate forward who transferred to DePaul after four years at UCLA. Lee, 5-foot-8, is a freshman guard from Toronto, Canada. 
Masikewich said head coach Doug Bruno was the main reason she chose DePaul.
"I wanted to be coached by his smarts, his intelligence," Masikewich said. "He's a Hall of Fame coach. I want to expand my game as a basketball player, and I know he can help me get there."
Like Masikewich, Lee said the coaches, along with the team's open and dynamic playing style, were instrumental in persuading her decision to join DePaul. 
"I would say what drew me to DePaul is the coaching staff, especially coach Bruno … and their playing style," Lee said. "DePaul's playing style is very positionless basketball, so I feel like you could just fit in anywhere. You just have to produce on the court."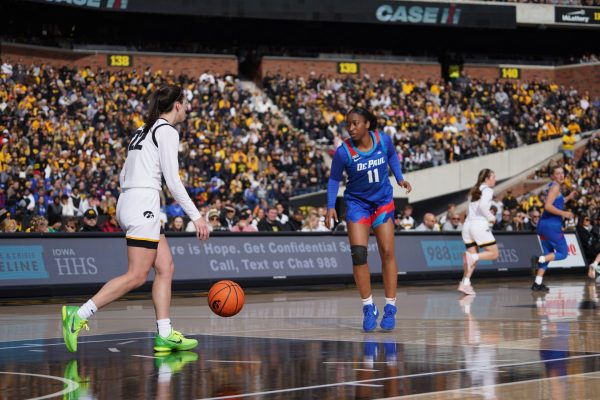 Bruno is excited about what Masikewich and Lee can add to the team.  
"[Lee] was just very competitive … did a great job defensively, is a really special defensive player," Bruno said about watching Lee play before recruiting her. "She was a glue player. Of all the great players on her team, she was a player coach never took off the floor."
Masikewich has been on Bruno's radar for a while. 
"Brynn, we recruited her out of school a long time ago, and then she went to UCLA for four years," Burno said. "We like Brynn's size and potential … She can stretch the floor. So that's what attracted us to Brynn the first time, and now the second time." 
Masikewich dealt with some injuries at UCLA, including an ACL tear. She played her senior season in 2022-23, where the Bruins made it to the Sweet 16 in the NCAA tournament. 
Both Masikewich and Lee have goals to play in the WNBA or overseas. They are also the first DePaul women's basketball players from Canada since Carla Stone, who played with the Blue Demons 1991-95 and now teaches in Skokie, Illinois. 
Masikewich played with Team Canada for three years, including the 2019 World Cup in Thailand, where she played all seven games in the tournament. They finished sixth overall. She was named the BioSteel All-Canadian MVP that year. Masikewich most recently played on Canada's U23 Women's National Team in July 2023 in the GLOBL JAM Gold Medal Game. 
Lee played on the U16 team, where they placed second overall at the 2021 Federation International Basketball Association (FIBA) Americas women's championship in Guanajuato, Mexico. This tournament performance qualified them for the 2022 U17 FIBA World Cup in Debrecen, Hungary. They finished fourth overall. Lee also made the 2022 BioSteel All-Canadian team. 
When reflecting on the moment they made the Team Canada roster, Masikewich and Lee laughed with one another about their experiences. They would sit in their dorm or hotel room and wait for a knock on the door. 
"You walk down this incredibly long hallway, they make it really long," Masikewich said. "You go and you sit down … They're like, 'Brynn, we would love to have you part of the team, you had a great tryout,' … It's the biggest sigh of relief." 
Masikewich said the tryouts are daunting because of the pressure of competing against other top players in the country. 
"When you come back, it's literally like, 'oh my gosh,' and you're calling your parents, 'I made it, I made it,'" Masikewich said, proudly re-living the movement. "Seeing your jersey with Canada across and your last name on the back, that's really like, 'whoa.' … It chokes you up, because I was like, 'wow, all my hard work is paying off.'"  
Lee's experience getting told she made the roster was different than Masikewich's. 
"It's all in a group text," Lee said. "So it's a whole group chat, and they just say, 'Sumer Lee, please come down.' … Then you just go down and you walk in, it's like a bunch of coaches are sitting there. It's just a sigh of relief. … I'm shaking because I don't know what to expect honestly, but then I just came back up. … I called my parents and they said, 'good job Sumer, all your hard work paid off.'" 
Lee spoke about how playing internationally prepared her to have a strong mentality due to the changing amounts of playing time. How many minutes each player sees the court for one game may not be the same for the next.   
"It's an amazing experience playing for your country, representing your country," Lee said. "I'll just say that it taught me how to be mentally tough. … You just got to own up to your role. Make sure you play to your strengths, and just trust yourself on the court."  
Masikewich said there is a difference with national play and it's important to find the team dynamic. She said it's more than just scoring; it's knowing where to fit in. 
"The national team is totally different … because we're all top players coming from the whole nation coming on one team," Masikewich said. "So it's kind of like, 'okay well, I'm used to averaging 20, you as well, how are we going to all work together and be a team.'"
Both Masikewich and Lee agreed it was an experience they will never forget. 
Canada's men's team recently competed in the FIBA World Cup this summer, beating the United States 127-118 in overtime. They walked away with bronze, the first FIBA medal in Team Canada's history.
"Them winning this, the tournament is huge," Masikewich said. "It's exciting, because once you play Team Canada, you're family. Even if you come and go and stuff like that. Everyone knows everyone." 
Bruno addressed the key components Masikewich and Lee will add to the team: defense and height. 
"I think she [Lee] is going to add that defensive grit, that toughness and she's also smart," Bruno said. "She could play more than one guard spot, so I think she also brings some versatility. I think we have a talented team but we're not big. We're big at the guard position … but we're not big in the interior. Brynn Masikewich brings some good interior size that's much needed." 
After two exhibition games over the past few weeks, Bruno and his team prepare for the regular season.
"I'm really excited about the year," Bruno said. "I just think this team has a good chance to surprise some people."