Second provost candidate James Coleman visits DePaul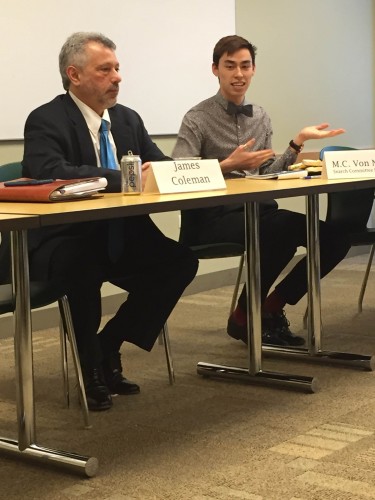 The second provost finalist, James Coleman, visited campus earlier this week highlighting the similarities of his current institution to DePaul and his upbringing as the son of a civil rights leader in his pitch for the position.
Coleman, the current dean of the College of Humanities and Sciences at Virginia Commonwealth University (VCU), familiarized himself with DePaul over a two-day visit including numerous session with faculty, staff and students. Without any previous provost experience overseeing an entire university, Coleman was still able to point to similarities between VCU and DePaul as well as specific examples and accomplishments.
"Seeing the commitment that DePaul has to Chicago is similar to the commitment VCU has to Richmond," Coleman said.
With an interest in DePaul's mission, Coleman pointed to similarities to DePaul with VCU's student body including a high number of commuter students and more than one million hours of community service. However, there are major differences with funding given that VCU is a private school.
In the open campus meeting, some faculty and staff raised questions with Coleman making the leap from a dean position to provost of the university.
"I'm interested in leading an institution and I feel ready to do it now, and there's this question of how long do I have to be at VCU before I've accomplished everything I set out to do?" Coleman said.
With four provosts at DePaul over the past four years, stability is a major concern for many faculty and staff when bringing in an external provost—something that DePaul was not able to find in the last provost search with Donald Pope-Davis who left after six months. However, Coleman has jumped around from position to position, not spending more than five years at any one position or university, which raised some questions about his "complicated" career trajectory and commitment.
He said that in his discussion with DePaul President Rev. Dennis H. Holtschneider, C.M. that he is committed to staying for the long haul.
Before VCU, Coleman served as the Vice Provost for Research at Rice University and the Vice Chancellor for Research at the University of Missouri. With some faculty asking about his views on research, he said there are opportunities to put more of an emphasis on research  given DePaul's urban infrastructure
When Coleman asked questions at the end of the open campus session, he focused much of his time on learning about the moral at the university. The answers were negative to mixed with many pointing out a lack of communication from faculty to administrators, salaries and lack of raises, as well as the high levels of contingent faculty as major issues.
"You'll have to come in and do crisis management and it won't be easy," one staff member said.
Coleman pointed to his transparent leadership style and ability to come in and help change culture, while also admitting that he would "definitely have to learn a lot."
At the final open campus session, one staff member with the final words said, "We're in a lull and need someone who's ready to roll up their sleeves and get to work."
The final two candidates will visit DePaul this week and early next week.
Brenden Moore contributed to this report.