DePaul College of Law discusses broken criminal justice system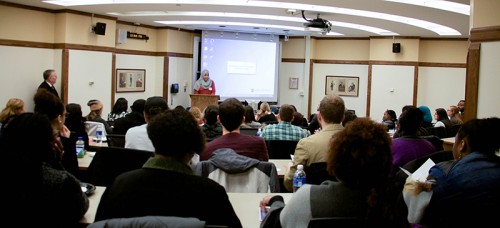 As part of the university's commemoration of Martin Luther King Jr. Day, the College of Law hosted the first of a two-part conversation focusing on the structural failure of the criminal justice system in the U.S. in light of the fatal killings of young African-Americans across the country.
The first part took place Jan. 28 at the Lewis Center, and focused on "the threat to justice in Ferguson." Speakers included Mariame Kaba, executive director of Project NIA; David Whitt, organizer of Copwatch, a group formed after the events of Ferguson and Justin Hansford, an assistant professor at the St. Louis University School of Law.
While the event is held every year, this year saw one of the biggest turnouts with more than 80 participants showing up. And according to the Diversity Committee's Chair, Sumi Cho, they were able to bring some of the most interesting speakers.
The program started by awarding its annual MLK Scholarships, naming Maliha Siddiqui the  winner of the $1,500 scholarship, and declaring a tie for the runner-up place with Adenike Adubifa and Max Schon, who were awarded a $500 scholarship each.
"We do this event to encourage students to think about how the writings of Dr. King relate to the theme we are offering each year," Cho said. "This year another component of the commemoration was that Law School did not hold any classes, and we had two wonderful service opportunities on the Holiday to honor MLK."
Wednesday's event emphasized King's saying, "Injustice anywhere is a threat to injustice everywhere," by relating it to the recent non-indictments of police officers involved in the killings of Michael Brown in Ferguson, Missouri, and Eric Garner in New York City. Those events have brought up different involvements for the three of the speakers in recent movements against criminal injustice. 
"Supposedly we live in a post-racial society, but the reality is that what people are blind to, is the bribing of mass incarceration system," said panel speaker Justin Hansford. "For decades, the law turned a blind eye to this situations. And I joined the protest against them."
Hansford's involvement started when seeing Michael Brown's body on Facebook. He joined the protestors later looking for solutions.
"Every day people are out there, organizing themselves, and just like most movements, it becomes unstoppable."
The biggest mistake that the system has had throughout the years, is that "they make it too hard to find people guilty for using too much force," Hansford said. "The law that allows them using deadly force even with small things, that is a big deal, even though sometimes they do not use it, they are allowed to, they have the option to do it. We need to change that. They should not be allowed to, we need to change the policies."
In the case of Whitt, he was one of the witnesses of  Michael Brown's body on the ground after  Brown was shot by a police officer on Aug. 9.
"Nobody was charged with nothing, and even the whole 'four hour thing,' they were more than four hours. They just left him there so people could see it," Whitt said. "I cannot even describe how it was, all I remember is that he (Brown) was on the ground, and it was like a war cry. A brother and I were standing next to each other and we both had that look that said, this has to stop."
Whitt and a group of friends got the media involved in order to help raise money to put the movement Copwatch in action, which gave body cameras to the people in Ferguson and educating them about their rights.
"In order for you to stand on your rights, you must first know your rights," Whitt said.
Kaba talked about the need to "immediately end police brutality," and the challenge not only relying in the police "but in a larger state of the whole system."
The second part will hold a conversation with Chicago youth activists who are working to end police brutality against youth of color. It will take place Feb. 11. The event is open to those who RSVP to lawevents@depaul.edu