DePaul Street Style: Edition #2
Besides the last few days, the past couple of weeks were unusually warm for late January. Many DePaul students shed their long layers and opted for their not-so-heavy-duty springtime clothes instead.
No matter the season or weather, vintage and thrifted clothes seem to be highly popular among students. Belmont Army, The Brown Elephant in Andersonville and Knee Deep Vintage in Pilsen are all great places to get more fashion bang for your buck.
Name: Kayla Johnson
Year: Freshman
Major: Women's and Gender Studies
Hometown: Chicago, IL
Forever 21 jacket, hand-me-down top, Belmont Army bottoms, Steve Madden Shoes, Forever 21 accessories, Mac lipstick in bronze glitter.
Name: Isaiah Rusk
Major: Acting
Year: Freshman
Hometown: Houston, Texas
Biker jacket, rock tee, Zara pants, Roper boots, Ralph Lauren hat, gold grills
Name: Emma (left) and Sara McCall (right)
Year: Seniors
Major: Philosophy, and Women's and Gender Studies, Creative Writing
Hometown: Chicago
Emma: Max Mara and vintage Dior jacket, Zara top, thrifted Mexican Levis boys jeans.
Sara: London Fog jacket, Nike Cortez shoes, Timex watch, "Patch Up Your Troubles" cross-stich.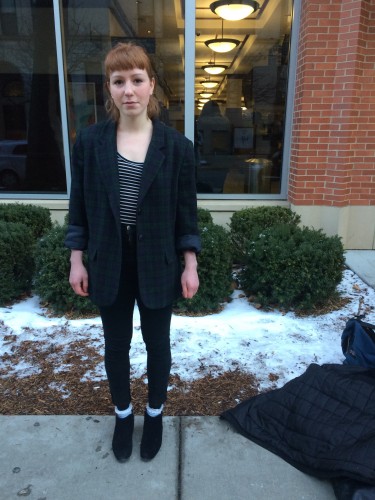 Name: Dana Alsamsam
Year: Sophomore
Major: English
Hometown: Chicago
Vintage jacket, Brandy Melville top, Urban Outfitters bottoms, Steve Madden shoes.