The future of DePaul Divest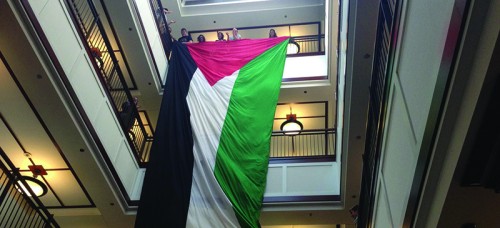 The Lincoln Park Student Center was the venue for a fundraiser last Tuesday on behalf of convicted terrorist Rasmea Odeh, stirring controversy on campus amid recent developments regarding DePaul Divest.
The event, hosted by the Chicago chapter of Students for Justice in Palestine (SJP), raised legal funds for Odeh, who was found guilty last November of concealing her arrest, conviction and imprisonment upon her immigration to the United States.
Odeh concealed that she was convicted on terror charges in Israel for her involvement in a 1969 bombing that killed two Israeli teenagers. She was released in a prisoner exchange in 1979 and immigrated to the United States in 1995.
Despite her confession, SJP disputed the conviction claiming that it was forced after Odeh endured weeks of torture in an Israeli prison.
"Israel released Odeh, so it is absolutely ridiculous to call her a terrorist," Hanna Alshaikh, spokesperson for SJP DePaul said. "Odeh signed a forced confession after enduring rape and torture in an Israeli interrogation center for 25 days. This is a common practice by Israel used against Palestinians. We must look at this situation critically and with empathy."
According to Alshaikh, the night consisted of Odeh's defense committee and legal team speaking about her case, a spoken word, comedy and dance performances. The organization also met their fundraising goal of $5,000.
While being hailed a freedom fighter by some, Odeh's presence on campus was not warmly received by all. Organizations including Students Supporting Israel and DePaul Hillel hosted a vigil remembering the two victims of the 1969 bombing.
"We really wanted to do it to commemorate the victims of Rasmea Odeh's crime in 1969, which resulted in the death of two boys and we really just wanted to honor their memory because of the circumstances on campus," Cameron Erickson, president of Students Supporting Israel at DePaul, said.
Erickson disputed the claims made by Odeh and her defenders, calling them "lies" and saying that there was no doubt that the confession was legitimate.
"For example, they say that it took her 25 days of torture and rape to get her to confess. But that's just preposterous since she actually confessed in Arabic, a written confession, one day after she was arrested," Erickson said.
"And also, there was a monitor from the International (Committee of the) Red Cross that was present at the trial," he said. "And the International Red Cross is not the most pro-Israel organization, and they said that it was a fair trial."
Alshaikh, however, points to a 99.7 percent conviction rate for Palestinians in Israeli military tribunals as evidence that Odeh was not given a fair trial.
"Considering the context of Rasmea Odeh's case, one has a better understanding of why this is a human rights issue, a feminist issue and a Palestinian issue," Alshaikh said. "To paint Odeh as a terrorist is to deny all context of Israeli occupation and is rooted in anti-Arab, anti-Palestinian bigotry."
The stark differences of opinion regarding Odeh's appearance on campus, and her role in the action that put her in her current situation, underscore the differences between supporters of Israel and supporters of Palestine.
On Jan. 30, DePaul's Fair Business Practices Committee dismissed DePaul Divest's case to divest from corporations that do business with the Israeli government and military, whom they argue are responsible for war crimes against Palestinians.
The issue came before the committee after a hotly-contested referendum was passed in support of divest in last May's student government elections.
DePaul Divest rebooted in January as they prepared to take on the issue. They posted videos on social media and shared photos in support of divestment on their Facebook page and held a protest on the Lincoln Park campus last month. What is next for the initiative and its parent organization, SJP, is unclear. According to Alshaikh, the organization will come out with a press release soon.
After the decision, SSI released a statement saying "we applaud the committee's hard work and final decision on this pressing issue. We at SSI are committed to further strengthening ties between the United States and Israel as well as DePaul and Israeli academic intuitions."
Erickson was equally glad that the committee threw out the case.
"I think they made the right call because it shows that they're not even going to give these types of bigoted complaints pushed by SJP the type of legitimacy of even having their case heard," Erickson said.
While the divestment is still the official policy of the DePaul SGA, it is not clear whether the body will take any further action on the issue. And despite the official policy, several pro-Israel SGA senators attended the vigil, according to Erickson.
View Comments (4)