Brain freeze: DePaul students plunge into winter quarter despite seasonal affective disorder
As temperatures drop in Chicago, students take the plunge into winter quarter when seasonal affective disorder is at its height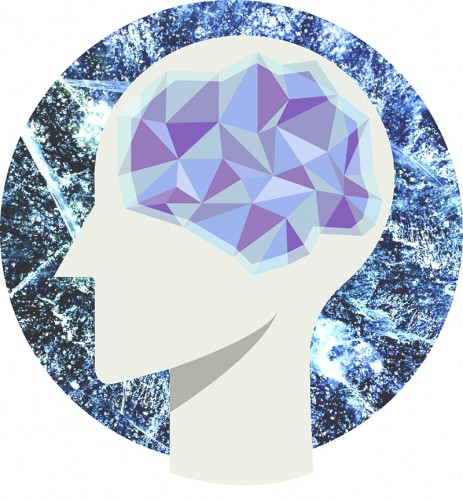 Beyond the stress of college life, there's something in the air that makes students feel down, unmotivated and exhausted. Maybe that something is a 30 mph wind chill.
Chicago's temperatures tanked again last week with temperatures hanging in the 20s and dipping into single digits at night. As the city's fifth largest blizzard disintegrates on street corners, weather forecasters have said that every day this week will be at least ten degrees below historical averages.
Fresh out of the sunny rays of Las Vegas, DePaul sophomore Courtney Quam said she had to make quite an adjustment to Chicago weather last year, especially during winter quarter.
"I had to adjust mentally because there's constantly sun [in Nevada]," Quam said. "Here it's just dark and grey."
When she was feeling down, Quam would Skype her therapist from home, and she encouraged her other native Las Vegas friends to use University Counseling Services.
"I'd feel tired a lot," Quam said. "I'd say 'it's just the weather.'"
Not all students seek out counseling services for the winter blues, but according to the National Institute of Mental Health (NIMH), maybe they should.
According to the NIMH, millions of Americans suffer from seasonal affective disorder (SAD), or what many refer to as seasonal depression.
"In Florida only about 1 percent of the population is likely to suffer from SAD. But in the northernmost parts of the U.S., about 10 percent of people in Alaska may be affected," Dr. Matthew Rudorfer of the National Intitute of Health said in a newsletter.
Rudorfer said SAD is a form of depression and can leave people feeling hopeless, worthless and irritable. People lose interest in their hobbies and spending time with friends. According to NIMH, symptoms include restless agitation, increased appetite, weight gain and reduced energy and motivation.
"Winter quarter is definitely, I would say, the hardest quarter," sophomore Haley Carmichael said.
Carmichael, a theatre management student, lives off-campus. Depending on the weather, it can take her 20 to 25 minutes to get to school.
"Commuting definitely takes much more of a toll on you. Even though I'm not from the suburbs or anything —just waiting for the bus or waiting for the 'L'- it's cold. It kind of dampens your spirits at 9 a.m.," Carmichael said.
University Counseling Services and the Office of Public Relations could not provide a specific number of students that used DePaul's counseling services last year.
When DePaul's campuses closed Feb. 2 for a snow day, instead of going outside, students said they stayed in bed later than usual to sleep and watch Netflix.
"Just because it's midterms, you're stressed out," Carmichael said. "All you want to do is sleep and be in a nice warm bed. I wouldn't say I'm depressed or anything, but there are days when you feel sad and 'bleh.' I think the weather attributes to that."
"I find I have to take classes I'm more interested in in order to feel motivated and follow through with them," Woodruff said.
For recent DePaul graduate Amir Montazery, the wicked weather helps him get schoolwork done.
"Overall I think I do better in winter quarter, academically speaking," Montazery said. "I think it's because you really don't want to go out as much. You want to spend time indoors. You're more inclined to keep up with your school work."
Despite the good work ethic, Montazery said he notices the emotional effects of winter quarter.
"You feel like, a seasonal winter effect. Kind of like the winter blues," Montazery said. "You don't get as much sunlight. Things can affect your mood pretty significantly."
Sophomore Austin Shephard Woodruff also noticed that being indoors had an effect on his mood in the winter.
"It's hard to find time to spend time outside," Woodruff said. "I think it's important to make the effort to get out and about."
Studies have shown that light plays a significant role in treating seasonal affective disorder.
According to the National Institute of Health, the short days in winter seem to be the main trigger for SAD because the reduced sunlight disrupts the body's internal clock. This internal routine is part of a system that cues the body to stay awake, and at night the brain creates the chemical melatonin, which helps the body to fall asleep. Less daylight disrupts this natural pattern and can lead to seasonal depression.
Rudorfer said light therapy hit the main-stage of treatment for seasonal depression in the 1980s.
"Light therapy is meant to replace the missing daylight hours with an artificial substitute," Rudorfer said in a NIH newsletter.
Most students don't stand under a therapeutic lamp, but following a routine keeps some students focused and awake. Working out and staying active with friends helps too.
"I get done with class everyday at 4 p.m. and I like to come [to the Ray] after," Quam said. "It sets a routine for me. I workout and then do homework."
"I usually find that spending time with my friends, even a study session or something [helps]," Carmichael said. In addition to working out every week, Carmichael tries to do something she really enjoys everyday.
"I try to read a chapter of my book every night before I go to bed," Carmichael said. "It's a routine that helps you get through it, but it's also something that you really enjoy."
For Quam, Chicago weather will never compare to the warmth of Las Vegas, which blazed 80 degrees and sunny all weekend.
"This year it's better because I know what's coming," Quam said. "I have the right clothes and shoes and stuff. I'm adapting."