Innovation Awards pay DePaul student scholarships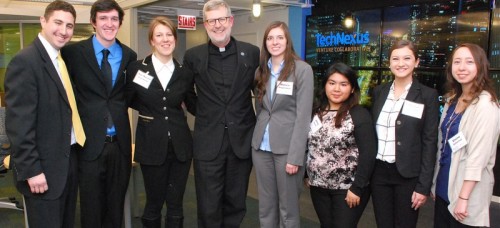 Some entrepreneurs face the fear of putting an idea out there, and that is when having a support system that can open possibilities for ideas to turn into realities becomes essential.
"As an entrepreneur myself, you have a thought that you cannot do it. But there are people who will say, let's see what happens if you do, and those people are still around today," Sandree Kastrul, moderator of the 2015 Student Innovation Awards and President & Co-Founder of I.C. Stars, said during her appearance at Thursday's event.
This year the Center for Creativity and Innovation at DePaul University teamed up with the Coleman Entrepreneurship Center and The Chicago Innovation Foundation for the Student Innovation Awards Scholarship Competition.
The Innovation Awards not only consisted of a $7,500-tuition scholarship budget for the best ideas submitted by DePaul University students, but primarily "to help students develop ideas that can influence change not only in the business marketplace, but also in communities and society," Dr. Lisa Gundry, Director of the Center of Creativity and Innovation, who has been working for this event for the past five years, said.
"We wanted to celebrate the creative talent of our students, to help them find a way not only to dream big, but to describe their vision for an idea, and commit it to paper. And one of the ways we do that is to showcase some of their ideas and innovations at this annual event," Gundry said.
According to the Center for Creativity and Innovation, about 80 nominations across colleges at DePaul University were submitted this year. Only seven of these ideas could be placed in the winner categories, and were chosen by a panel of 14 judges, formed by leaders in innovation and entrepreneurship, external to the university.
Ideas from public safety, arts entrepreneurship, technical training and healthcare were submitted this year.
Personal experience and concerns about safety on and around train tracks, led DePaul finance and management undergraduate student Monica Grygorowiz to come up with "Safe Crosser," a technology that would silence phones, or iPad systems when citizens using headphones with these devices get close to a rail road.
A problem that Grygorowiz has been facing for the past year while commuting to school from the suburbs is that the Metra is often delayed for unknown reasons.
"Later, I found out that the train had hit a pedestrian, and unfortunately killed them. In all of the newspaper stories, all the witnesses could really say was that they don't know why the person was on the train tracks when the train was coming, but they knew they were wearing headphones," Grygorowiz said.
"I think that they were very oblivious to their surroundings. And even though you have all the safety features like the physical barrier going down, the whistles, the bells, the train honking, I think that those people were unaware," she said.
The main goal of the Safe Crosser "is to save lives," Grygorowiz said, whose idea was awarded a $2,000 scholarship along with the Gold Title this past Thursday.
Saving lives presented a main concern this year as it seems, and it wasn't less important to marketing undergraduate student Khoa Nguyen, the creator behind the Silver Awarded idea, "HealthPrentice."
Nguyen perceived a particular problem with medical diagnosis in the health industry.
"Doctors are miss-diagnosing their patients at around 5 percent annually in the U.S., and this leads to a lot preventable deaths," he said.
"I know that for the future, machine learning and big data could be used to solve a lot of problems, and I'm passionate about them," Nguyen said.
"(HealthPrentice) consists of a clinical decision support system that utilizes electronic health records combined with machine learning algorithms to empower physicians to better diagnose their patients," Nyugen said.
How would it work?
"By deriving and mixing electronic health records and building a predictive ensemble model on it," Nguyen said.
Nyugen said itt has not been an easy path to create such a project. Some tasks include terminology and understanding how machine learning and algorithms work.
"Luckily, my (data mining) minor has helped me to understand the concept," Nyugen said.
His greatest concern is "to make something unique, something that will help people. In this case, potentially saving money and saving lives, but for my life I just want to build something that people enjoy," he said.
This was not a first award for Nyugen. Thanks to his entrepreneurial skills and the efforts of the team he worked with on the "hashtagr.co" project, they were awarded the Microsoft Imagine Cup National Title in Innovation back in 2014.
Arts innovation was also taken into account this year. This was the case for DePaul entrepreneurship student Elaine Ackerman's idea based on an online self-publishing platform for short stories called "Pulp Paper."
"The only way to get published nowadays is to write a huge novel, or three novels," Ackerman said. "There really is not a great way to get published if you only write short stories. So I wanted to basically make that an option for people."
Other awarded participants, including graduate student Sue Nicole Susenburger and her ongoing project "Horse Pilates," pitched many more ideas at Thursday's event. It consists of a technical concept combined with a marketing strategy to test different types of campaigns all the way from Internet to art.