DePaul Whole Foods now open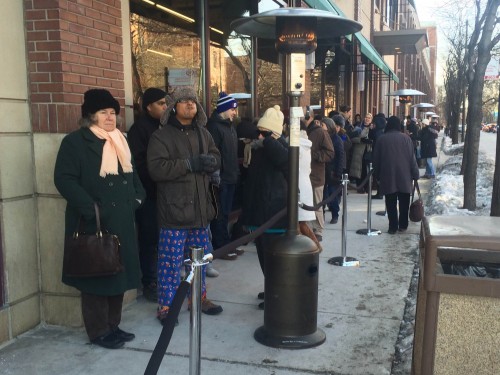 Despite cold temperatures, more than 50 people lined up along Sheffield Avenue this morning waiting for the Whole Foods DePaul location to officially open. With space heaters lining the sidewalk, guests waited to be some of the first customers in the highly-anticipated store that sat empty for more than a year after Dominick's closed at the end of 2013.
In the mix of students and Lincoln Park residents waiting in line, DePaul student Rachel Batshon arrived around 7:45 a.m. anxiously awaiting for the store to open.
"I live on campus, so the convenience of the store is really most important," Batshon said. "I like the hot and salad bars the most too, it's really good to grab food quickly."
The first person in line said he arrived around 6:45 a.m. The first 500 shoppers in the store received a gift card between $5 and $50, as well as one special $500 gift card. Just before 9 a.m., store employees and shoppers gathered for a traditional Whole Foods bread breaking ceremony to open the store.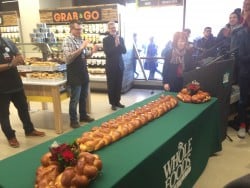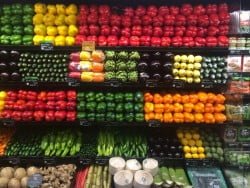 The store highlighted their core values, especially their commitment to the community. DePaul President Rev. Dennis H. Holtschneider, C.M. and 43rd Ward Alderman Michele Smith were both there to welcome Whole Foods to the DePaul and Lincoln Park community.
"I think one of the reason we're so thrilled that Whole Foods chose to take this space is that Whole Foods has the real sense to values," Holtschneider said. "And it matches DePaul, because DePaul has these amazing values to help make a difference in the world too."
Alderman Michele Smith — who wasn't able to secure a majority in last night's election to avoid a runoff — welcomed the "much-needed amenity" to the Lincoln Park neighborhood.
DePaul student Rose Montag, who lives in Lakeview, came to the store opening for the gift cards but also did some shopping.
"I missed the grab and go options since the store is right off of the train," Montag said. "Some students have talked about how Whole Foods is really expensive, but I think it's worth it." Montag said she lives closest to a Jewel and does her shopping there or at Trader Joes. But with the Whole Foods open, it's she agreed that it's a convenient option being right off of the Fullerton 'L' stop.
This is the second Whole Foods location to open in Chicago since Dominick's closed all of their stores in Chicago in late 2013. The Whole Foods in Streeterville opened Jan. 28 and locations in the West Loop and Edgewater will open in March and April, respectively.
Whole Foods DePaul is located at 959 W. Fullerton Ave. and will be open daily from 8 a.m. to 10 p.m. For more details on what's inside the store, read our preview here.