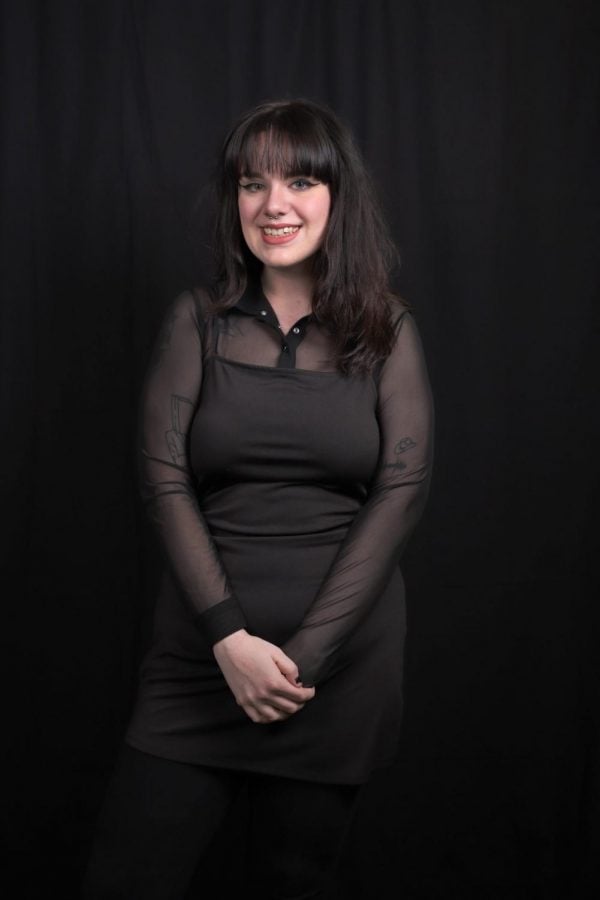 Cailey Gleeson is the News Editor for The DePaulia and an undergraduate studying journalism and psychology. Her second home is Philz Coffee, where you can find her working on articles at least three days out of the week, and she loves The 1975 more than anything.
Contact information:
Email her at news@depauliaonline.com. Follow her on twitter @notlanadelrey__.
Cailey Gleeson, News Editor
Aug 05, 2020

DePaul students criticize reportedly racist culture within College of Communication, university

(Story)

Jul 24, 2020

University announces Clifton-Fullerton Hall to be renamed Ozanam Hall

(Story)

Jul 20, 2020

DePaul announces student options following Chicago's Emergency Travel Order

(Story)

Jul 01, 2020

DePaul appoints new Board of Trustees chair, vice chair

(Story)

Jun 15, 2020

DePaul to offer on-campus, online courses for fall

(Story)

Jun 10, 2020

Coalition for Racial Justice forms in light of Calvente tenure denial

(Story)

Jun 08, 2020

Timeline of Lisa Calvente's career at DePaul

(Story)

Jun 08, 2020

DePaul professor claims broken rules, discrimination led to denial of tenure

(Story)

May 29, 2020

Killing of George Floyd ignites nationwide unrest

(Story)

May 29, 2020

Victim of police brutality misnamed in message from DePaul president about remembering black lives lost

(Story)

May 24, 2020

REVIEW: The 1975 experiment with new sounds on "Notes On A Conditional Form"

(Story)

May 03, 2020

42 niños inmigrantes dan positivo al COVID-19 en centros de detención de Heartland

(Story)

May 02, 2020

42 immigrant children test positive for COVID-19 at Heartland detention centers

(Story)

Apr 20, 2020

Experts say COVID-19 might upend 2020 election

(Story)

Apr 19, 2020

COVID-19 cancels blood drives across nation, raises concerns over shortages

(Story)

Mar 16, 2020

COLUMN: Stop saying 'only' the elderly and immunocompromised

(Story)

Mar 12, 2020

DePaul students share concerns about switch to online learning

(Story)

Mar 08, 2020

Immigrant children being detained across Chicago

(Story)

Mar 08, 2020

Super Tuesday narrows Democratic presidential race

(Story)

Feb 23, 2020

Here's what to expect this year at Lollapalooza

(Story)

Feb 23, 2020

Proposed $18 billion opioid settlement falls short

(Story)

Feb 23, 2020

Loop crime escalates

(Story)

Feb 17, 2020

Shooting at Jackson Red Line stop kills one, injures two

(Story)

Feb 13, 2020

Impeachment trial ends with acquittal for Trump

(Story)

Feb 09, 2020

Britain's future uncertain following Brexit Day

(Story)

Feb 03, 2020

Obsession with 'You' lead character echoes viewers' toxic behavior

(Story)

Feb 03, 2020

The 1975 focuses on climate change activism in upcoming shows

(Story)

Feb 03, 2020

Impeachment trial week in review Jan. 27 – Feb. 2

(Story)

Jan 26, 2020

Impeachment week in review

(Story)

Jan 20, 2020

Judge temporarily overrules Texas refugee ban

(Story)

Jan 19, 2020

Impeachment inquiry week in review Jan. 13 – Jan. 19

(Story)

Jan 12, 2020

Tensions spike between US, Iran following Soleimani's assassination

(Story)

Jan 12, 2020

Impeachment inquiry week in review

(Story)

Jan 12, 2020

Roaring into the '20s

(Story)

Dec 15, 2019

The 1975 captivates audience at pair of Midwest shows

(Story)

Oct 28, 2019

What's Fresh: Haunted

(Story)

Oct 28, 2019

Local ghost tour explores city's haunted sites

(Story)

Oct 21, 2019

Purdue Pharma settlements a window into U.S. opioid crisis

(Story)

Oct 07, 2019

Chicago's haunted history reaches both campuses

(Story)

Sep 30, 2019

St. Vincent's DeJamz

(Story)

Sep 30, 2019

Young people take center stage at UN climate summit

(Story)

Sep 23, 2019

Vaping illnesses, deaths reported nationwide

(Story)

Sep 23, 2019

Twin Peaks mature with 'Lookout Low'

(Story)

Sep 16, 2019

Slaughter Beach, Dog show transported audience into coming-of-age movie

(Story)

Sep 16, 2019

Beating the back-to-school blues

(Story)

May 13, 2019

The 1975 make waves with return to Midwest

(Story)

Apr 29, 2019

Smaller acts to look for at Lolla

(Story)

Apr 22, 2019

Take Back the Night extends support to sexual violence survivors, highlights institutional shortcomings

(Story)

Apr 08, 2019

Bases-loaded jam leads to nine-year relationship for DePaul duo

(Story)

Mar 04, 2019

Gender inequality in local music scene highlighted by recent abuse allegations

(Story)

Feb 11, 2019

Archdiocese of Chicago examines sex abuse policies following Attorney General's investigation

(Story)

Jan 22, 2019

Femifest gears up for fifth anniversary

(Story)

Jan 14, 2019

New Year, New Music

(Story)

Dec 03, 2018

The 1975 exceed all expectations with new album

(Story)

Sep 10, 2018

5 Seconds of Summer rock the Aragon

(Story)

Jun 23, 2018

Destroy Boys, Sons of an Illustrious Father rock Schubas

(Story)

May 29, 2018

Steffan Argus, Shane get groovy at the Subterranean

(Story)

May 14, 2018

Arctic Monkeys reinvent themselves

(Story)

May 14, 2018

Loma, Jess Williamson take over Schubas

(Story)

May 07, 2018

Five acts that will break out post-Lolla

(Story)

Apr 23, 2018

Post Animal's debut is psychedelic rock masterpiece

(Story)

Apr 02, 2018

The Band CAMINO, Night Game rock Subterranean

(Story)

Mar 05, 2018

"The Walking Dead" episode 9: "Honor" recap

(Story)

Feb 19, 2018

2018 Lollapalooza predictions

(Story)

Nov 13, 2017

The Walking Dead episode 3: "Monsters" recap

(Story)

Nov 06, 2017

The Walking Dead episode 2: "The Damned" recap

(Story)