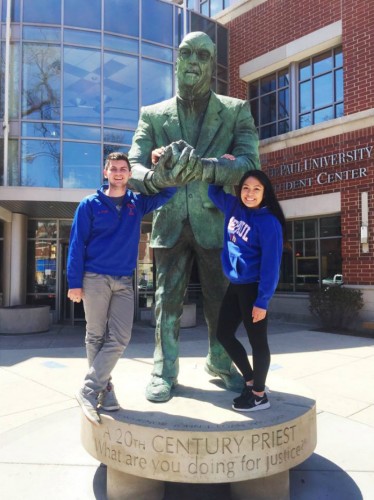 Last week, the DePaulia sat down with Student Government Association President Vanessa Cadavillo and Vice President Ric Popp. Topics ranged from the organization's major initiatives for the year to student safety to Dean Gerald Koocher.
The DePaulia: Just to start off, describe Student Governement Association (SGA).
Vanessa Cadavillo: SGA is the official student representative for the over 24,000 students we have here at DePaul. What's pretty unique about this organization is the fact that we're part of the shared government structure. We're involved in various conversations in committees, task forces and boards within the university. So whether it's tuition and pricing or strategic resource allocation committee to Blue Demon Week planning, we're all involved in various projects within the university. So I think that's very unique to our organization. We work very closely with faculty and staff, administration, but also students, to ensure that everyone is having the best experience here at DePaul.
DP: What are your top three initiatives for this year?
VC: It's hard to narrow all of them down, but after talking about it a little bit, we are going to highlight educational affordability, inclusivity and collaboration and also the Vincentian identity.
Ric Popp: I can touch on a little bit of educational affordability. So it's really important to recognize that educational affordability is a multi-faceted concept. It's not just the price of tuition for going to DePaul, but it's also the price of textbooks and making students aware of the resources that exist, such as scholarships and grants. Over the years, we've advocated highly for the MAP campaign, which we encourage students to let their legislators know that, 'hey, MAP is important to our college experience and without MAP, I might not be able to go here.'
One out of 10 students that go here depend on the MAP grant for their tuition — and that's over 5,000 students. So not only working with the administration at DePaul, but with other colleges and universities across the state, we hope to say a bigger issue than this is not just a DePaul issue, this is a statewide issue that needs to be fixed.
VC: Inclusivity and collaboration was an extremely important initiative that we talked about during the elections, but really honed in on over the summer. So one of the things we work closely with our EVP of Student Affairs, Patrick Pfohl, is the creation of student leader roundtables. As that was my position this past year, I found it very effective in creating candid conversations with student organizations, but we wanted to expand our relationships with student organizations on campus. We've had great relationships with the DePaul Activities Board, DemonThon, Captians Council, but we wanted to expand our horizons and reach out to organizations such as Black Student Union, Multicultural Greek Council, The Theatre School Student Government and Music Student Association. But those are just the limited few.
We found it to be very effective not only for us — to find out what's going on within their organization, to hear their perspective, to listen to their concerns — but also to better represent their voice when we're in these different committees and task forces, to better represent the student voice. But also for those organizations to learn what SGA is doing for them and how we can support them in the coming year. So we're looking very forward to these student leader round tables which we hope to have twice a quarter, hopefully once at the beginning and once at the end so we can touch base on what's going to happen in the upcoming quarter, and then touch back on what worked, what didn't work and how we can move forward in the upcoming year to create those strong relationships, to do sponsorships, whether it's athletics or inviting a keynote speaker. But we're really looking forward to enhancing our relationships with student organizations this upcoming year.
The last one is Vincentian identity. This one is very important to me. I took the class last year, Life and Times of St. Vincent DePaul. It always mind-boggled me that students can be here for four years, five, six years and even faculty and staff members can be here for many years after that, but not really understand the Vincentian Mission. So this summer we collaborated with the Office of Mission and Values, DePaul Activities Board and a couple of other student organizations to create the first ever Vinny Fest, which we hope to continue as a tradition each year to invite students, faculty and staff, and even some of the administration, to engage themselves in the Vincentian MIssion. And not so much to engage themselves in that serious conversation, but if they have no idea what the Vincentian Mission is, to get that knowledge, to get that trivia, to get those facts. So that moving forward, they have an appreciation for the values that our university was founded on.

DP: You mentioned the revamping of your website. Will that include the meeting minutes and voting records?
VC: Right now we are currently working on a system that makes everyone in the organization feel comfortable. I feel like we need to have that so we have a productive working environment for student government in the upcoming year. Our hope is to have announcements available but in a more effective or efficient way on our website. To have our agenda available, so that students can be able to read on what events we were talking about, what types of subjects we were talking about, and summarize what we were talking about in the meeting for each of the agenda items.
In terms of voting, I think we're going to leave it up to everyone and their comfort, regarding the subject we're either voting on or discussing on whether it's going to be an open or closed vote. I think it's important to keep in mind that everyone has different comfort levels, and keeping that in mind for the upcoming year so that everyone feels comfortable.
We work very closely with faculty and staff, administration, but also students, to ensure that everyone is having the best experience here at DePaul.

Vanessa Cadavillo, SGA president
DP: There has been three sexual assaults in the past few weeks around DePaul's campus. While this is more of an issue for Chicago Police and Public Safety, I just wanted to hear what kind of initiatives you had regarding student health, wellness and safety.
RP: The Take Care DePaul campaign is very important to that, because the main message of that is to not only take care of yourself, but to take care of others. And so promoting events through Take Care DePaul as well as bystander intervention training, so students are aware of the steps they can take to make themselves safe on campus whether they're walking from the residence hall to the Ray late at night or whether they're walking from the library to the train. Steps like that, as well as promoting Ray events to stay healthy and active, so if you're in danger you have a healthy way out.
VC: In addition, student government and several organizations were chosen as pilot groups to test out the Haven Module, which will now be implemented to all incoming first year students and transfer students. The haven module includes sexual assault, drug and alcohol substance abuse and bystander intervention. So that being new this upcoming year, we'd love to see how it impacts students and how they connect that to Take Care DePaul, so that when they're out, and perhaps their out having a social event, they can watch out for each other and know what to do in those different circumstances and situations. So I'm really looking forward to seeing how that rolls out in the upcoming fall quarter.
DP: Recently, The DePaulia has done a series of stories on Dean Gerald Koocher of the College of Health and Sciences regarding his implication in a torture report. I was wondering if you guys were following these developments and if you have any thoughts on it?
VC: I can honestly say that I don't have all the accurate information regarding that. The document is over 200 pages long, but there is a summary report that is about 75 pages and I am working my way through that. But what's important is to look at the last five to 10 pages where they summarize the entire report. But I'm fully aware that I don't know all the accurate information. The best thing I can do and the best thing we can do as student government leaders is to read the entire report and come to a conclusion and read the summary. So that's what we've been trying to do this summer.
DP: Once you guys are done with that, do you think that there could be some type of action taken by SGA in terms of a resolution or something like that?
VC: I think it's too soon to tell because I don't have all the information. So I think moving forward, we will just have to see and once we finish up the summary, we will have to move forward from there.
DP: (Speaking to Vanessa) You're on the search committee for Executive Vice President. What are your thoughts on the (two) candidates named?
VC:  I think they are both very well qualified for the position. I think that Jeff (Bethke) and Miroslava (Mejia Krug) are exceptional candidates for the EVP position. I encourage everybody, there's open campus sessions Sept. 10 and Sept. 14 around 3:30 to 5 p.m. And those are opportunities for students, faculty and staff, members of the DePaul community to come and see the two candidates that we do have and I think you'll be very pleased with their qualifications and their visions for DePaul in the position.
DP: Anything you would like to add for the record?
V: We are very excited for the upcoming school year. We look forward to our collaborations with you all, with organizations on campus, and departments, so we're looking to have a really good year.