DePaul advocates, SGA call on legislators to fund higher education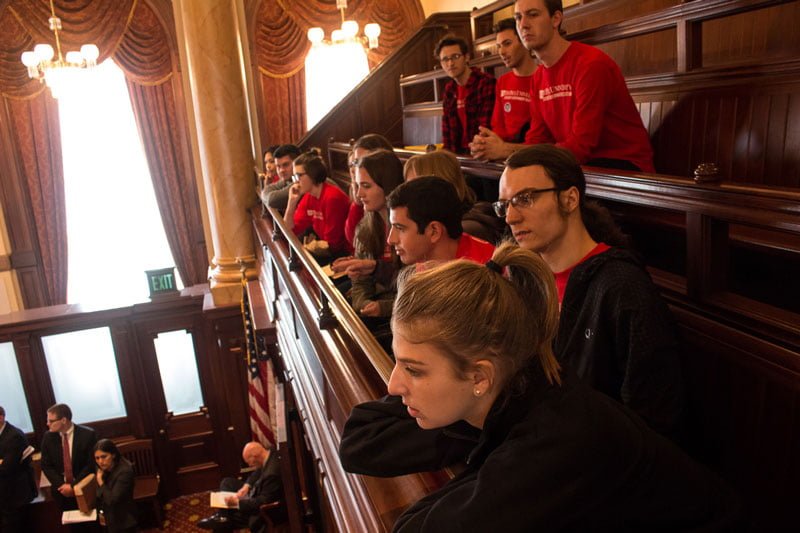 Last week, members of the Student Government Association (SGA) visited Springfield to deliver personalized postcards advocating for Monetary Award Program (MAP) funding. The grant, which provides aid to low-income students across the state, has not been funded this year due to the state's budget impasse.
After months of preparation, 18 DePaul students delivered more than 3,000 signed postcards from student, staff and faculty members for state senators and representatives. Five-hundred postcards were delivered to the office of Gov. Bruce Rauner.
Led by SGA president Vanessa Cadavillo and vice president Richard Popp, students were divided to lobby and deliver the postcards.
"Lobbying is meant as a tool," Cadvillo said. "Often we think that social media is the way that we get our point across, but with lobbying being there talking to our representatives and senators that person to person contact makes a difference."
For many students, this was their first experience lobbying. Surrounded by other interest groups and visiting sessions from both the Senate and House, DePaul students saw a glimpse into the efforts behind legislation.
Sophomore sociology student Samuel Peiffer agrees with what lobbying aims to accomplish, but doesn't see it changing Rauner's mind on funding the MAP grant.
"These lobbying effects aren't going to change Bruce Rauner's mind in terms of what's he's doing with the states budget with his cuts that are geared toward education and public serves," Peiffer said.
"But I do think that what were doing is most significant bring people with politic concerns together," Peiffer said. "That's where real change happens. It's holding our representatives accountable for what they are doing there's multiple ways to do that, but I think lobbying is one of them wither or not you agree whether it's effective or ineffective."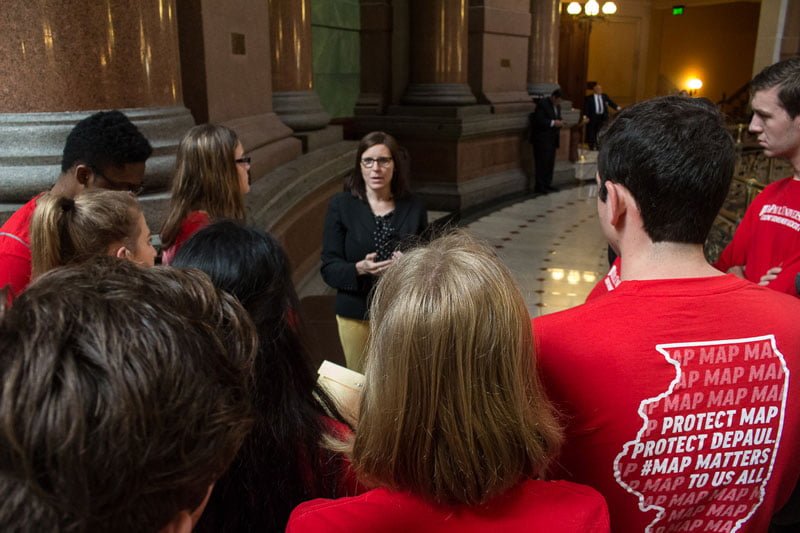 For those who could not travel to Springfield, other efforts were made to show support, such as signing postcards and promoting the hashtag #MAPMatters. This year, those who signed postcards had an opportunity to tell their own story in a specific box.
"We saw so many people not just fill in the box, but also write around the corner (of the postcard) or staple on another piece of paper because it was that important to them that this type of funding continued," SGA President Vanessa Cadavillo said. "I hope that messaging relays back to our legislators in Springfield."
Other colleges and universities also visited the state capitol the same day as DePaul. Colleges like Illinois State, Roosevelt University and St. Augustine Chicago all had students visiting their state representatives last week.
Throughout the trip, many state officials, people at the capital and alumni stopped DePaul students to praise their efforts.
Eight months into the fiscal year, Illinois still doesn't have a budget, leaving many colleges and universities to deal with staff layoffs and uncertain plans for the future. DePaul President Rev. Dennis Holtschneider, C.M., said DePaul would honor MAP through the next academic year for incoming students.
More than 5,000 DePaul students rely on the MAP grant. DePaul's MAP recipients are larger than any other private university in the state.
It was the needs of those students that made the trip worthwhile for Cadavillo.
"As we were organizing and planning our trip, we were able to hear from single mothers, veterans, low-income students," she said. "We just saw a bunch of different students who all relied on the MAP grant, and even students who didn't receive the MAP grant realized that it was so important."