Lollapalooza Sunday recap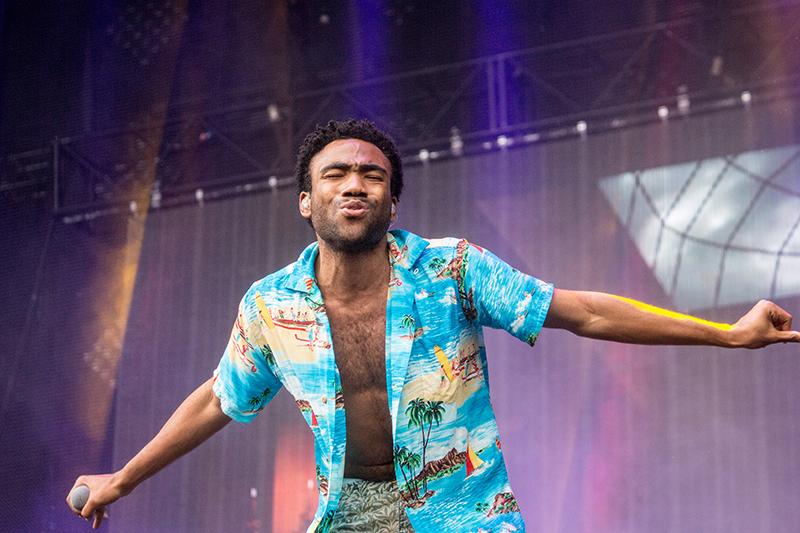 Noticeably sleeper fans accompanied me on the 'L' early Sunday afternoon as dark clouds threatened in the distance. Arriving downtown, the downpour had already begun. The sudden and sporadic summer showers would continue all day, making for a muddy afternoon in Grant Park. It would not be Lollapalooza weekend without at least one rainy day.
Though many took shelter under the few canopies and trees about the park, Bleachers drew a large audience. The group, headed by Jack Antonoff also of the pop group Fun., had just released their debut album weeks earlier, but their series of hyped singles and Antonoff's namesake have helped to shuttle their popularity.
"Did anyone grow up in the 90s?" he asked the crowd before covering "Dreams" by The Cranberries. The 1993 track did not resonate with Bleachers' young demographic.
The collaborative project of Killer Mike and El-P, Run The Jewels took to the Palladia shell just as the rain began to trickle again. Last year's self titled album was widely acclaimed, and I had overheard in the press tent earlier that "Run the Jewels 2" is almost complete.
"Thank you for turning this fun project of ours into a bona fide rap group," said El-P midway through the set. Though engaged, the crowd was tame for a hip hop show, but the duo seemed grateful to be performing. Before ending a few minutes early, they performed "Blockbuster Night," which had been debuted the previous evening at their aftershow.
I walked past highly buzzed artists The 1975 and, later, Betty Who in the early evening. The 1975 outwardly appear like a more mature One Direction, and sonically, like a shiny and whining emo-tinged pop group. Betty Who jumped around the stage in an emotive manner reminiscent of Kim from Matt & Kim while musing about heartbreak in a cutesy tone. She noted that the sun was coming out, but the grey sky overhead certainly did not suggest it.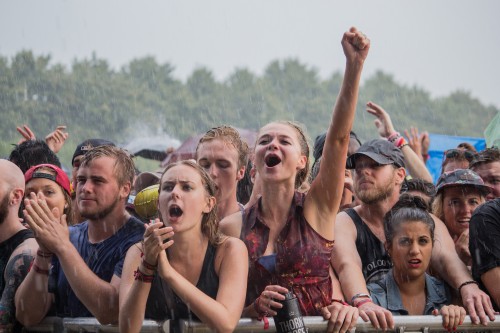 By 6 p.m. the rain was at its worst. Some sheltered, others splashed, danced and took to primal screaming. I shared my umbrella with some sopping wet attendees to watch others belly flop and skid on a slip n' slide. Lollapalooza was embracing it.
In some angelic coincidence, the clouds broke just as Childish Gambino began. Accompanied by a full backing band, flames plumed behind Donald Glover on stage. His acting background is apparent, commanding the audience with his genuine emotive eyes and expressions.
Glover missed the obvious opportunity to bring out featured vocalist Chance the Rapper on "Because the Internet" cut "The Worst Guys", instead opting to play the prerecording backing track. Perhaps their sets timed too closely together, but it was a gaping misstep.
Chance the Rapper performed last year's Lollapalooza at the BMI stage, cramped into its tiny grove. This year, the so-called hometown hero was treated to a headlining slot, but because Skrillex and Kings of Leon commanded the main stages, Chance was left with Perry's.
Mudcaked teenagers emerged from the depths of the crowd, and the baseball diamond had turned into a mix of standing water and sticky grime that sucked in feet like quicksand.
"Wait, Skrillex isn't playing here?" one girl asked her friends as they skidded to the back.
Lollapalooza organizers should have known better. Perry's Stage does not have a monitor, but a warped screen dedicated to lightshows. Occasionally a live feed was projected, though the screen's curvature gave the video a fisheye effect. The mix near the far stage left fence was too soft; in back, Skrillex's pounding bass occasionally seeped in.
Chance the Rapper was backed with a horn section and live band, a welcome addition that provided extra color to his live show. But his performance was weak, resorting to urgently yelling his verses on occasion instead of utilizing his distinct and laid back nasally tone. "Favorite Song" was not recognizable until the hook. He performed the theme from Arthur — which was probably his strongest track of the night — but at this point, the gimmick is old, and the cover has already been recorded and released.
Chance had a major opportunity to both prove himself as large-scale festival headliner and rouse his hometown fans, but a combination of poor planning and execution rendered it a flop. I left to see Darkside before R. Kelly was brought to perform "Ignition (Remix)," but I doubt his guest appearance could have saved the show.
Hidden inside the shady Grove stage, producer Nicolas Jaar and Dave Herrington were shrouded in hazy smoke that lingered across the crowd. The lighting behind them rendered them silhouettes as they slowly constructed their enormous downtempo dance tracks.
This year, Lollapalooza proved itself to not only be a pop festival, but a festival that can get away with a lackluster lineup at exorbitant rates. This is not simply a matter of personal taste: Pitchfork, North Coast, and Riot Fest have all creatively curated their festival to suit their target demographic. The other large scale festivals — Coachella, Bonnaroo, and Austin City Limits— booked a diverse lineup of undercards in addition to headliners such as Arcade Fire, Elton John, Kanye West and Pearl Jam.
As made evident by disinterested fans, Lollapalooza was more of a weekend outing than a showcase of music.
View Comments (1)