Professor formerly under fire for use of 'N-word' in teaching exercise back at DePaul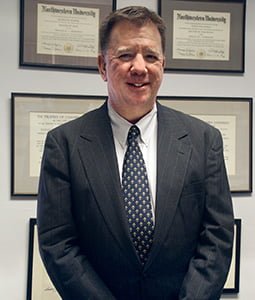 DePaul Professor Donald Hermann, who came under fire in 2018 for repeated use of the N-word in what he called a teaching exercise, has returned to the university. He is now teaching courses on law and popular culture, the legality of AIDS, the legality of medical ethics and sexuality, according to his staff biography.
The university confirmed his return, but declined to comment further, citing personnel matters. Hermann could not be reached for comment. 
Hermann was heavily criticized after using the N-word repeatedly in class to explain the limits of a self defense claim, The DePaulia previously reported. He posed a hypothetical situation: A man shouts the N-word toward a group of people attending a civil rights leader's funeral, and the funeral party comes after him. The agitator pulls out a gun and shoots them, saying he feared for his life.
After students asked Hermann to refrain from further use of the word in class and he refused, his class enrollment dropped from roughly 80 people to around 20, as previously reported by The DePaulia.
His class was then cancelled March 15 by the dean's office, who said the cancellation was in the "best interest of the students." The dean of the College of Law, Jennifer Rosato Perea, declined to comment for this story, forwarding our request to DePaul spokeswoman Carol Hughes. 
R.J. Foster, a second-year law student, said that he felt the professor's use of the N-word was inappropriate. He explained that while racist terms are often used by lawyers in court, he felt that Hermann's use was unjustified, using the current case against rapper 6ix9ine to explain his point.
"I was actually just reading [6ix9ine]'s testimony yesterday, and he used [the n-word], and it was like, yeah, duh — that's a given," Foster said. "But you don't expect to hear it from your random professor. We only make up 3 percent of the legal field, so we're already outnumbered in this field. Imagine being in a classroom where you're one of three or four other black people and you hear your professor blatantly, disrespectfully use that word."
But Foster said that despite the fact that he wished Hermann would not be invited back to the university, he wasn't surprised by his return. 
"I feel like it's just another case where in that moment it may seem like he's going through hell, like his life is over, but they always come back," he said. "And that's no knock to the administration — I really like the administration — but I really wish he wasn't teaching at DePaul again."
Other students said they felt like he should have never left in the first place.
A student who took Hermann's course, Law 506: Criminal Law, with Hermann said they felt that he was not treated fairly when his class was canceled halfway through the quarter. They asked to remain anonymous for fear of social and academic retribution from their peers and professors.
"Whether some students felt he was being insensitive or exercising poor judgment is irrelevant," they said. "Law professors use uncomfortable hypothetical situations often and a professor shouldn't need to sanitize it for fear of losing his job or the administration canceling the class."
Some felt that the university should have been more direct with the law students about what was going on, regardless of whether Hermann was in the right or wrong. Many said that they had not heard anything from DePaul regarding Hermann's class cancellation or resumption after the initial email letting students know about the situation.
"Whether they may have handled the investigation and things related to the incident well or not, I think they did a poor job of communicating the process to the students," said Dominick Ranallo, president of DePaul's Justinian Society.
Foster said he hoped that the university would not have invited Hermann back without good reason.
"The people that were in the class, they're still there— they're in their third year now," Foster said. "I wouldn't like to think that DePaul would just disregard, invalidate their feelings by being like, that was so far, so long ago."
Editor's Note: This article was updated Sept. 23 to clarify that Hermann was never fired from the university; he only placed on academic leave and had his class cancelled.