SGA discusses new appointing vice president, budget at first meeting of the year
DePaul's Student Government Association (SGA) held its first general body meeting of the academic year Thursday, Sept. 10 discussing a variety of topics including the appointment of a new vice president and the budget for the 2020-2021 school year.
SGA passed a resolution to modify its organizational structures for the remainder of remote learning. The resolution allows SGA to adapt its rules and procedural standards due to the COVID-19 pandemic. This includes conducting SGA's general body meetings through Zoom at the regularly scheduled time, waving service and event requirements for SGA members and "advertising" SGA's Zoom link to allow students to join general body meetings virtually and recording the meetings to post them online. Read the resolution here. 
SGA discussed appointing a new vice president after Alyssa Isberto, the former SGA vice president, assumed the presidency following the resignation of former SGA President Giselle Cervantes. SGA is considering several candidates for the position, but the group tabled the decision to appoint a new vice president until the next week's meeting. 
SGA confirmed several of its members to their positions. Those confirmed include Misael Alejandre as SGA's chief of staff, Kelsee Avery as executive secretary, Arantxa Reyes as PR coordinator and Jaslynn Hodges as community engagement coordinator. Jane Pallos' confirmation for her position as elections coordinator will be postponed until SGA appoints a vice president. 
SGA passed its proposed budget of $16,048 for this academic year. The budget includes funding for the following items:
Promotional materials: $1,604.80

Supplies: $802.40

Service Day Event Fund: $1,604.80

Internal Affairs: $4,012

Committee Funds: $8,024 ($2,006 each for Operations, Student Affairs, Academic Affairs, and Diversity and Equity)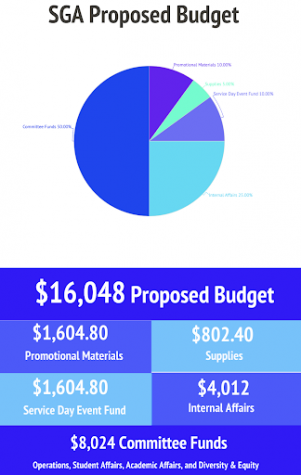 SGA held the second session of its Civic Engagement and Social Action Series Tuesday evening through Facebook Live. SGA President Alyssa Isberto and SGA's Community Engagement Coordinator Jaslynn Hodges interviewed Sarah Zavislan, a DePaul alum who works for the Congressional Budget Office, about her time at DePaul, her career and ways student can get involved in civic engagement and social action. 
When she started at DePaul, Zavislan said she did not know what she was interested in studying as she entered as a pre-med major and ultimately changed her mind. Zavislan said she was interested in the policy aspect of health and medicine and curious about the functions of government. Growing up in San Diego, California she was exposed to medical industries and said coming to Chicago introduced her to the idea of working in government.
"It really wasn't until I got to Chicago that I even thought about what it would look like to work in government and to be much more civically engaged than I kind of was exposed to as a kid," Zavislan said.
As a student at DePaul, Zavislan spent most of her time interning for campaigns and working for government offices in Chicago.
"I got a lot of different experiences that were helpful to kind of learning the different sides of government," Zavislan said.  
 Zavislan was also a part of SGA her sophomore, junior and senior years, serving as SGA vice president from 2013 to 2014. Zavislan said her time in SGA helped her develop skills that helped her in her career.   
 "I think that in SGA, you learn how to work with people you don't necessarily agree with and also people who have a lot more seniority and experience than you," Zavislan said. "Both of those are really important things. Learning how to disagree with people and not take it personally and not lose your cool is not a small thing to go into the workplace."
After leaving DePaul, Zavislan said she attended law school at Boston University where she continued exploring different internship opportunities eventually interning for the Congressional Budget Office (CBO) located in DC, which creates an "estimate for all legislation that gets passed at a certain point in the legislative process." She also worked at the House Legislative Council which helps draft legislation for the House of Representatives. 
 When asked what advice she would give to students interested in pursuing a career in politics, Zavislan explained that students with minimal experience in government and politics can pursue career opportunities related to this field due to the "low bar to entry." 
"Pretty much any government or campaign entity is going to be more than happy to have someone volunteer or be an intern who has absolutely zero experience and that is to your advantage if you are a freshman or a sophomore or a junior and you haven't really gotten out there and gotten work experience or done anything in that field ever," Zavislan said. 
When asked how students can get involved in civic engagement and social action, Zavislan expressed the importance of being well informed about current events.
"Being aware is the first thing that you can do and getting your information from a reputable source which isn't as easy as it used to be so that's an awesome first step," Zavislan said. "I think you have to be aware of what's going on in the world around you in order to be an active citizen in it."
SGA will hold another session next week on Tuesday at 5:30 pm through Facebook Live interviewing another panelist. SGA held its first session last week with Vanessa Cadavillo, who works for the Democratic Senatorial Campaign Committee.