Brandon Johnson wins Chicago mayoral election
After a long haul, Chicagoans decided on Tuesday that Brandon Johnson will be the city's 57th mayor. 
At the time of publishing, the current member of the Cook County Commissioners won 51.4% of the votes. Johnson's opponent, Paul Vallas, former CEO of Chicago Public Schools (CPS), finished with 48.6% of the votes with 91% of precincts reporting.
"They said this would never happen," Johnson said, celebrating his win on stage at his victory party. "But now, they know."
Stacy Davis Gates, president of the Chicago Teachers Union and executive vice president of the Illinois Federation of Teachers, said Johnson is starting a "movement of many" that "will transform not only this city, but the United States of America."
The race revealed a divided city, one where Johnson promoted progressive policies such as his 'Treatment Not Trauma' plan while Vallas campaigned with a 'tough on crime' message. 
"Tonight you chose multi-racial," Davis Gates said. "Tonight, you chose a city where everyone gets a seat. But most importantly, you chose yourself."
Many Chicagoans, like Ryley Albright, a DePaul alum who canvassed for Johnson's campaign, said they voted for Johnson because the candidate "has felt what many Chicago residents have felt."
"Brandon lives in an underfunded black neighborhood of Austin, taught in Cabrini Green, and was the son of a preacher," Albright said. "Brandon has raised and [built] Chicago communities for decades. [He] is clearly the better candidate. Vallas doesn't even live in Chicago. [He] is funded by corporations and billionaires, and [he] has run multiple public school systems to the ground."
Johnson, a former public schools teacher, said during his victory speech that he knows "what it's like to come home and the water's not on." He said because of his upbringing, he knows how to connect to the people of Chicago. 
The first round of Chicago's mayoral election started with a crowded field of nine candidates, including the city's current mayor, Lori Lightfoot, who was the first sitting mayor to not win reelection in four decades. 
After election day on Feb. 28, Paul Vallas qualified first for the runoffs. He garnered 34% of the vote while Johnson finished second with 20%. Lightfoot finished in third place and Jesús G. "Chuy" García followed in 4th place. 
At the time of reporting, detailed voter demographics had yet to be made public from Tuesday night, but the election's first round featured some of the city's lowest turnout in decades. Specifically, turnout was low from younger voters on Feb. 28, as just 3.23% of the vote came from those between the ages of 18 and 24. Early reports indicate increased turnout from the age group in the runoff.

The Associated Press was the first to call the tight race. 
Vallas lets lead slip away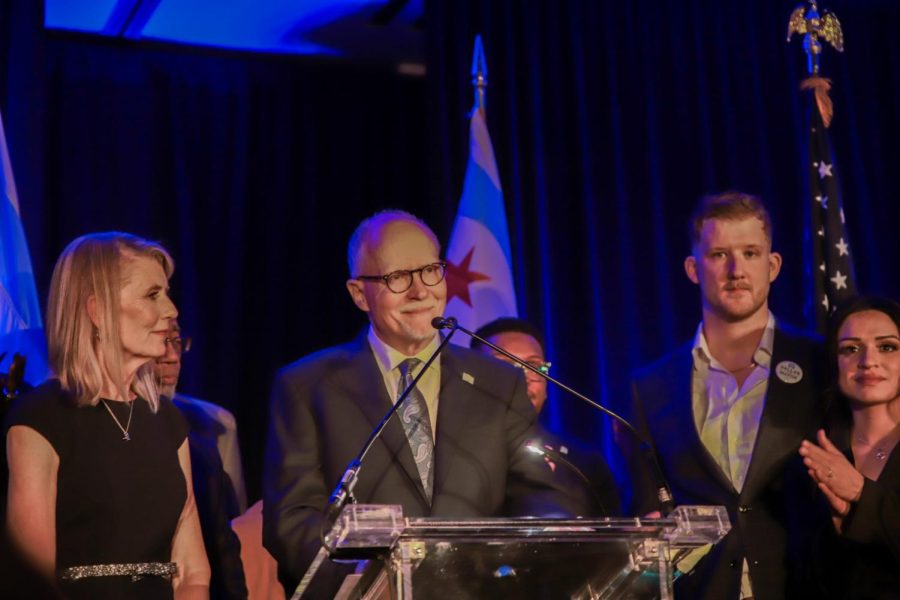 At the time of publishing, Vallas was behind by more than 13,000 votes on Tuesday night. 
The race was neck-and-neck until Johnson started to pull ahead at around 8 p.m. with around 88% of votes tallied, according to the Chicago Board of Elections. 
Vallas was endorsed by The Chicago Tribune, the Fraternal Order of Police and former candidates Willie Wilson and Jamal Green. 
"I'm honored and humbled by all of your support," Vallas said to a disappointed crowd of about 200 people around 9:30 p.m. "I ran for mayor to bring the city together. And it's clear, based on the results tonight, that the city is deeply divided."
Vallas led the polls in February with about 36% of support city-wide, while Johnson came in second at around 20%, according to past reporting. He campaigned strongly on decreasing crime rates. 
"I put out a public safety first plan in this campaign because public safety is a fundamental right. Without it, we will continue to be defined more by our differences than by what we yearn for in common. The solutions we adopt and implement must work for all Chicagoans."
To see more election coverage, take a look at our previous reporting on the Chicago mayoral election, 43rd Ward aldermanic election and the 25th Ward aldermanic election.